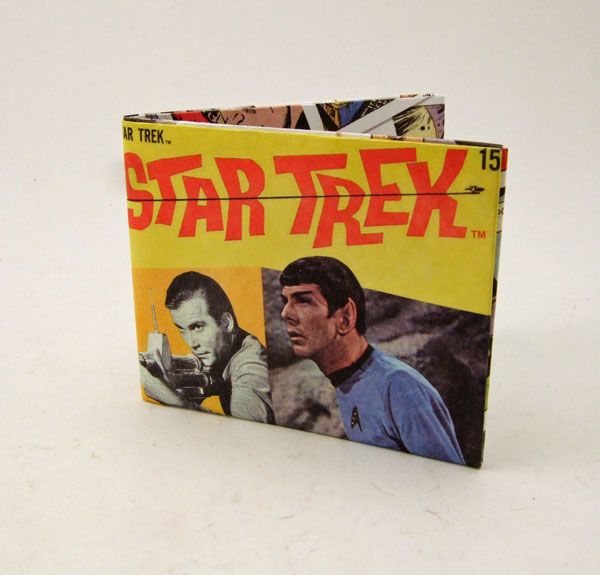 Item Name: Star Trek Mighty Wallet
Manufacturer: Dynomighty Design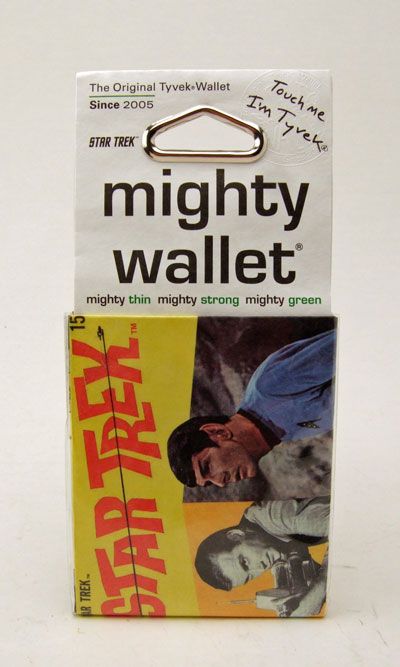 Dynomighty introduced these Star Trek branded "Mighty Wallets" in 2010.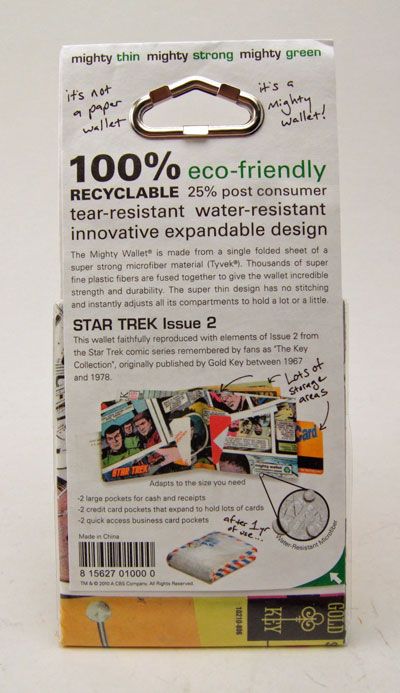 The Rundown: I've owned the same wallet for the last 10 years. It's an old, torn, black leather job that has seen many a day resting in my back pocket. I thought I'd use that wallet until the day it finally fell apart... until I saw an ad over at Trekmovie.com for the new Star Trek Mighty Wallets. So long old wallet...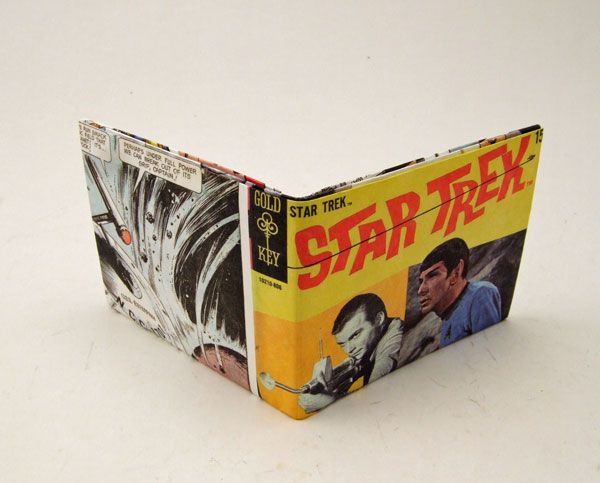 "Mighty Wallets" are the brain child of Terence Kelleman and his company Dynomighty. The wallet was first sold at the Museum of Modern art in New York. It's manufactured using Tyvek (the same material that the postal service makes it's express mail envelopes from), meaning that the wallet is incredibly thin and resistant to tears, water, and stains. The stitch-less design allows the wallet to expand and retract depending on how much you put in it. For a guy like me who stuffs a TON of crap in his wallet, the expanding ability is a huge plus...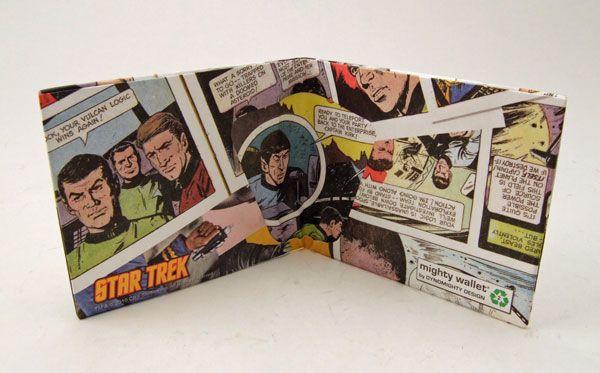 Dynomighty offers the Mighty Wallet in a plethora of different designs (including "do-it-yourself" varieties), but it's obviously the Trek design that lured me in. They offer 3 versions of the Trek wallet: Gold Key Issue 1, Gold Key Issue 2, and a design based on a blueprint of the Enterprise. Being a sucker for Gold Key art, I chose the Gold Key Issue 2 design.
The wallet really does look like a folded up Gold Key comic, which I find INCREDIBLY cool. I'm always looking for ways to display my Trek nerdiness in "cool" ways, and this wallet definitely fits the bill. When I pull this puppy out of my back pocket, there is no mistaking that I am a full-fledged Trekkie. Word.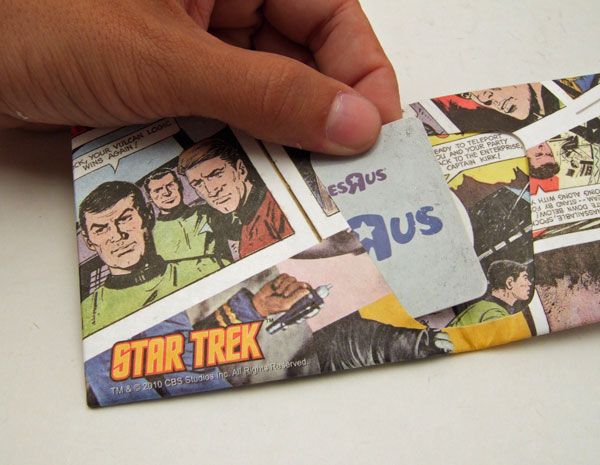 How's it stack up as an actual wallet? Glad you asked. There's 2 pockets on the inside for storing cards and stuff. One features the Star Trek logo in the corner. And the other...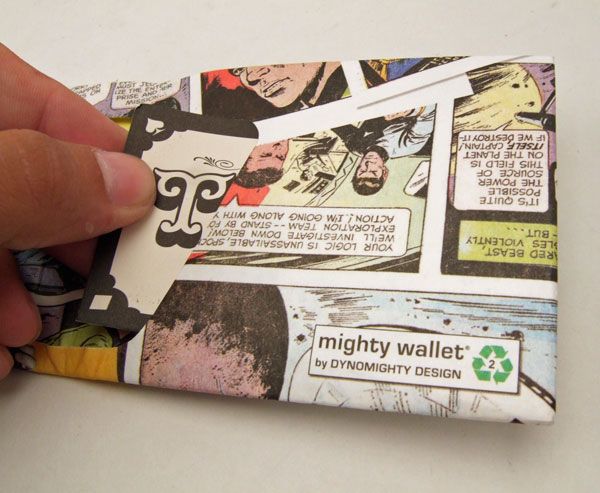 ...features the Might Wallet logo. I stuffed these things pretty full with my various cards (including some expired ones) and the lucky silver dollar coin my grandpa gave me when I was like 9. The wallet did exactly as promised, expanding to fit whatever I put in there. There's also 2 quick access slots along the sides of the wallet for business cards, but I honestly didn't realize that until after I took the pics. Oops!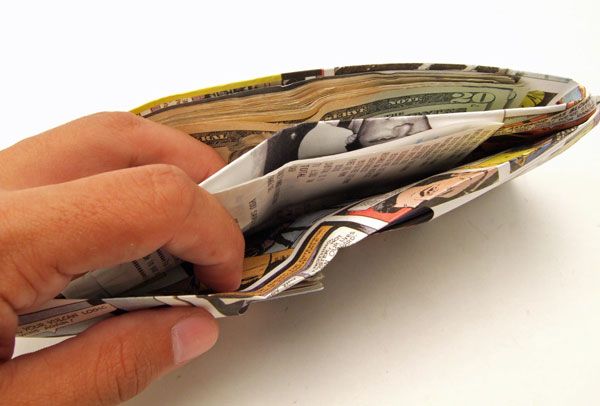 The fully expanded wallet has 2 separate pockets for storing cash and receipts. I am crazy about stuffing receipts in my wallet. I usually have more receipts in there than cash. The picture you see above is actually right after a receipt deposit and a cash withdrawal. Having a divider so that I can keep those 2 separated is pretty sweet (a design lacking from my old trusty black leather wallet).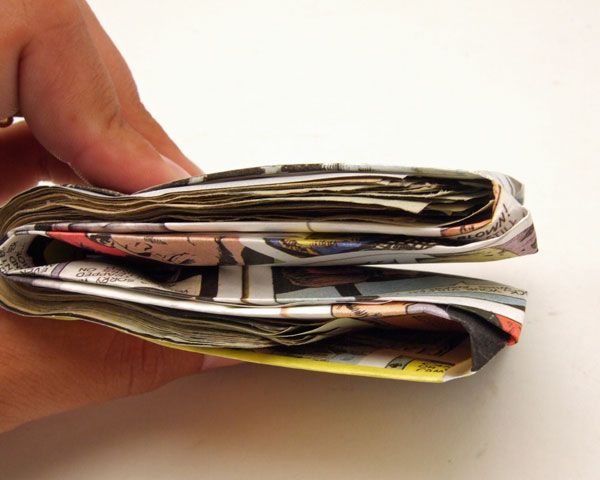 There she is fully loaded with all my crap. It was a little tough to keep it closed at first, thus why I am pinching it, but a week later...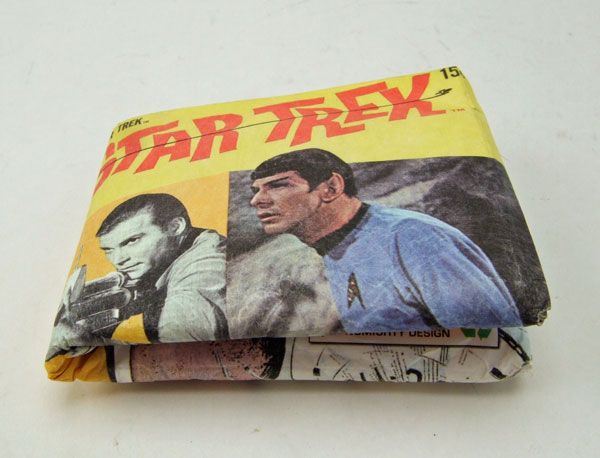 ...and it's exactly where I want it! I have noticed a little scuffing here and there, which I'm sure will get worse as time goes by, but you know what? I like that. I think this wallet will look cooler with age, just like a well-read Gold Key comic!
The Star Trek Mighty Wallets are available now through
Dynomighty.com
. The wallets only run $15 each and there is a free shipping option! Again, the one I reviewed here is Issue 2, but they also have a Gold Key Issue 1 (my second fav) and a blueprint design available. So go buy one.
-James