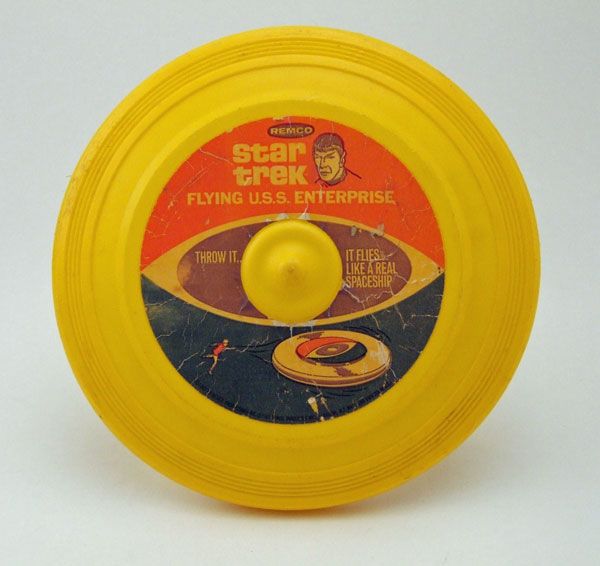 Item Name: Flying U.S.S. Enterprise
Manufacturer: Remco Toys
Remco released their "flying" Enterprise way back in the late 1960's. I don't have a packaged version, so you'll just have to make due with the catalog shot above.
The Rundown: For my
second blog posting
over at
StarTrek.com
, I decided to take a look at some of the various Remco toys available during the show's original run in the late 1960's. Remco did some pretty wacky stuff with the license... including slapping the Star Trek name onto one of their "flying discs" and calling it the Enterprise. So let's put on our flip-flops, head to the beach, and give this puppy a toss with today's spotlight!
In the late 1950's and into the early 1960's, Wham-O toys built an empire on the sales of their Frisbee toy- A disc-shaped plastic glider that soared through the air with the flick of a wrist. Not to be outdone, Remco answered the call for such product by marketing their own flying discs... only theirs would also benefit from Remco's various licensing agreements. Case in point: The Flying U.S.S. Enterprise.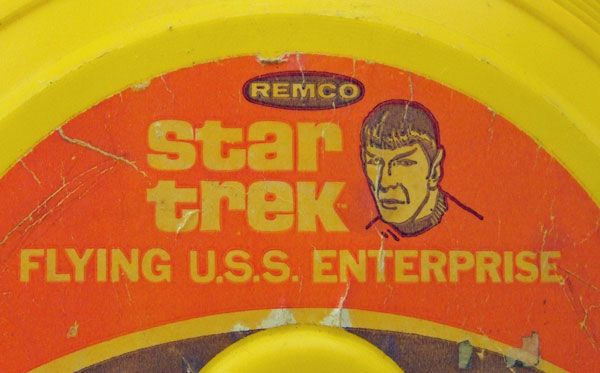 If you were buying a flying disc, would you rather have a plain ol' boring Frisbee... or would you go for one labeled as the U.S.S. Enterprise with a picture of Spock prominently featured on it? That's what I thought. Sure, the principle is the same, but in this case it's okay to make your judgment based solely on appearance.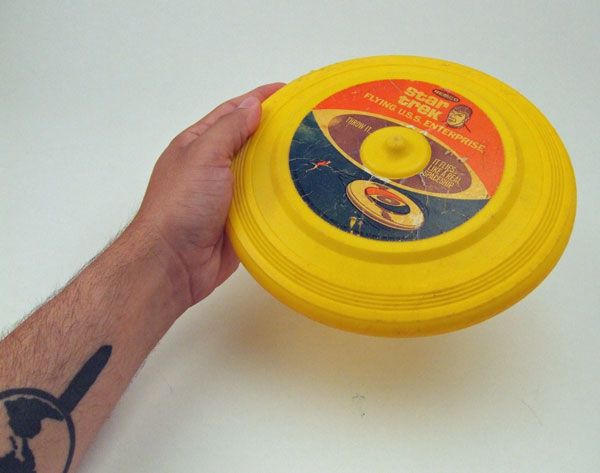 There really isn't a lot more I can say about this one. It works just like a Frisbee, but it has Star Trek stuff printed on it. Do you need one? Well, that depends. Are you in the market for a Frisbee? Are you a Star Trek fan? Are you willing to spend from $25-$50 on a vintage flying disc? If you answered yes to all three of those, then by all means go buy one. If you only answered yes to 1 or 2 of those questions, then you may need to think twice before going after one. It's undoubtedly an oddball item and not something that most collector's are going to find essential to their collections... but it's probably the one Star Trek item that you can take with you to the beach and not feel strange about...