Item Name: UNO Card Game Star Trek Collector's Edition
Maunfacturer: Fundex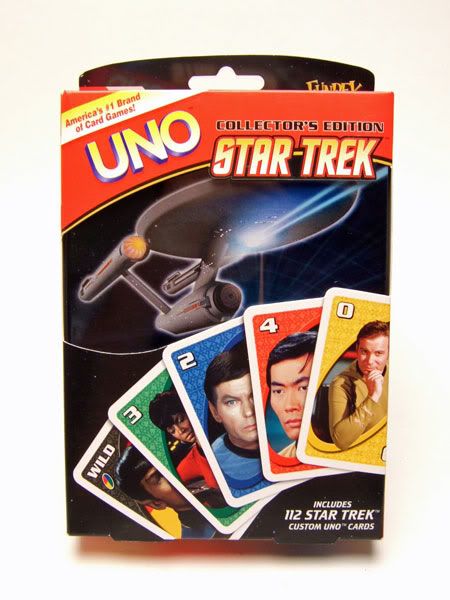 The Rundown: Man, there's a TON of Star Trek themed games hitting the market right now! I'm trying my best to keep up on all of them...but finding time to play them all before doing a rundown on them is what is really tough. Thankfully, I've got an always-willing-to-play partner in my 6 year old Blaze! We busted this one open this past weekend to give it a try.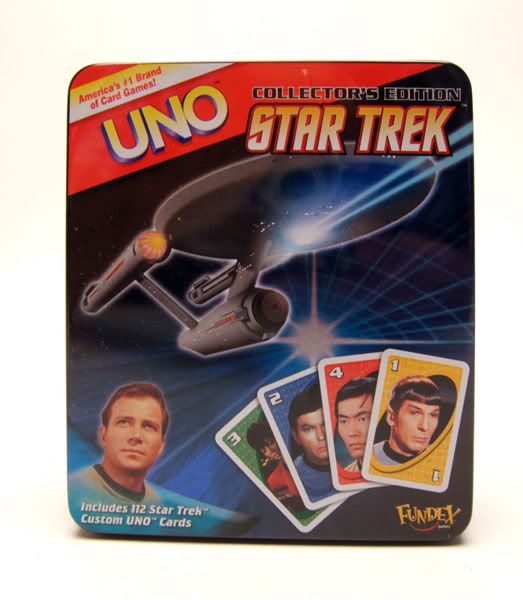 Once you get that outer box off, you see a really nicely done tin that contains the cards. The tin graphics are in keeping with the universal branding that is showing up on most of the current TOS-inspired product.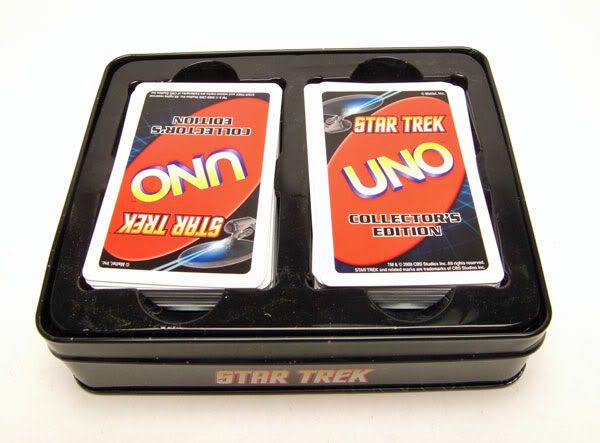 The tin has an inner black plastic tray to hold the decks of cards. I'm not sure if it's just mine, but the trays aren't quite deep enough to keep all the cards in place once they're taken out of their cellophane wrappers. Not a huge deal, but you'll have a few cards flying around when you reopen the tin.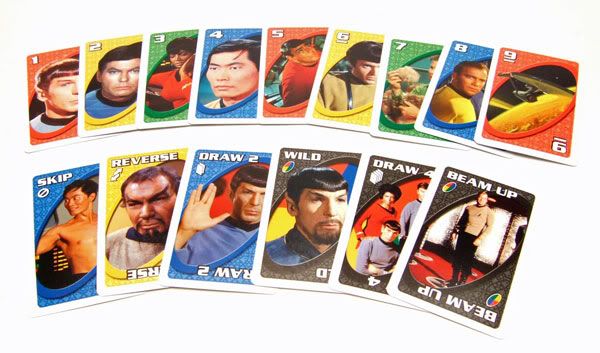 The cards themselves are REALLY nice. You get an indiviual picture for each numbered card, and individual pictures for the 'other' cards. Our fav was the wild card with the very appropriate picture of Mirror Spock (somebody at Fundek actually put some thought into the picture choices it seems).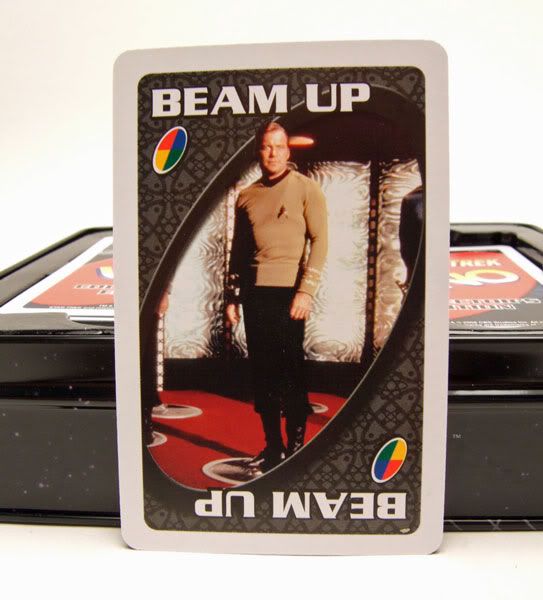 There's one new kind of card introduced in the set...the "Beam Up" card. This card allows you to escape the dreaded Draw 2/ Draw 4 cards and also acts as a Wild Card. Blaze used this one in one of the games we played and it helps make this set a little different than a regular UNO game (he actually won that game thanks to this card). Oh, and instead of saying "UNO!" when you have 1 card left, you are supposed to say "UNO, I'm a doctor!" (which doesn't make much sense, but Blaze liked saying it).
With a slew of Star Trek games coming out, it's tough to decide which ones to pick up. There will be some I'll review that you can definitely skip (like the upcoming Star Trek playing cards). This is one I'll definitely recommend! It's fairly cheap, the tin and cards are well done, and UNO is an easy to understand, fun game to play. So yeah, you should get this one.