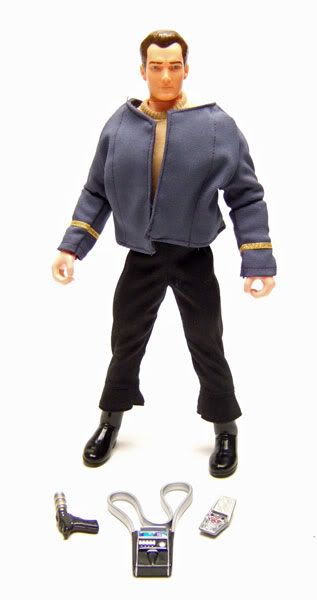 Figure Name: Captain Christopher Pike (12")
Manufacturer: Playmates Toys
Pike was released by Playmates as part of it's 4th wave of 12" figures. Nope, no boxed pic.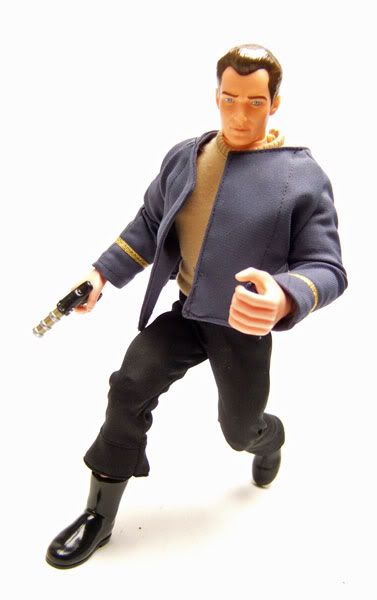 The Rundown: Pike may be my favorite 'human' character produced in the 12" line. I think it's just a really solid figure all the way around. Let's start with the head-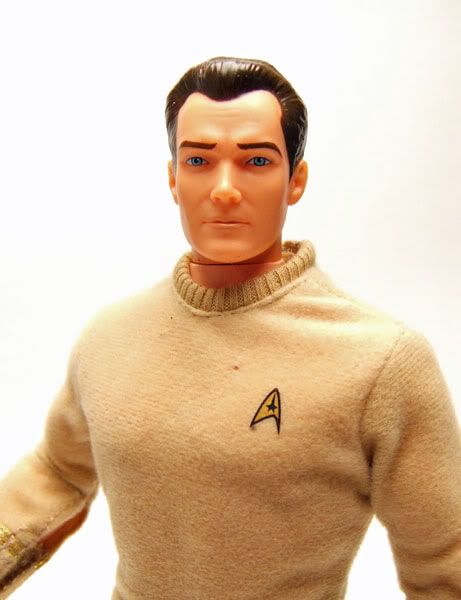 Here's one case where Playmates did a MUCH nicer job on a 12" head sculpt than on a figure's 4" head sculpt. The head sculpt is pretty darned good, and they did a very nice job of capturing the look of Jeffrey Hunter's eyes. In fact, I think this may be their nicest 12" human head sculpt.
Pike uses the same standard body used for all the male characters, but for some reason it just looks like it fits better with Pike, which may have something to do with the jacket. What a surprise that jacket is! It's not something that Playmates really had to do...but boy am I glad they did! The jacket fits very well and is just an awesome addition to the figure. Kudos to Playmates for including it with the figure! The great part is that he looks great without it too as Playmates did a fine job on the 'ribbed collar' shirt as well.
I highly recommend this one if you're thinking of getting into the 12" line!
Accessories: Again, Playmates went the extra mile on this one. We get a unique sculpt "Cage"-style laser pistol and communicator! Pretty spiffy stuff! Oh, and you also get a tricorder for some reason...
-James