Item Name: Star Trek Special Edition UNO Card Game
Manufacturer: Mattel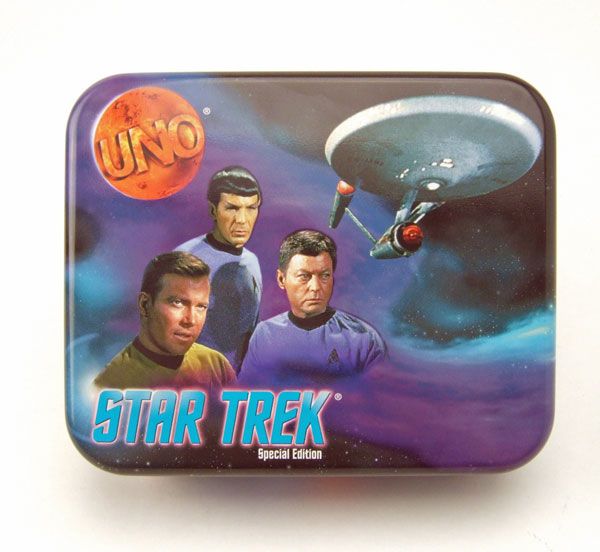 Mattel released this Star Trek version of the popular UNO game back in 1999.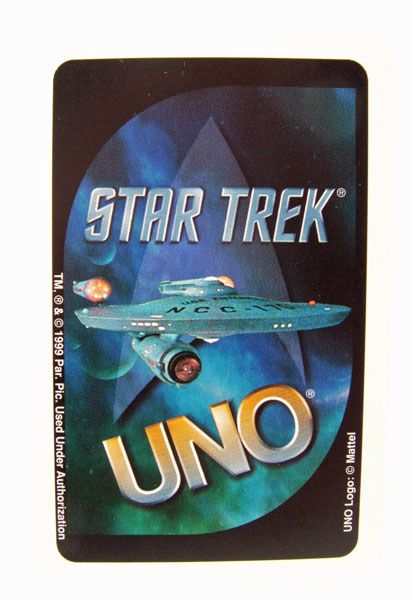 The Rundown: Awhile back, I spotlighted the
2009 release of the Star Trek UNO card game
from Fundex. I felt is was a pretty solid spin on the standard UNO game, and well worth picking up. BUT... my buddy Frederick from
"My Star Trek Scrapbook"
reminded me of something that I had completely overlooked when writing that spotlight- There had already been a Star Trek version of UNO released years prior! How does this early version stack up to the 2009 release? Let's find out!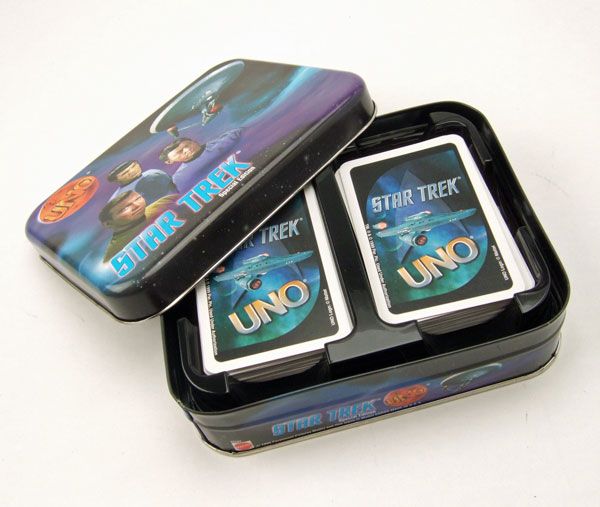 Just like the 2009 version, the game comes in an attractive tin display case. The graphic is pretty nice, and I like that this one is a bit more "subdued" than the later release. The inner tray seems to fit the cards better than the later release, with very little card slippage going on.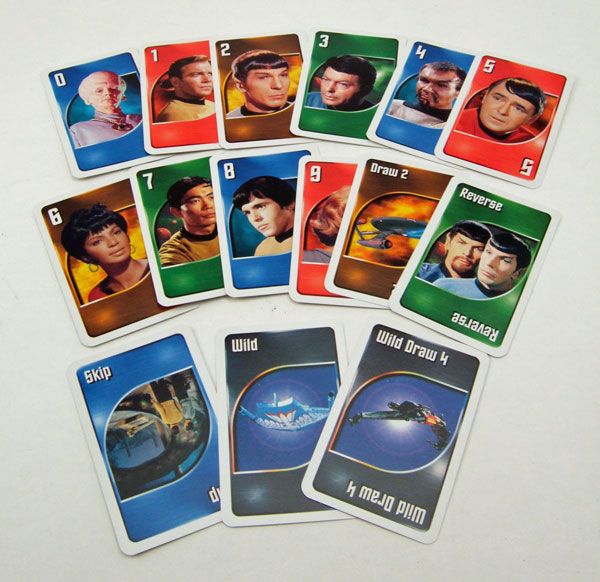 Each of the cards feature the Enterprise on the back and various individual images on the front. Since this set was made before TOS was remastered with new effects, the shots of the ships used here are from the original versions (effects purists rejoice!). The characters used for the cards are mostly obvious choices, but there are a couple of oddities thrown in. We get Kor thrown in the middle as card number 4, and inexplicably a Talosian Keeper as the 0 card. How did the Gorn not make it in here? Or a Mugatu? Heck, I'd have chosen Trelane or Harry Mudd before a Talosian. By far though, the oddest pick of the bunch has to be the "Wild Draw 4" card-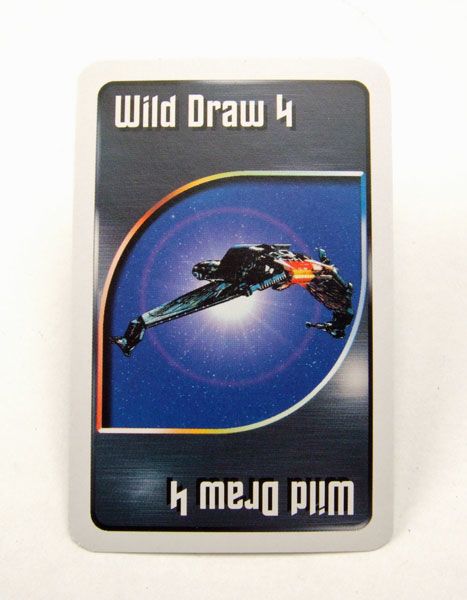 A Klingon Bird-Of-Prey from the movies!?! How'd that get in here? Weird. I'm going to let it go though, just for the fact that the "Reverse" card features Spock/ Mirror Spock. That alone is cool enough to excuse a couple of mistakes.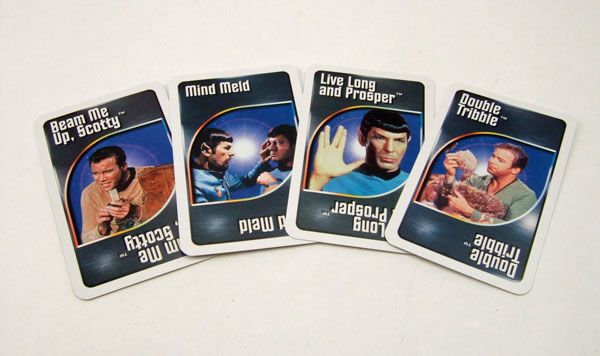 The game plays just like your standard UNO deck, with the exception of four new "Star Fleet Command" cards unique to the set. Each of these cards act as not only wild cards, but also feature new abilities that really enhance the game. The four new cards are:
Live Long and Prosper Card
- This card allows you to discard your old hand and draw an entire new one. Y'know, in case your hand stinks.
Mind Meld Card
- After playing this card, you get to command another player to show his or hand to you. I REALLY like this one. We played a few hands of this the other night, and this card really turned the tide for me a couple of times.
Beam Me Up, Scotty
- This card allows you to stop any of these new "command" cards directed at you. Blaze got this one, and was able to deflect my use of the...
Double Tribble Card
- If you play this one, the next player has to DOUBLE the amount of cards in there hand! Take that sucker! Eat them cards!
Oh... and I almost forgot- Instead of just yelling "UNO!" when you have one card left, you must now say "Space, the final UNO frontier!". If you don't, you have to pick up five more cards just like in regular UNO. So remember to do that.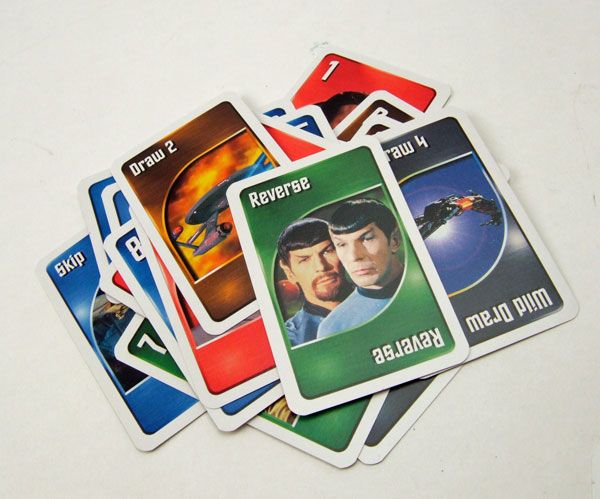 As much as I like the 2009 version, I gotta say that this version is a little better in my opinion. The 4 new cards really add to the fun of the game, which is something that the 2009 version didn't do as well (since it only featured one new ability card). It's not that I don't like the new one, I'm just saying that if you only get one, I'd go with this 1999 version. If you look around enough, you can usually snag this one for about $10-$20, which is about the same rate as its 2009 counterpart. So do some hunting around and try for this one if you can. Now you'll have to excuse me, I'm off to play another hand... Blaze owes me a rematch.