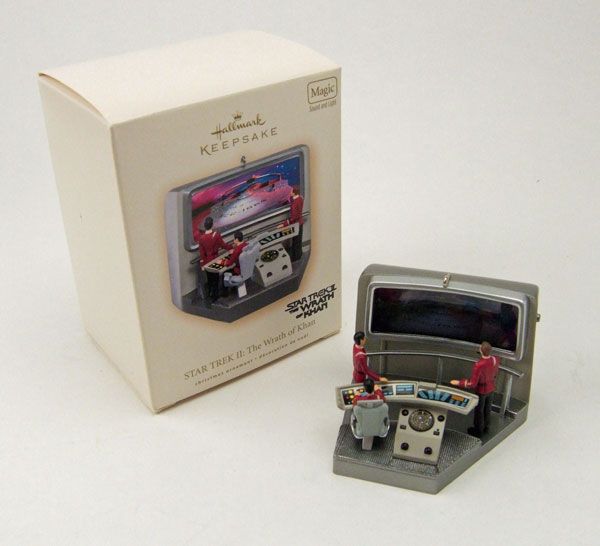 Item Name: "Star Trek II: The Wrath Of Khan" Keepsake Ornament
Manufacturer: Hallmark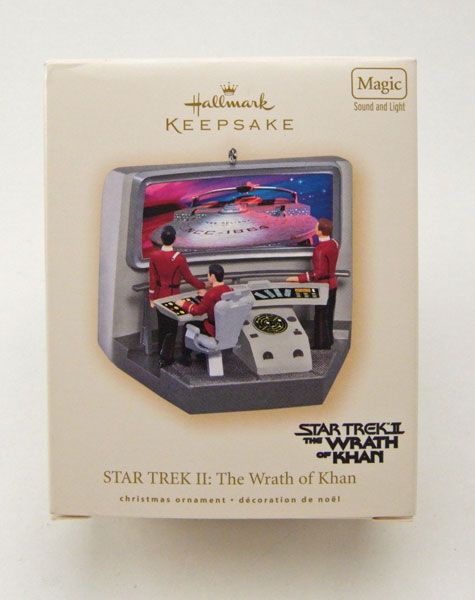 Hallmark released this piece as part of their 2007 keepsake assortment. Here's the back of the box if you'd like to give it a read-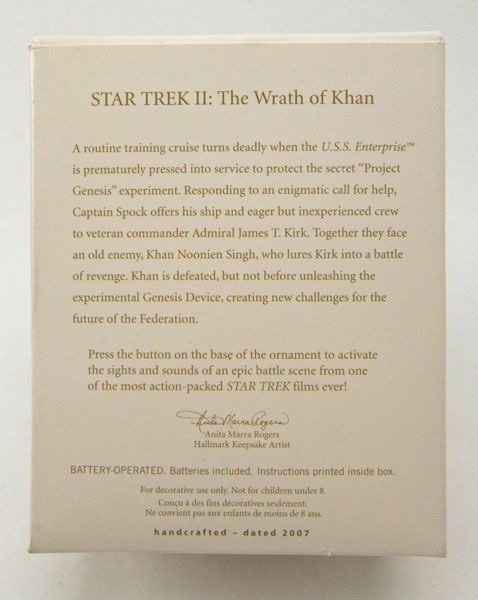 The Rundown: With the 2011 Hallmark Star Trek ornaments hitting stores in just a couple of weeks, I figured now would be a good time to jump back into the ornament spotlights and feature some of my favorites leading up to the premiere weekend (July 16 & 17). Today we're taking a look at one of the 2007 releases- The "Star Trek II: The Wrath Of Khan" ornament!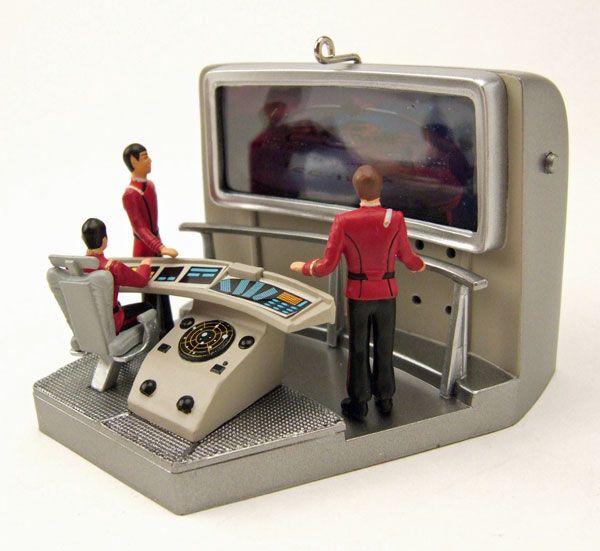 The "double-cross" scene from TWOK is one of the most memorable moments in Trek's 45 year history, so it's no surprise that Hallmark mined it for this release. Even recreated at such a small scale, any fan would recognize what scene is depicted here with but a glance... even if the staging is a bit off from what was seen in the film-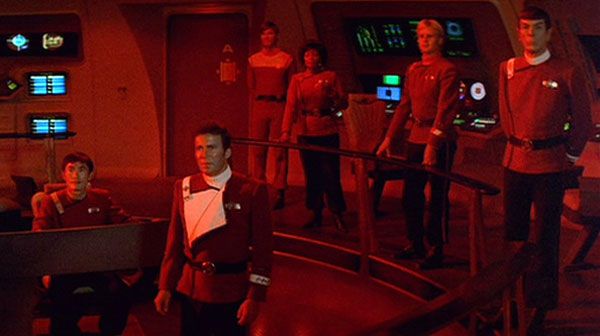 That is the closest I could come to finding Spock, Kirk, and Sulu staged together in the same manner depicted in the ornament. Is it a huge deal that Hallmark took some artistic license here to make the ornament "work"? Nope. The scene might have taken place "off-camera", or maybe my memory is just faulty... Either way, I find it *ahem" fascinating that even if it isn't completely screen accurate, there's no mistaking which scene we are looking at here. Let's have a look at these guys-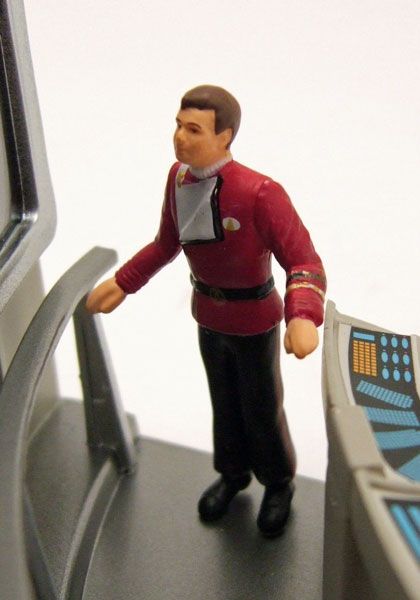 Positioned to the right of the screen is Kirk. The pictures may fool you, but these figurines are TINY, with each one only measuring about an inch or so. At that size, the paint and sculpting work is pretty impressive. Kirk 's uniform features all the necessary detailing. Hallmark even remembered that Kirk's uniform flap is open during his exchange with Khan.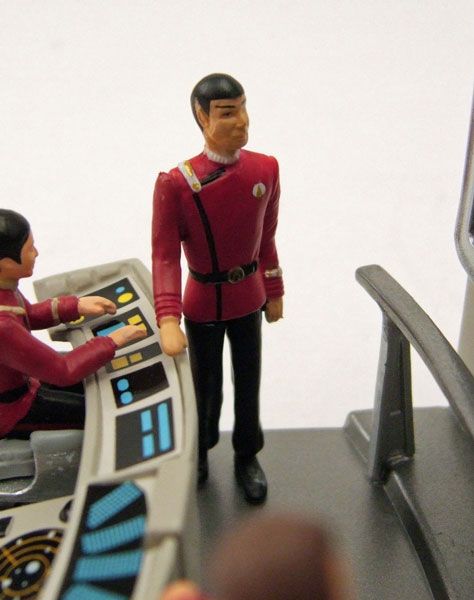 To the left of the screen is Mister Spock. Even though he is teensy-weensy, Spock features a solid likeness and an intricately detailed costumed. I could just see this widdle guy running down to a miniaturized engineering and shuffling off his mortal coil...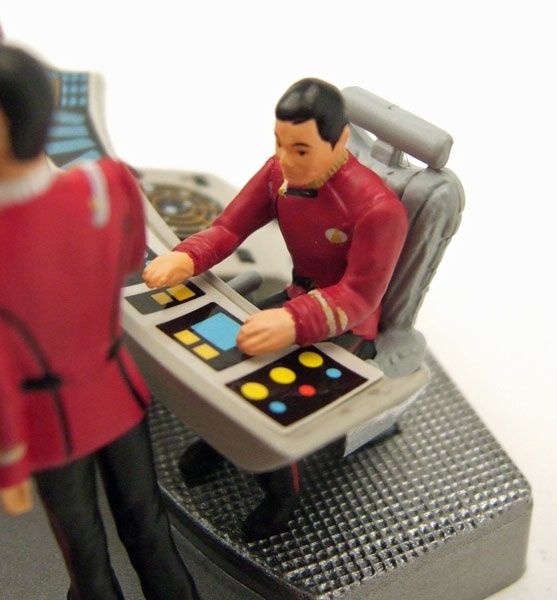 Lastly, we have Sulu at the helm console, ready to fire on the unsuspecting Khan. Hallmark even managed to recreate Sulu's stray bangs! Nice work! But let's have a closer look at that helm...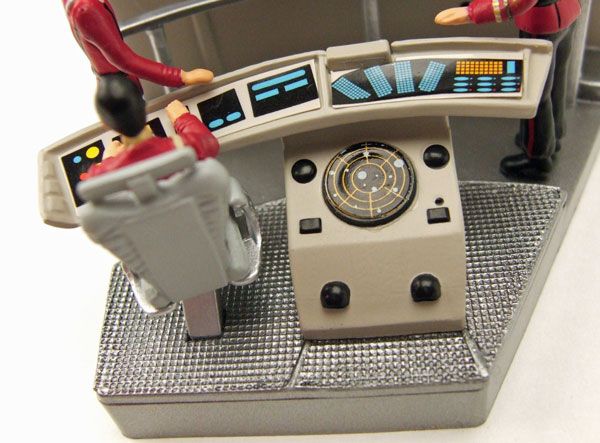 As far as I can tell, the instrumentation panels are reproduced here by means of a couple of decals. I'm not sure how I feel about these. On the one hand, the scale is so small that I shouldn't expect an abundance of detail... But on the other hand, if these are just labels, there's no reason that the images shouldn't be better. It's not a major issue, but still bares noting.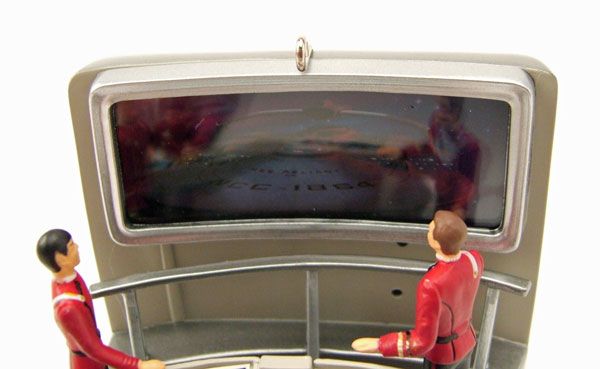 Of course, the focal point of the ornament is the large viewscreen area. I gotta admit- I was surprised that Hallmark choose an image of the Reliant over Khan for the viewer, since the reveal of Khan is such an iconic moment. But here's where the "magic" comes into play! Since the sound clips used for the ornament included ship battle effects, having Khan on the screen would make it impossible to incorporate these effects in coordination with the visuals. With the Reliant on screen, Hallmark was free to add cool lighted effects... like phaser blasts! Check it out:
Pretty cool, eh? Not only did they have phasers firing from the Reliant, but there's also a separate lighting effect for the Enterprise firing on her! Great choices on the lines too...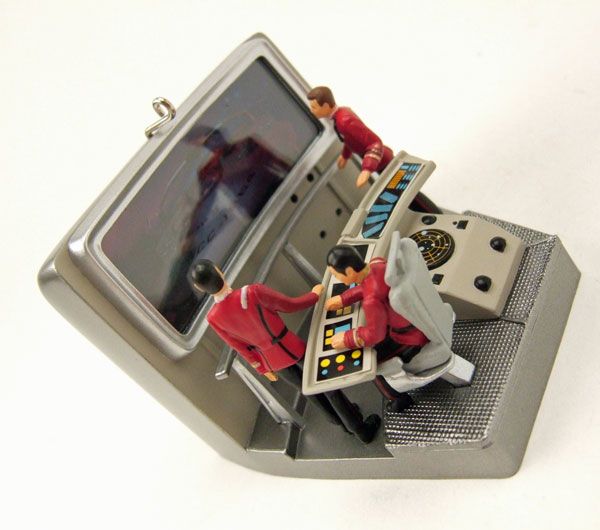 The TWOK ornament is easily one of my favorite pieces from the entire Hallmark library. It recreates one of Trek's most memorable exchanges with superb lighting and sound effects, especially given this thing's diminutive size. While the helm is a little bit of a disappointment, the rest of the ornament features solid detailing throughout. Oh... and since this guy runs on batteries instead of plugging into a string of lights it can be used as a display piece during non-holiday months. With most auctions closing in the $10-$15 range, you can get this one nowadays for less than original retail. At that price, your wallet won't be feeling the "wrath" of this purchase! Wokka wokka!