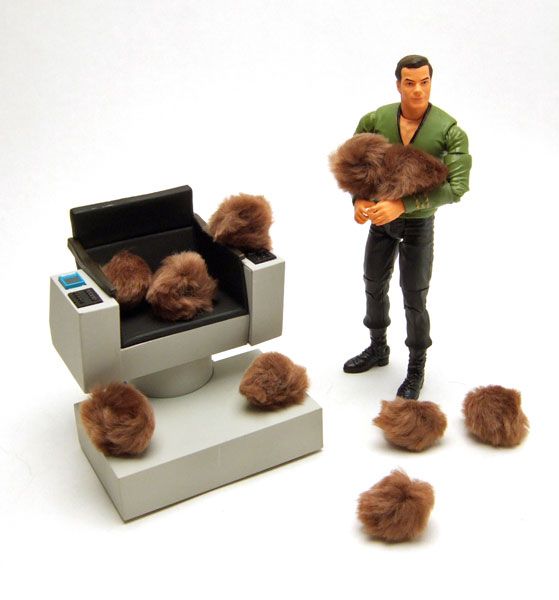 Figure Name: Captain Kirk (with Electronic Command Chair)
Manufacturer: Diamond Select Toys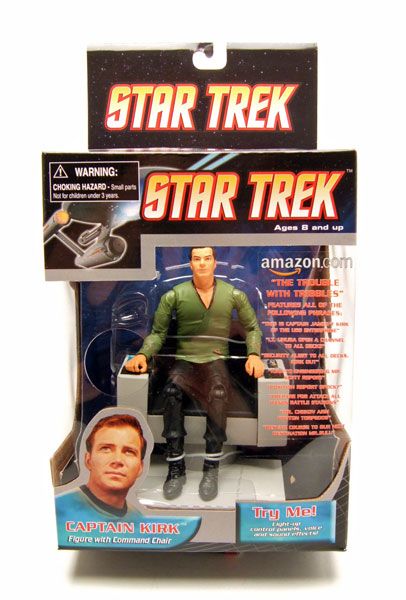 This "TWT" Kirk and chair was initially sold as a Amazon.com exclusive, but was later solicited through Diamond distributors.
The Rundown: I know, I know...I missed doing a spotlight again yesterday...but I'm back today with another DST Command Chair spotlight! This marks the fifth release of DST's "chair sets", but only the second to include the electronic version of the chair. Oh, and this set also features the first rerelease of the casual shirt Kirk! So what's this set have to offer? Let's look!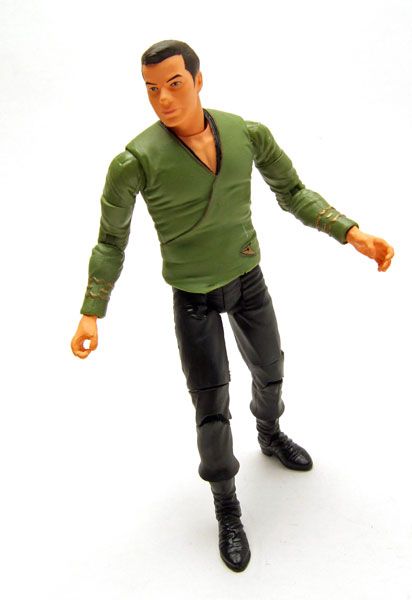 First, there's the figure. Kirk features the same mold as the original Art Asylum Wave 1 "Casual" Kirk, but with DST's improved paint apps. I find myself really preferring the DST reissues to the AA releases just because the paint choices make the figures look so much nicer. Kirk here is no different-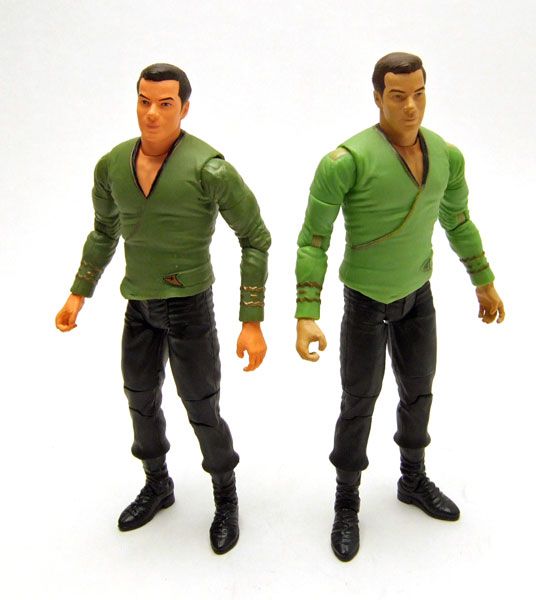 The shirt on the reissue is made in a darker shade of green than the original release. While it's not entirely accurate in shade to "The Trouble With Tribbles", I do think it looks much nicer here than on the original. The gold highlights stand out a bit more than on AA's version, and I'm hopeful that DST's paint will stand up to the test of time a bit better (since the gold has already discolored on my AA version).
And just like the other DST reissue Kirks, the skin tone has been changed to a pinker color. I like it better than the muddy complexion of the original.
Gripe time! Since the casual shirt falls a bit low on the waist, when Kirk sits down it stretches the rubbery material of the shirt. In both my examples, the stress of being packed in a seated position caused a tear in the material. Not a huge deal, but something to watch out for if you pick this up in stores.
So that takes care of Kirk...now what about the chair? This release hasn't been altered from the first electronic release (reviewed
here
). Same deal here... press the buttons on each arm rest for sound effects and lighted panels! I forgot to mention in my previous review that when you hold down both buttons for about 5 seconds or so, the chair will play the opening Kirk monologue! Here's a video to check out the sound effects: