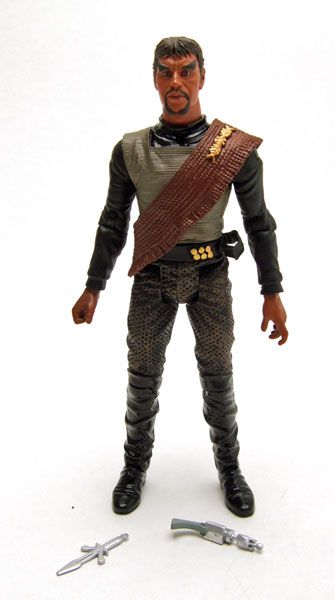 Figure Name: Kang
Manufacturer: Diamond Select Toys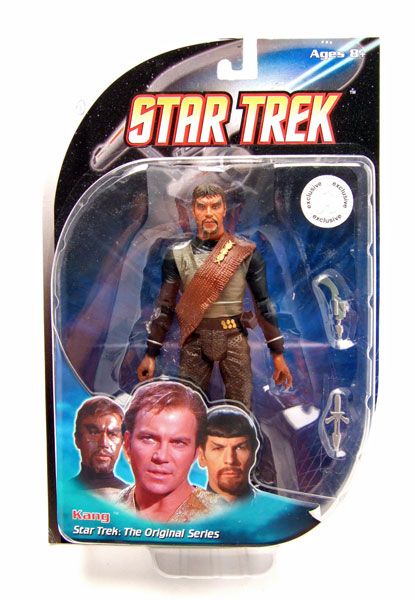 DST released this Kang as a Toys R Us Exclusive in the Star Trek "universal" branding packaging.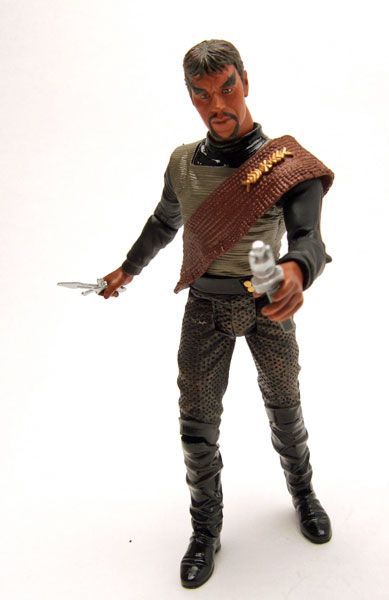 The Rundown: WOO HOO! KANG! OUR VERY FIRST TOS-STYLE KANG! Man, this figure has been a LONG time coming! In the Playmates line, we got Koloth. In the Art Asylum line, we got Kor. And now, finally, DST brings us Kang!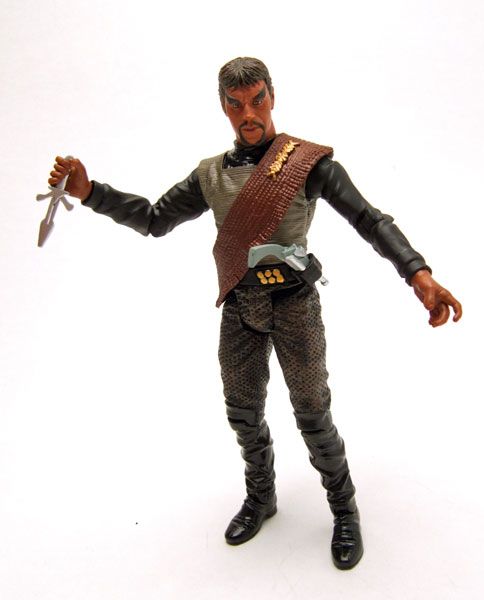 This figure is just now hitting Toys R Us stores, and at 1 per case he's not sitting around long. I REALLY wish he was packed 2 per case. When most stores only get one case at a time, it makes things tough for a guy like me who likes one loose and one carded. I almost feel bad doing this spotlight with so many folks still searching for this guy...but I just wanted to show everyone that he is definitely worth the hunt!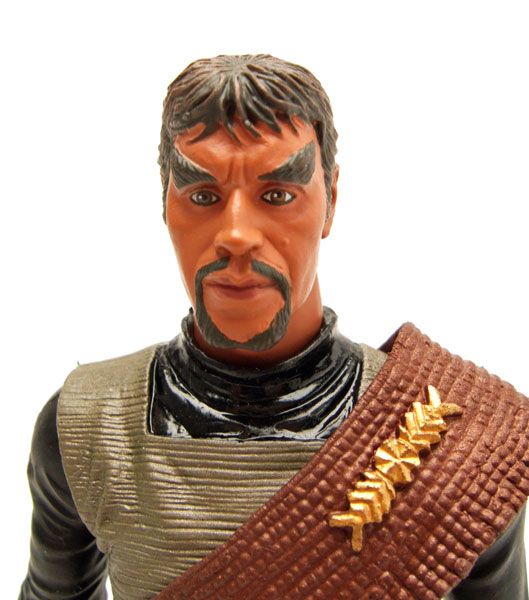 Kang's head is the only new piece of the figure...but man what a great head it is! The likeness is pretty much perfect- You can even see Ansara's little mole on his cheek! The paint work is nice as well, capturing the almost sweaty look of Kang's face.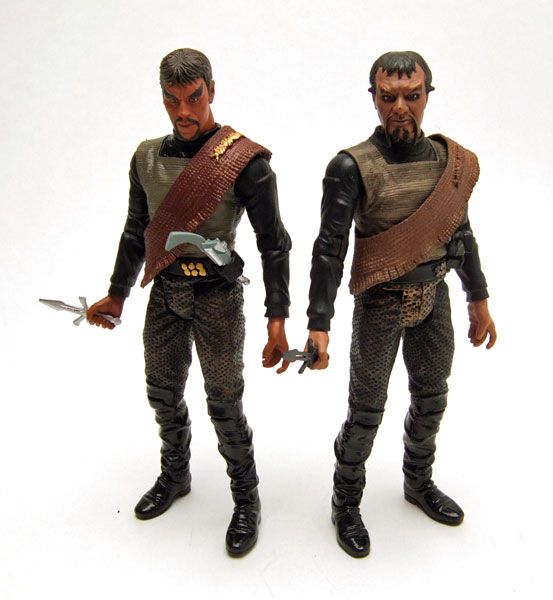 From the neck down, Kang is just a slightly repainted version of Kor (which you can read about
here
). I'm not against the reuse, since the Klingons pretty much wore the same outfits. Do I wish he had been taller? Sure, but since we probably wouldn't have gotten a Kang unless they used the Kor body, I'll take what I can get.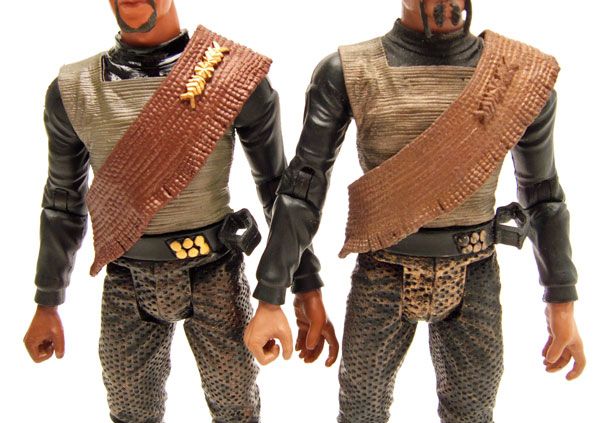 There are some slight differences between Kor and Kang. The baldric is much darker on Kang than it was on Kor, with a gold paint app highlighting the decoration. It's not really screen accurate to Kang's, but it looks really sweet like this so I'm okay with it. If you'll remember, for some reason AA made Kor's chest area out of a rubbery material over a hard inner torso. I have no idea why they did that, but it's here again with Kang. At least on Kang it's made with a thicker, harder material and feels much less fragile than on Kor.
My one real gripe is that Kang's collar area is painted with a gloss paint instead of the flat paint of Kor's. It doesn't match the sleeves, and looks a little strange. Is everyone's like this or is just mine? Guess I'll have to wait until I have my carded version in hand to check.
Accessories: Kang includes the same accessories as Kor, only this time they are painted differently. The knife is unfortunately just plain silver this time around as opposed to the weathered black of the original. At first I thought the disruptor was painted inaccurately, reasoning that it was probably just produced at the same time as the upcoming Romulan accessory. After looking at the screen grabs at Trekcore though, you can definitely see that they used the silver version in the episode, so good on DST for catching that!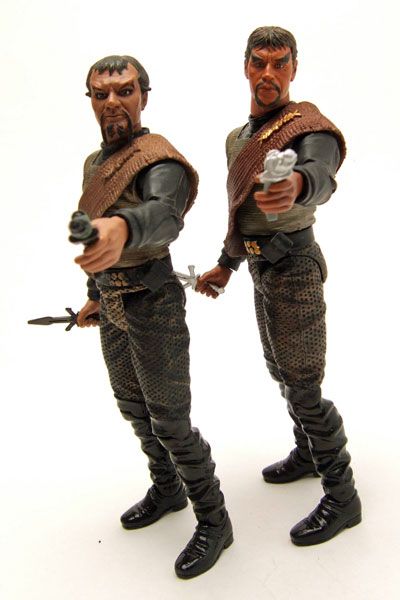 I really don't think I need to say that I recommend this one. It's freaking Kang! How could you not want this!?! It's the first truly new TOS character we've gotten in awhile, and even though it reuses the Kor body, it's still plenty awesome. The only problem is finding one... Good luck everybody! He's worth it!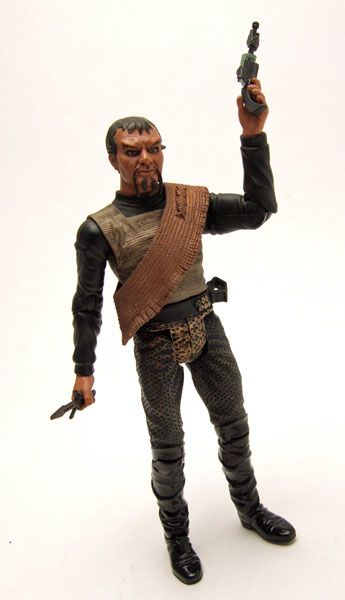 Oh...I grabbed my extra, slightly worn Kor for pics in this spotlight, and since I'm so excited about owning Kang, I figured I'd pass on the Klingon love and give him away! Just send me your name to potacontests@live.com and you're entered! Please put "Kor giveaway" in the subject line, and get me the e-mail by Friday, November 13th at 11:59 PM EST. I'll pick one name out of the bunch and contact you Saturday. The only thing I ask is that you cover shipping...
-James