Figure Name: Klingon
Manufacturer: Mego Toys Corp.
The Klingon was released as part of the rare second series of 3&3/4" Mego Star Trek The Motion Picture figures. (Sorry, no carded pic for you...)
The Rundown: Hey... we are getting really close to finishing off all the spotlights for this often overlooked gem of a line! If I remember right (and I usually don't), all that's left after this one are Kirk, Ilia, and the Megarite. That kinda bums me out. I really liked getting these guys out of their case and giving them a second look. Well, at least today I get to show off one of the best (if not THE best) figures in the line- The Klingon!
The Klingon look introduced in "Star Trek: The Motion Picture" was drastically different from their appearance in the television series. Gone were the budget-constrained TOS versions, replaced by these new Klingons that featured odd head ridges and stylized leather-meets-metal uniforms. Now while I have always preferred the classic look, I do still appreciate the bumpy-head versions... and boy did Mego do a fine job of reproducing one in this figure!
The ornate armored vest of the Klingon is captured in great detail here. And while they could have skimped out on the intricacies from the back of the uniform...
...Mego even strove for accuracy there! That's pretty amazing work for a figure that's 30 years old! It really feels like no detail was overlooked on this guy! From forehead ridges that run all the way over his head-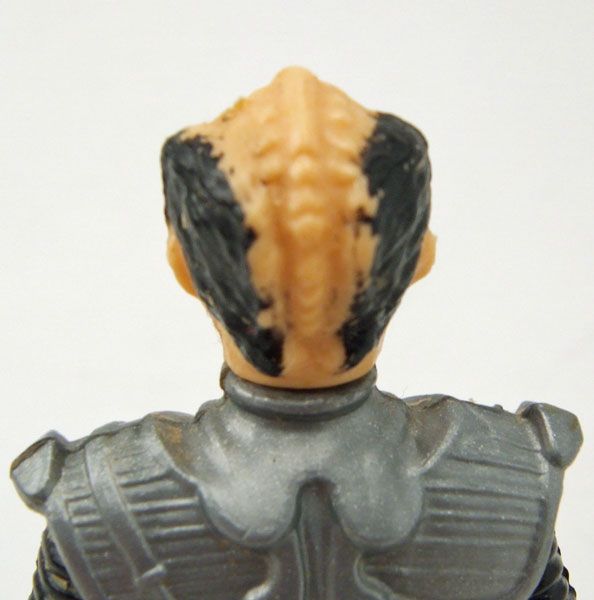 To his holstered sidearm-
Everything is here! In fact, I'd go so far as to say that minus a paint wash and a few extra points of articulation, this is a figure that could go toe-to-toe with many of the current figures on the market today. He really was a step ahead of the other 3.75" figures sold during his time.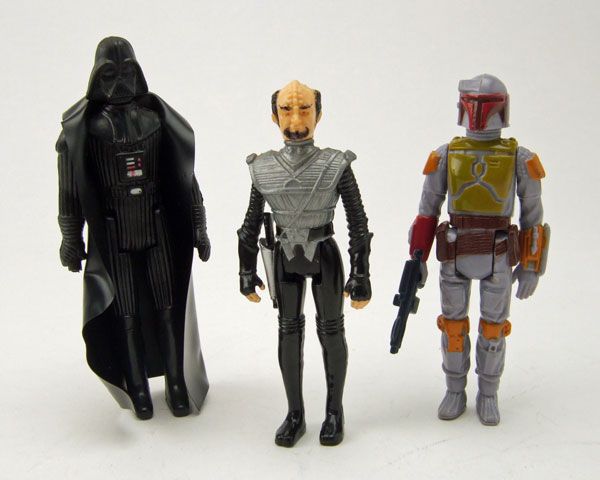 Accessories: None... and that's really my only complaint about the all the aliens in 3.75" TMP line.
I've debated back and forth as to which figure in the TMP 3.75" line is my fav... bouncing between the Betelgeusian, the Zaranite, and the Klingon. after looking at him again in closer detail, I gotta go with this Klingon. He's not only one of the best of this line, but easily one of the best Klingon figures ever made. Although all the aliens from this line are pretty scarce, the Klingon is at least one of the more affordable ones. He makes a great starting off point for folks interested in collecting this line. And you should collect this line.
-James