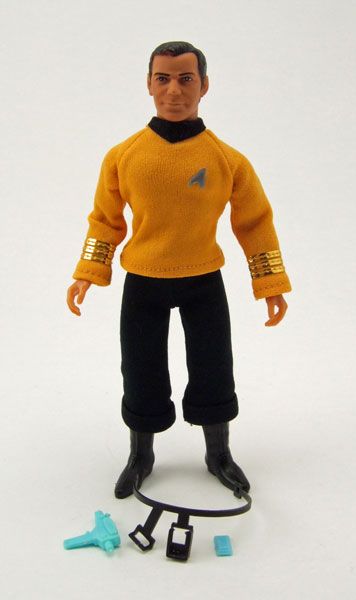 Figure Name: Captain Kirk
Manufacturer: Mego Toys Corp. (Original), Diamond Select & EMCE Toys (Reissue)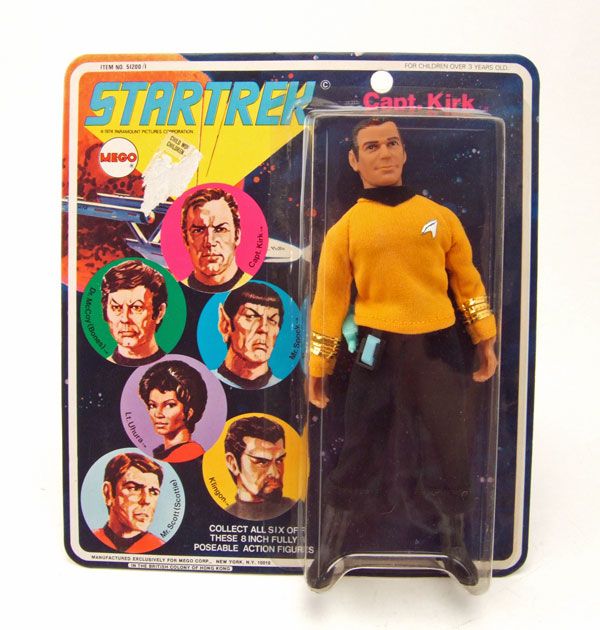 Kirk was released as part of Mego's initial wave of Star Trek 8" figures.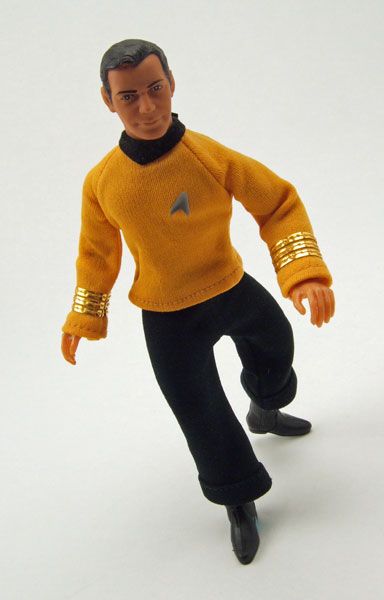 The Rundown: I've covered a lot of Kirk figures here in the past 2 years. Playmates, Art Asylum, Diamond Select, Ertl, Palisades, and even Galoob (yuck)... If you're doing a line based on Classic Star Trek, the one character that absolutely MUST be made is Kirk. He is the mainstay essential to a complete collection (although I personally believe Spock and McCoy are just as necessary). Well, today we take a look at the grand-daddy of Kirk figures: The Mego 8" Captain Kirk figure!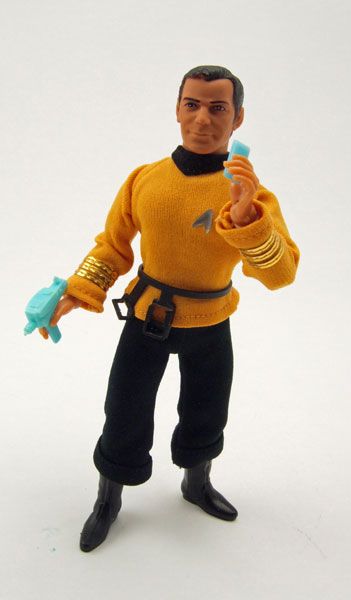 It's tough for me to imagine what it was like for a kid watching Star Trek during its original run. As a child, most of the shows I loved had toylines tied to their existence. G.I.Joe, Transformers, Star Wars, Masters Of The Universe... all of my favorite movies and television programs had a large assortment of toys with which I could create my own adventures. Not so with the original Trek. True action figures of Kirk & crew didn't materialize until the mid-70's, with Mego stepping up to the plate and producing an entire range of toys based on the syndicated show (and also seemingly the animated series). Of course, Kirk was an obvious choice for the initial series of 8" action figures...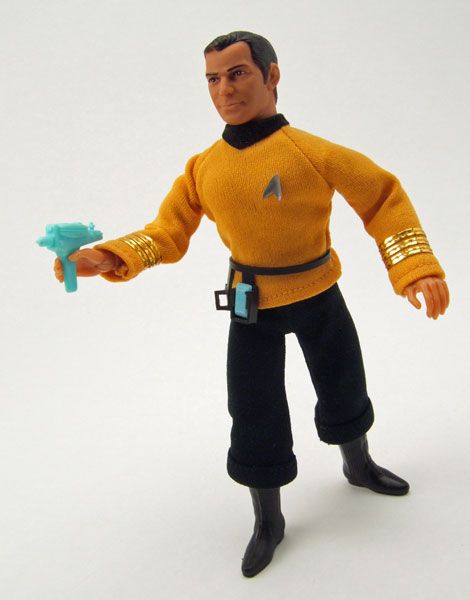 Unless you're a Morg living on the surface of Sigma Draconis VI for the past 35 years, you are probably familiar with the style of Mego figures. Mego used the buck system before there was such a thing as the buck system- Essentially using a standard body type and outfitting it in different ways for different characters. The body is held together with rubber bands, allowing for a large range of movement.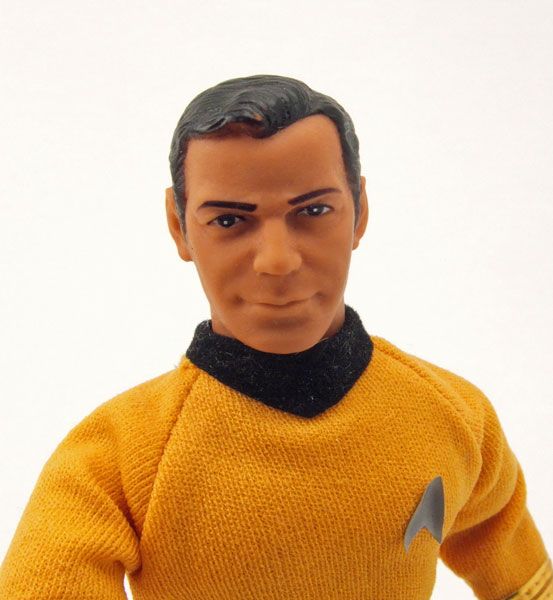 The only truly unique aspect of the figure itself is the head... but what a head it is! I love this sculpt! It's a great blend between actual Shatner and the animated version of Kirk. The sculptor really nailed Kirk's bravado here with the slight smirk on the face. Hide your Barbies, because this Kirk is just oozing with machismo...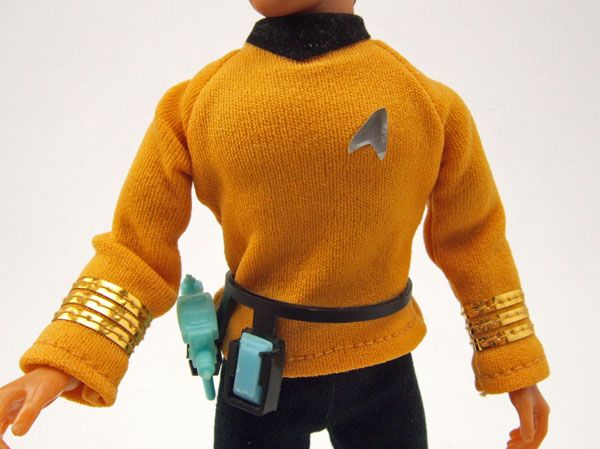 For the time and the price point, the outfit is very nicely handled. Kirk has the correct number of rank braids on his sleeves, and the black collar is actually a separate section of cloth instead of being just colored that way. The only real issue I have is with the delta shield. Much like the Mego superheroes, the symbol is just a small sticker stuck to the chest. I understand that there were certain limitations back then though, so this can be chalked up to a product showing its age.
So overall, pretty awesome Kirk figure... but something puts this one slightly ahead of the pack. A feature missing from most other Kirk figures. A characteristic synonymous with Kirk...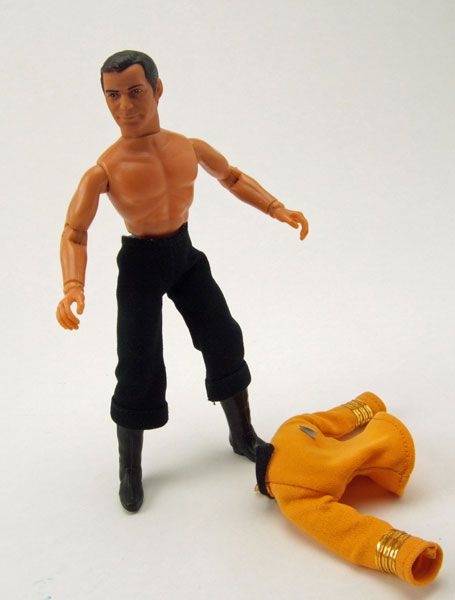 That's right baby. This Kirk can go shirtless. Bask in the manliness.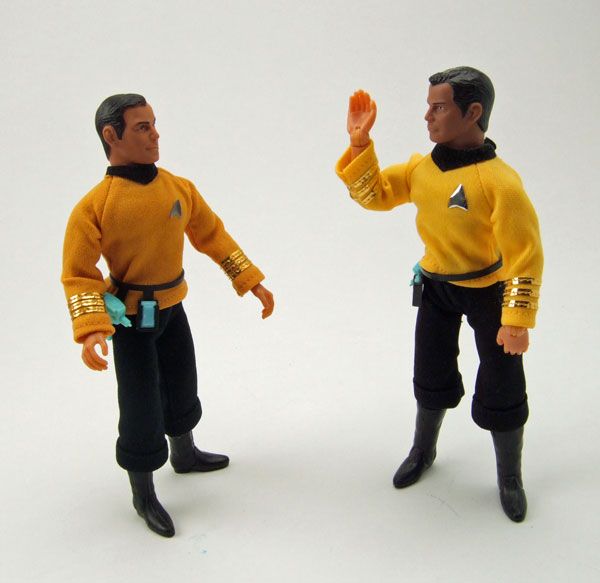 Oh crap... I was so focused in getting Kirk's shirt off that I almost forgot this was a combo spotlight! If for some reason you don't want to track down an original Mego, DST and EMCE toys are your huckleberries! For the low suggested retail price of $17.95, you can get yourself a brand spankin' new Mego-style Kirk figure! He's pretty close to the original, with just a couple of minor differences-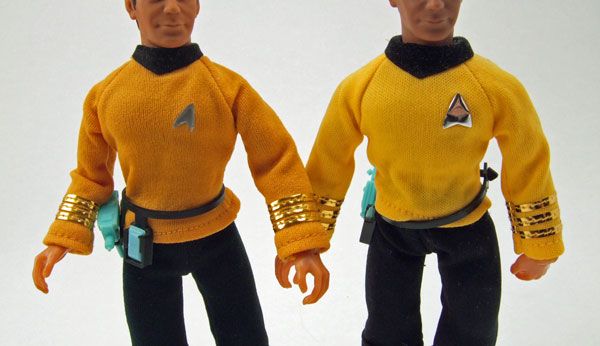 Most notably, the shirt on the reissue version of Kirk is much brighter than his original. The delta shield is the same separate sticker style as the original (mine has apparently just lost its luster over time...). While a loose original Mego Kirk will run you about the same price as the reissue, you may want to snag one of these as well. With both Mego-style Sulu and Chekov only being available as reissues, you'll need this Kirk to have all the uniforms in the same matching shade of yellow.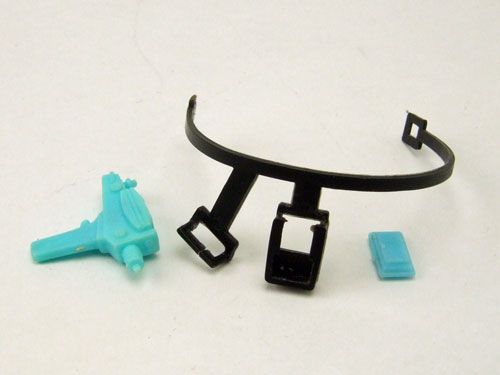 Accessories: Both the original version and the reissue include a phaser and communicator, plus a belt to holster them on. I'm a sucker for weapons' holsters on figures, so I've always been a fan of the Mego "landing party" belt.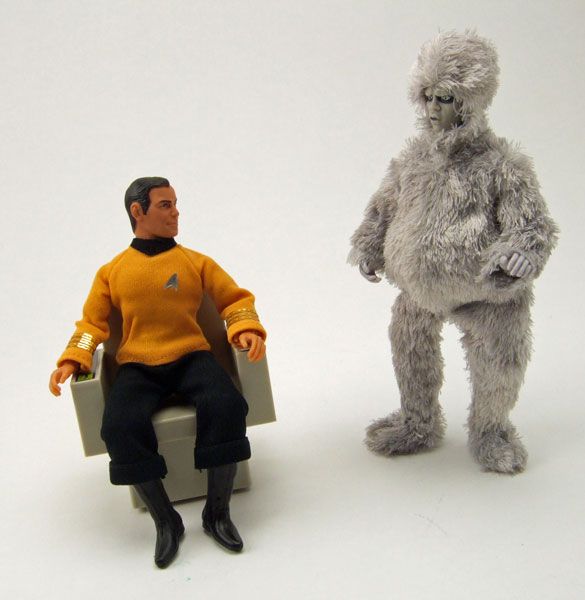 If you don't own a Captain Kirk Mego, shame on you. Even if you aren't a fan of the Mego style, every Trek toy fan should have one of these in their collection for sheer historical significance alone. Well, that and he is just plain awesome. You can find nice loose examples fairly cheap (owing to the fact that the figure was produced in pretty large numbers back then). Watch out for that symbol though! Or if the shirt is missing the delta, just chuck it and let Kirk's pecs out to play. You won't regret it... and neither will your female figure collection.