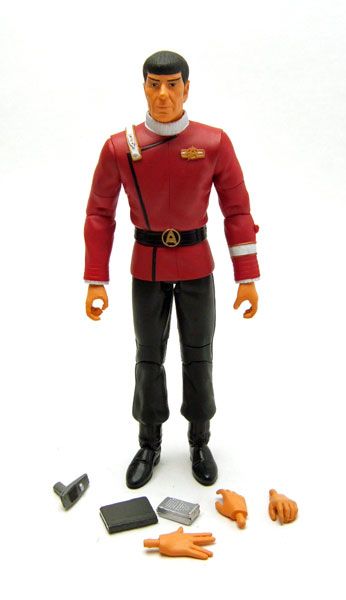 Item Name: Captain Spock
Manufacturer: Diamond Select Toys
Diamond Select released this Captain Spock as part of it's "Star Trek II: The Wrath Of Khan" line.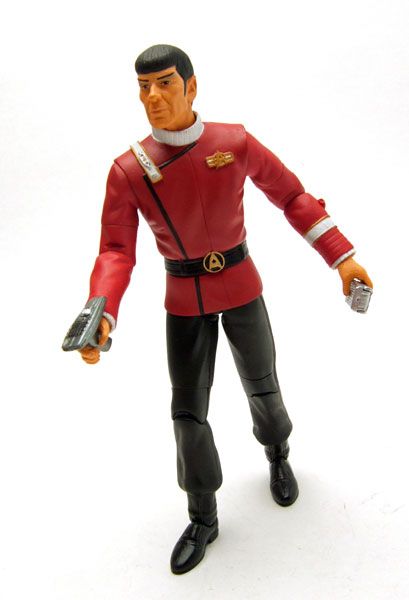 The Rundown: Fun little story for you- I was only 4 years old when TWOK hit theaters, but I still had a pretty good knowledge of Trek thanks to watching reruns on Sunday mornings with my mom. One of my earliest childhood memories stems from my love of Trek; I vividly remember playing around outside my grandparent's house in the summer of 1982, acting like I was Spock. One of the older neighborhood kids came up to me and asked "What are you playing?", to which I replied "I'm Spock". The older kid gives me a little chuckle and says (without even so much as a spoiler-warning mind you) "awww, it's too bad he dies in that new movie". He then hopped on his bike and rode away. I remember standing there being completely dumbfounded at what he'd just said, staring in shock as he pedaled off, probably to dash some other child's hopes and dreams. Ever since that day, whenever I see a Spock in his familiar TWOK garb, my mind goes right back to that moment. Weird, huh? Anyways...
One could argue that Spock is the most pivotal character from "Wrath Of Khan" (hell, you could easily argue that Spock is the most pivotal character in Star Trek
period
), so the fact that he was missing from the first wave AND the second "Comic-con" wave of TWOK figures was a little distressing. With so many Trek crews left unfinished in figure form, having to wait until essentially the third wave to get a Spock was torture. Obviously, we did get him...and man was he worth the wait! This Spock rocks.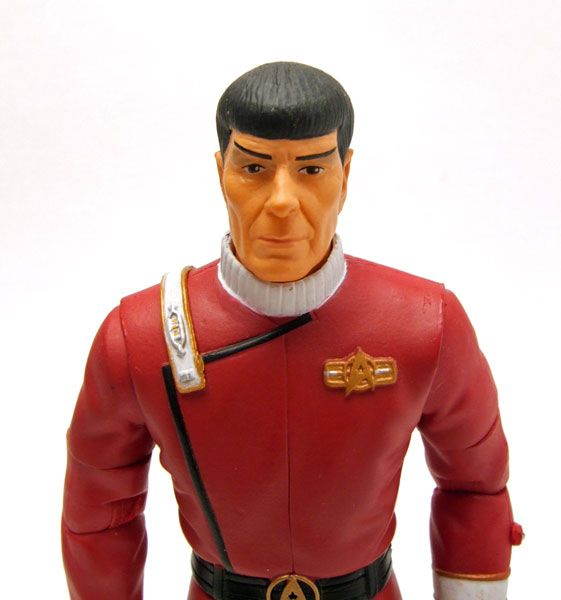 As good as the AA TOS Spock head sculpt is, I think this older Spock captures him a bit better. Maybe it's the fact that Nimoy had a little more "character" in his face by this point that made it a little easier to nail the likeness, but whatever the reason the fact is that this is one excellent head sculpt. The only small gripe I have is with the skin tone- it looks a little like Spock has been hitting the tanning beds or he's trying out for the next season of "Jersey Shore". I wish he'd had a bit more of a pale green tint to his skin, but alas, what can you do?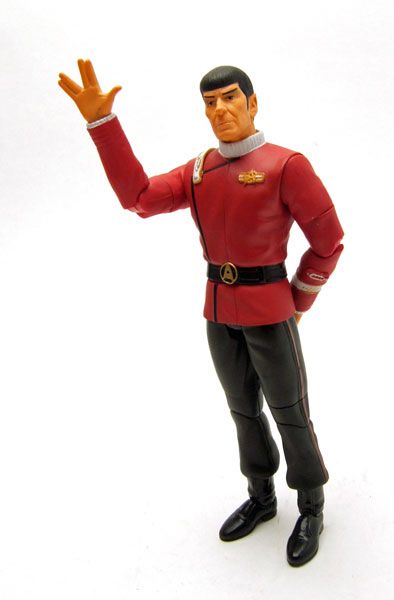 As I've discussed in the other DST TWOK spotlights, there is some body reuse between the characters. Not really a big deal, since the uniforms are all basically the same and some minor changes are made to reflect different ranks and divisions. Spock is no exception, but regardless of it being a reuse, the body works. The build is a good match for Spock and the body has a good range of movement without sacrificing the look of the sculpt.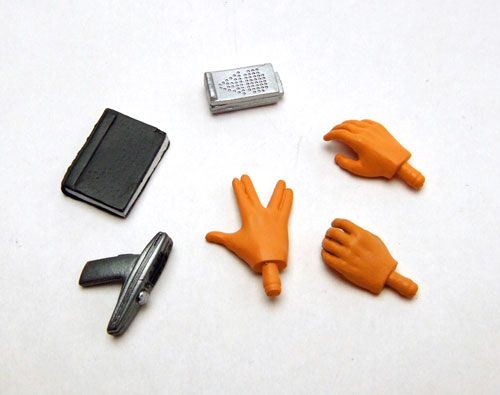 Accessories: Spock includes a phaser, communicator, the book he gives Kirk, and 3 (count 'em 3!) extra interchangeable hands. I'm especially pleased to see the book included- who'd have thought we'd get that!
If you are just beginning to collect DST stuff- the "Wrath Of Khan" line is a great place to start, with this figure HIGH on your list of priorities. He's a great sculpt with solid accessories and reflects one of the greatest moments in Trek history- even if some punk kid spoiled the end for you.
-James