Item Name: Star Trek Lunchbox
Manufacturer: Aladdin Industries
The Rundown: Back when I was in elementary school, status symbols weren't things like cars or clothes... it was your lunchbox. Lunchboxes said a lot about what kind of kid you were. Since they all cost about the same amount of money regardless of what was plastered on the box, the choice of which one you carried was based almost completely around your personal bias. If you had a He-Man, G.I.Joe, or MASK box, you were (as Charlie Sheen would say) "winning". Whereas if your mom plopped your PB&J sammich into, say, a Go-Bots box? Well, it was a sure bet you weren't going to be eating at the cool kids table.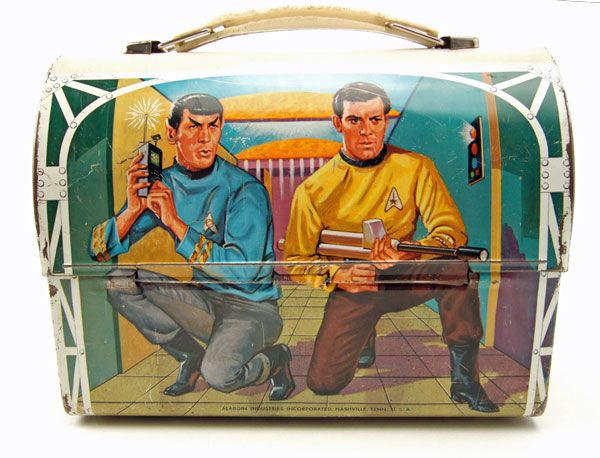 So when did this long-lasting affection for stylized lunch housings begin? Glad you asked. Back in the 1950's, the Aladdin Corporation came up with the ingenious idea of licensing popular characters and applying their images onto lunchboxes. Aladdin's first product, the Hopalong Cassidy box- was met with HUGE success, sending their lunchbox sales from 50,000 to 600,000 units in a year! More licensed product quickly followed, including a box released in 1968 based on a little science fiction show you might be familiar with...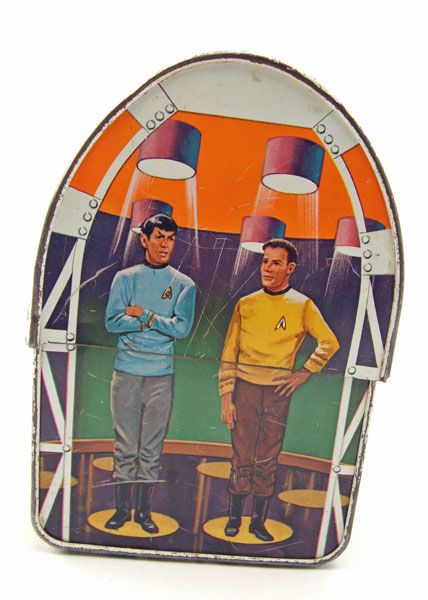 Even though the Star Trek lunchbox was released towards the tail end of Trek's initial televised run, the box was still a large success, reportedly selling in excess of 250,000 units! Priced at $3.49 and done in the traditional dome styling, the lunchbox features artwork plastered on each side of it's surface.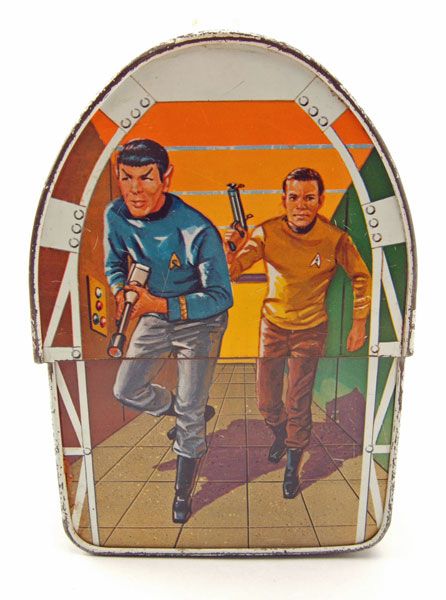 Very much like the Gold Key comics of the time, the images created for the box aren't all that faithful to the show, but offer a fun-filled, action-packed take on our beloved characters. Just look at that side panel above for example. Kirk and Spock running off to blast some aliens. Pretty standard, right? Well...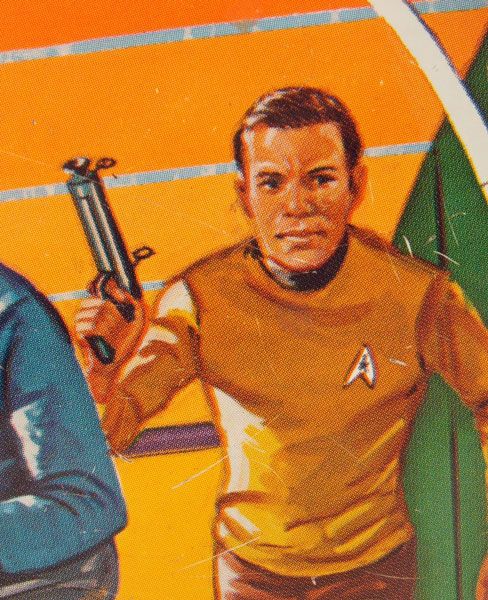 What the heck kind of gun is Kirk using here?!? An antique naval pistol? A boomstick? Who knows, but I'm sure he won't get an trouble from those dirty Klingons with that piece in his hand.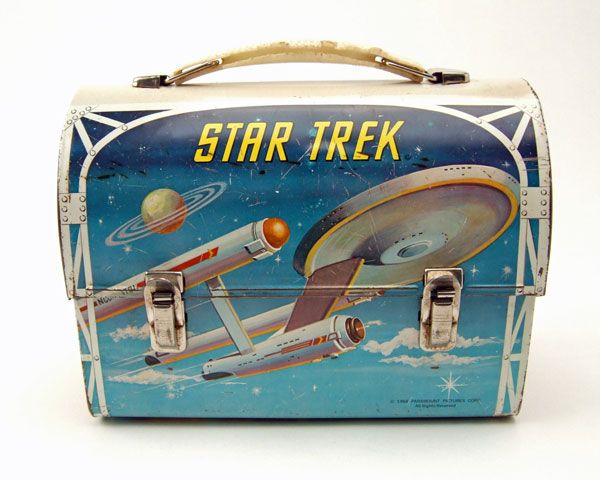 By far, my favorite piece of art from the lunchbox is the large image of the Enterprise soaring through the sky on the box's front. It really is an amazing piece of vintage style Trek art. I'm really curious what happened to the original art for this box. Is it in some filing cabinet somewhere... or perhaps it's in the homes of the box artists (Bob Burton & Elmer Lehnhardt)? Regardless of the medium it was used for, stuff like this should really be on display somewhere. I'd pay a few bucks just to take a look at the originals.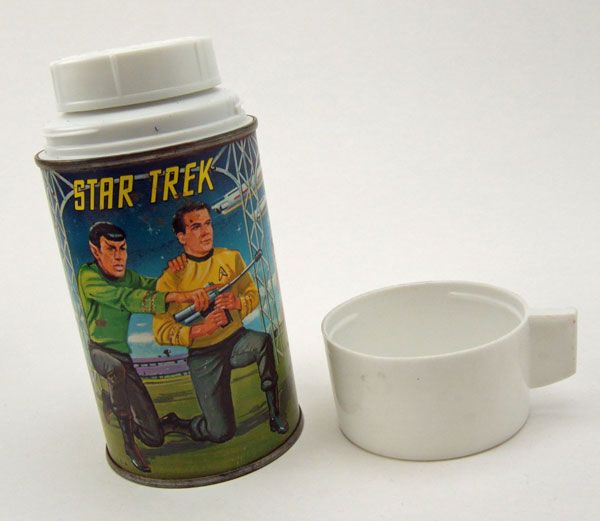 Like all your standard Aladdin lunchboxes, the Star Trek box includes a dedicated thermos (you know- for keeping your drinks cold or your soups warm). The Trek thermos features the same style of art from the box, only this time it's one large scene encircling the entire bottle. There's the image above, with Kirk & a green-shirted Spock doing some skeet-shooting...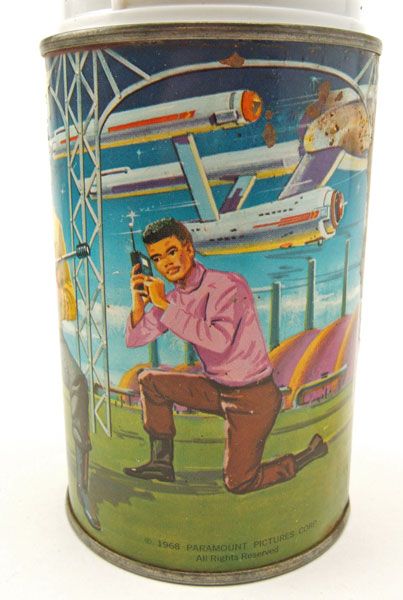 ...pink-shirt guy making a call on his phone, whilst a low-orbiting Enterprise soars overhead...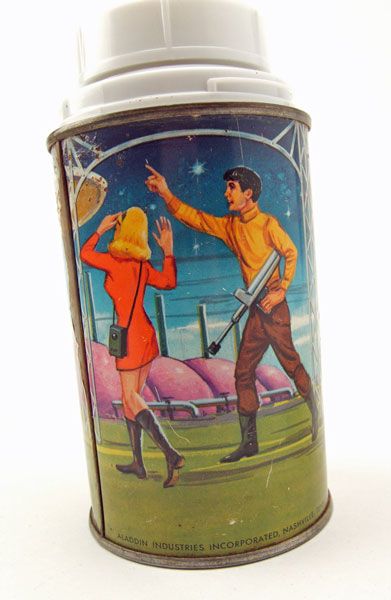 ...and lastly, a male and a female crewmember doing some fun stargazing. Not really sure why the male crewmember felt the need to bring a phaser rifle along with him, but better safe than sorry I guess. I like to think that these 2 are Chekov and Yeoman Landon from "The Apple". Just like in that episode, Chekov is using the opportunity of an important and potentially dangerous mission on a planet's surface to make some kissy time with the lovely yeoman. You go Chekov.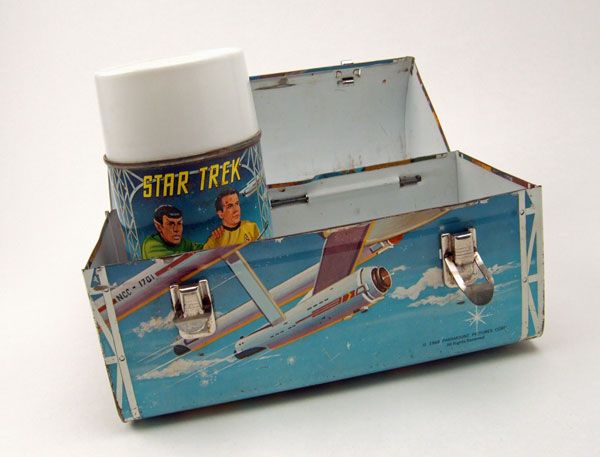 The 1968 Aladdin lunchbox is one of the cornerstones of a vintage Trek memorabilia collection. With so few licensed products created during the show's initial run, this lunchbox stands out, mostly due to it's outstanding quality. At the original retail price, a ton of these made their way into the hands of young Trekkies... but finding one in good shape nowadays is a tough (and expensive) task. If you decide to go after one, be prepared to shell out anywhere from $200-$500 on average for a mint example. With such a steep price, I can only recommend this one to the most hardcore of vintage collectors...