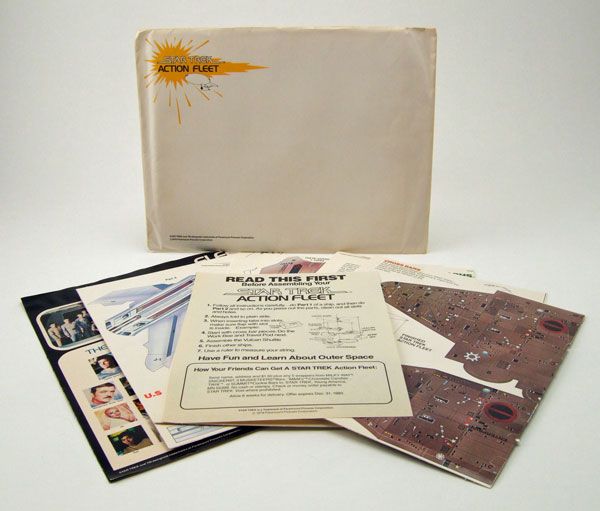 Item Name: Star Trek Action Fleet Mobile
Manufacturer: Mars Candy Corporation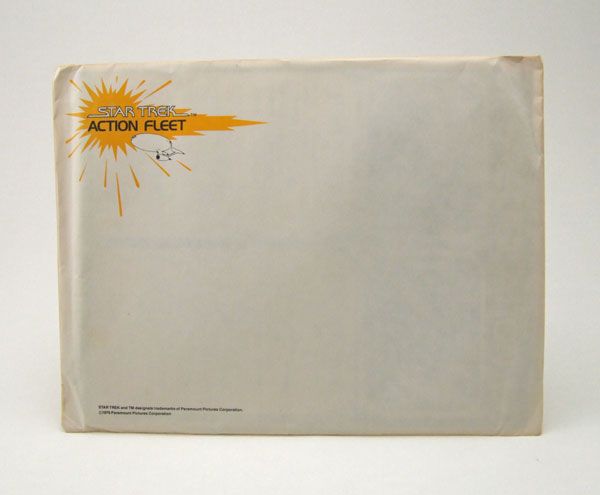 The Rundown: After the huge success of Star Wars back in 1977, many companies were banking on "Star Trek: The Motion Picture" to be the next big licensing juggernaut. The merchandising range of TMP far outranks that of any of the following "classic" Trek films, despite the fact that it is probably the most cerebral of the bunch. One of the larger companies to sign on as a promotional partner was the Mars Candy Corporation, which produced the piece we are looking at today- The Star Trek Action Fleet Mobile! Let's jump right in... oh wait... apparently we are supposed to read this first: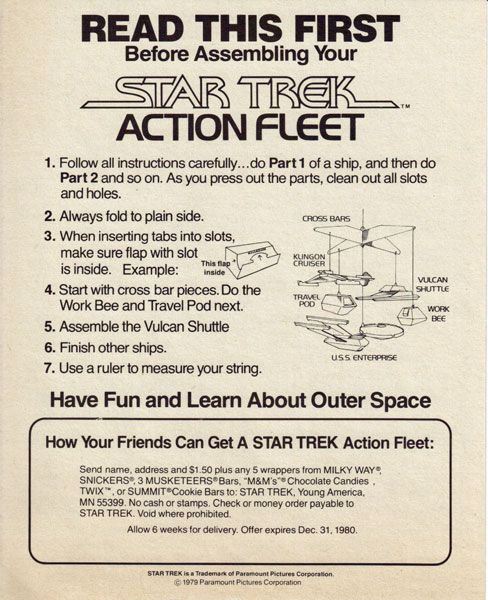 Okay. Glad we looked at that first. I would have tried to assemble part 2 before part 1 had I not checked that first. Boy, would my face have been red. Oh... and apparently this item allows one to "Have Fun And Learn About Outer Space". The fun part I get... but I'm still scratching my head as to what I learned about outer space. Other than the fact that there are giant starships flying around up there.
Aside from those instructions, this sheet also details how one would have received this piece of perforated paper perfection. If you had 5 candy bars and $1.50 lying around, you were in business. 5 candy bars!?! Remember- that was back in 1979... No wonder our kids are in such rough shape nowadays. Oh, and what the heck is a "Summit" candy bar? Sounds pretty freaking boring. I guess "Board Meeting", "Business Retreat", and "Company Outing" were alternative candy bar names that just didn't make the cut.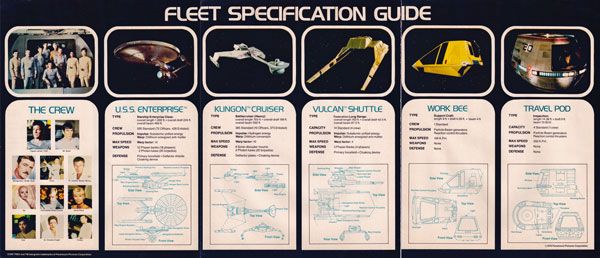 Inside your mailer envelope, you'll find this nice gatefold poster detailing some of the ships and faces from TMP. The first section features the crew of the Enterprise-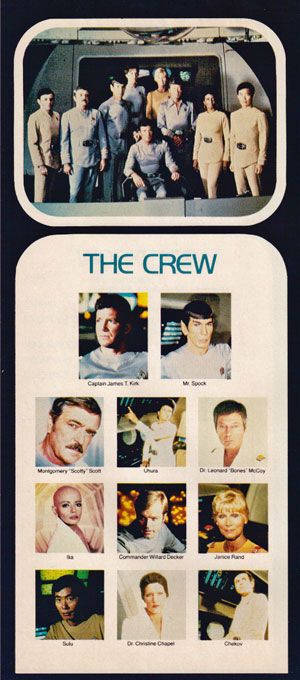 The rest of the poster focuses on each of the vehicles included as part of the mobile. There are 5 vehicles included, and a crossbar section to display the entire thing on. Each vehicle is constructed by popping their parts out of a construction sheet (or sheets in some cases) and then assembling them according to the instructions.Let's start small and work our way up...
First up is the diminutive Travel Pod, which is completely contained in one construction sheet: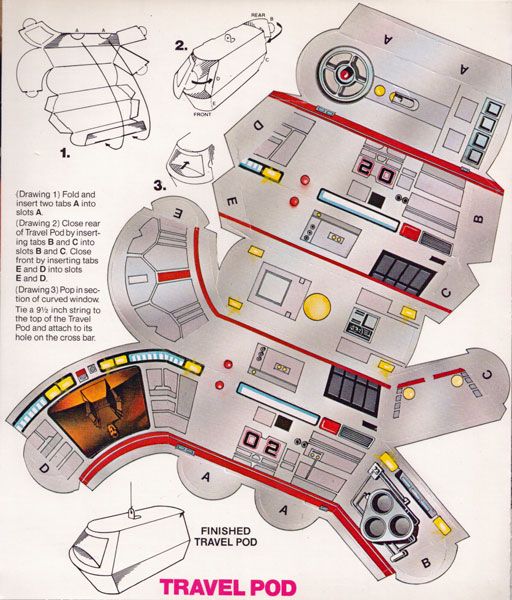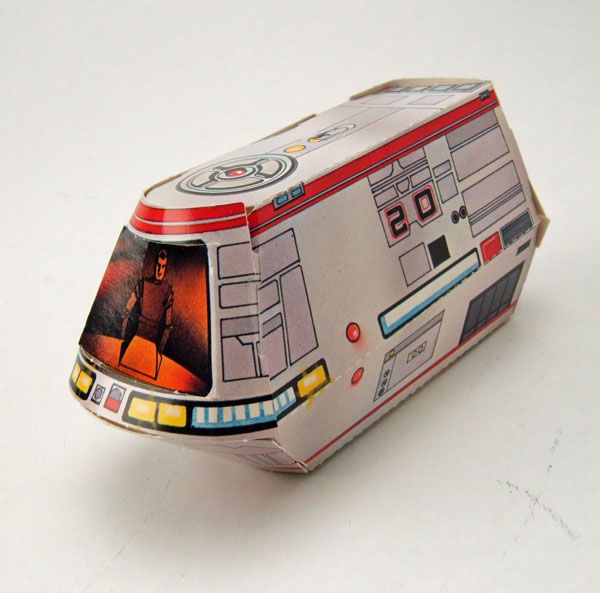 Since it's all contained in one piece, the Travel Pod is the easiest of the bunch to assemble. I wish the image of the cockpit area featured Scotty and Kirk instead of a single pilot, but the ship itself is neatly done and is a fair approximation of the screen-used miniature (especially when you consider this is just folded up paper).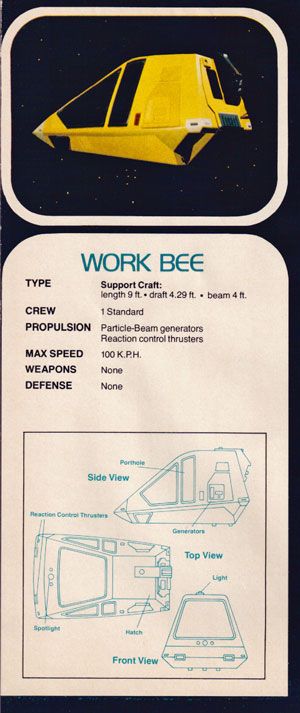 Next up is the Work Bee, which is also a "one-sheeter"...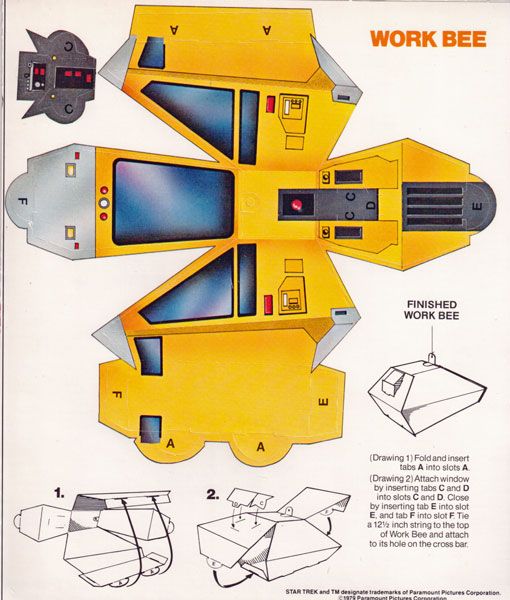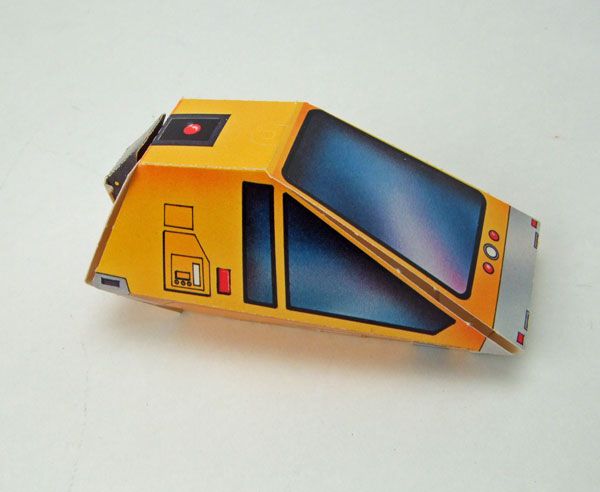 This one was a breeze to assemble, with only 2 parts in all. It may seem an odd choice for the mobile, since it has so little screen time, but I can't fault Mars for including something extra. It's grossly out of scale with the Enterprise, but it looks nifty so I am cool with it.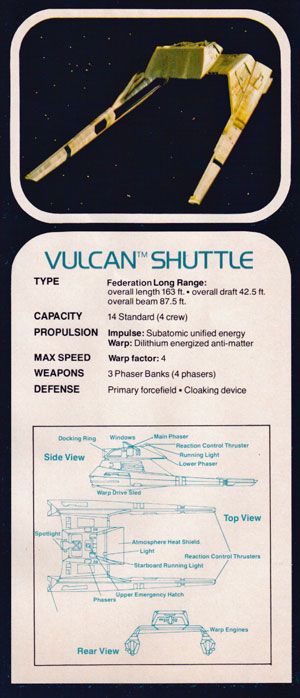 Things start to get a little more complicated with the Vulcan Shuttle, which has parts that span two sheets instead of just one: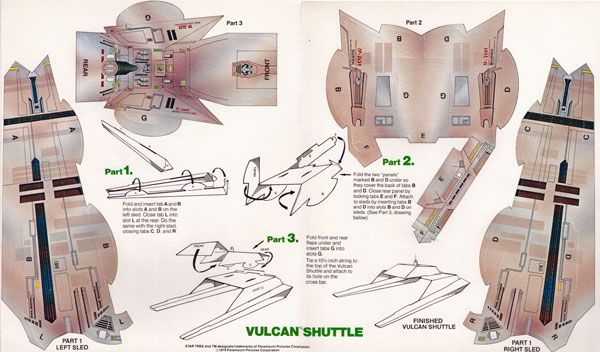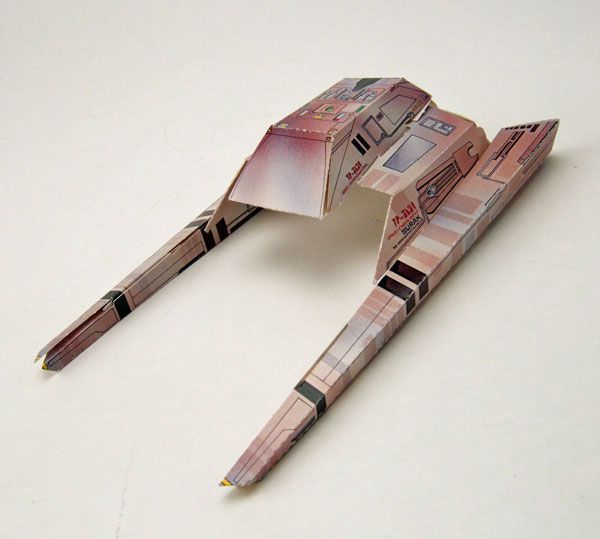 Now we're getting down to business! As cool as the 2 smaller vehicles turned out, I was really impressed by how the mobile's designers managed to pull off the Vulcan shuttle. Though it seems like a relatively simple ship design, reproducing it as a paper good was probably a fairly daunting task. The end result is very nice, with this ship being my favorite of the bunch.
With parts that cover 3 sheets, the assembly process gets a lot trickier with the Klingon Cruiser: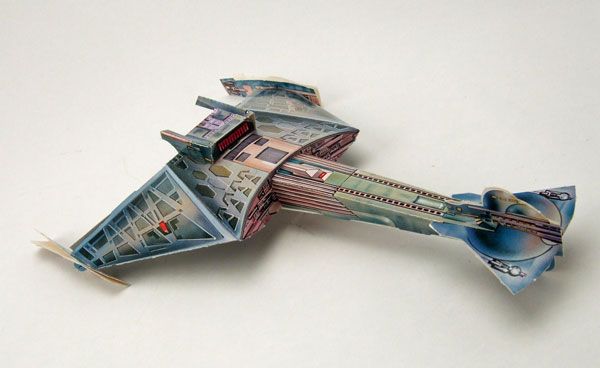 While I understand the limitations of what I'm working with, I was a bit disappointed in this one. I guess it's almost impossible to capture the spherical look of the bridge area as a paper construct. But after the awesomeness of the Vulcan Shuttle, the Klingon Cruiser was a slight letdown.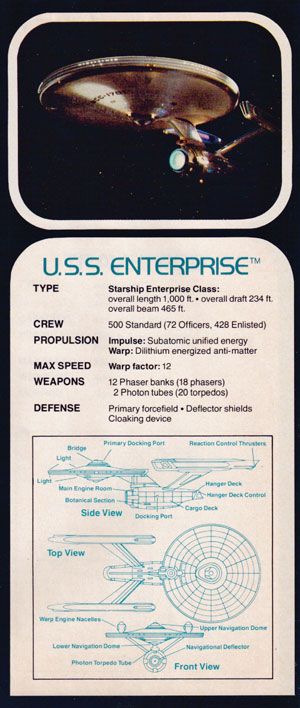 The last of the ships is (of course) the Enterprise, which also uses 3 sheets to house all of it's parts: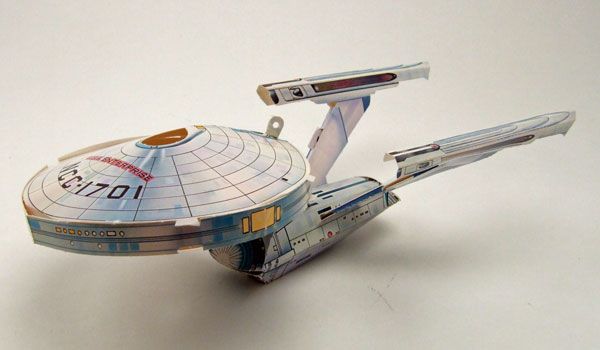 By the time I finished this one, I felt like an origami Jedi. Like I could make a scaled model of the Taj Mahal using 2 Kleenex and a sheet of construction paper. It's the little victories in life that are worth celebrating.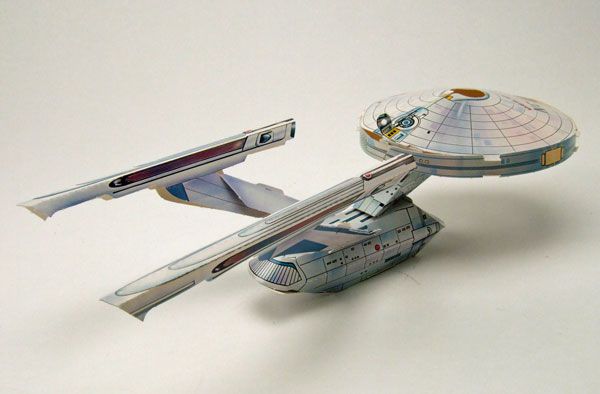 Even with a couple of minor nitpicks, I think they did a fantastic job on this one. sure, there's a hole through the saucer section and the ship is a bit wobbly, but MAN... that's the Enterprise... MADE OUT OF PAPER! Awesome sauce.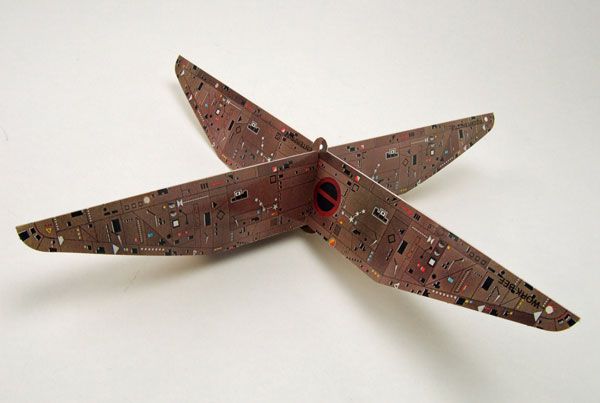 Sadly, though my hands were sweaty and my fingers numb, I wasn't quite finished. The last bit of work was the crossbar section you see above. This one is easily slapped together though, so I managed to push on through. Included with the pack is a length of string that you thread through the assembly and into your completed ships, allowing them to dangle in orbit. I guess that's the part where you learn about space. You'll notice I don't have an a picture of the assembled mobile. Well, that's because I didn't want to try and get the thing home like that... though in hindsight, dangling the whole rig from my rear-view mirror would have ruled.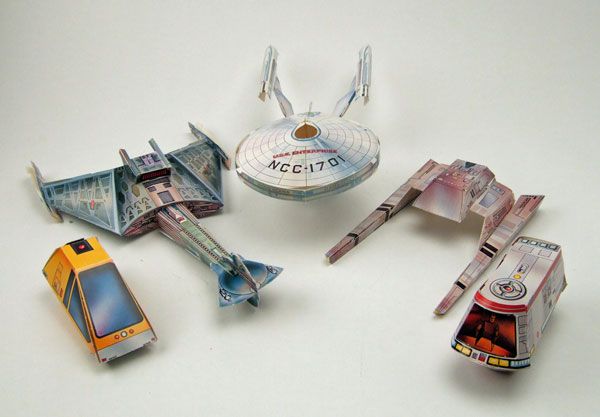 So there ya go- A little slice of promotional history known as the Star Trek Action Fleet Mobile. You can usually snag these unassembled for between 10 to 15 bucks. At that price, it makes a fun rainy day project, especially for the younger Trekkies in your life. Though I wouldn't suggest feeding them 5 candy bars beforehand...