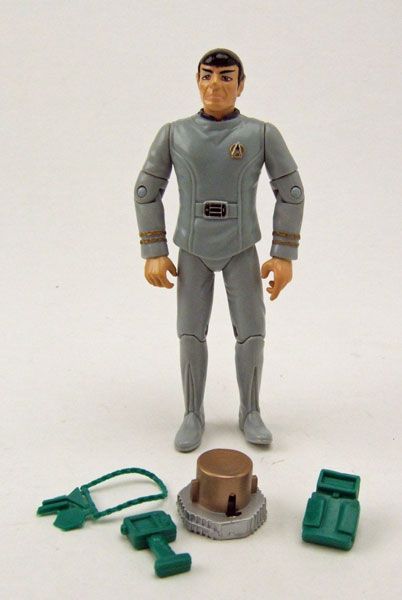 Figure Name: Commander Spock
Manufacturer: Playmates Toys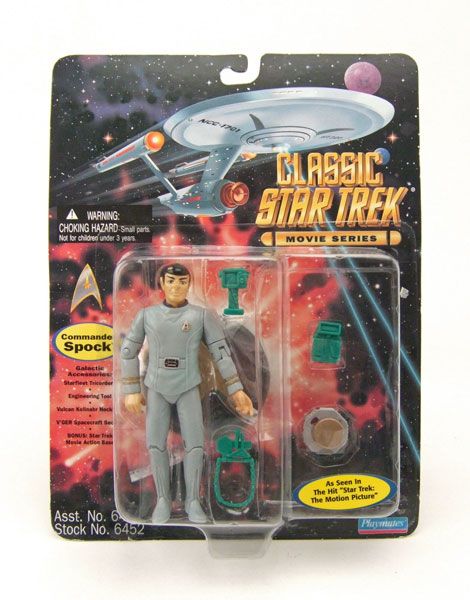 Commander Spock was released carded as part of Playmates' Classic Star Trek Movie Series.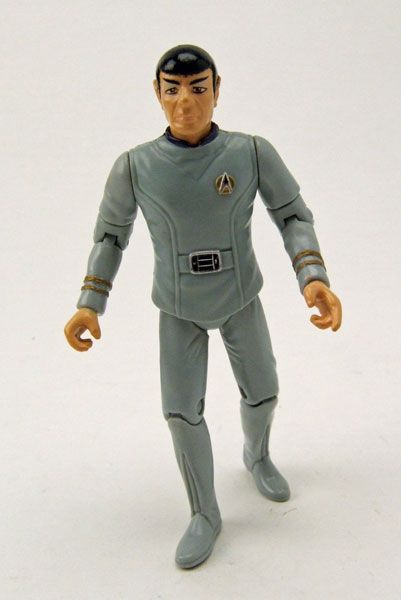 The Rundown: After doing this for 2 years, I've started to find myself forgetting which figures in my collection I have spotlighted and which I haven't. Take this Spock we are looking at today for example. I've probably looked at this Spock at least a dozen times on my shelves, and every time I've left him sitting there thinking that I'd already spotlighted him. Well, I guess there's egg on my face, because it turns out that I hadn't. So, without further ado... here's Spock!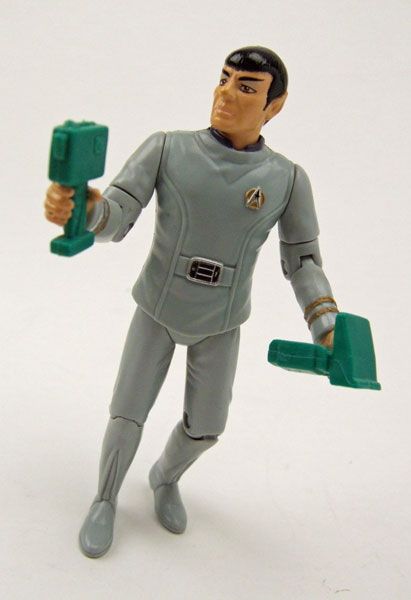 Captured in his starfleet uniform from "Star Trek: The Motion Picture", this Spock is basically your standard Playmates release. I don't know if I mentioned this before or not, but I really feel like the Classic Star Trek Movie Series to which this figure belongs features some of Playmates finest efforts with the license. Each figures featured strong, unique sculpting for the most part, and the character selection was like a classic movie fan's wishlist for figures.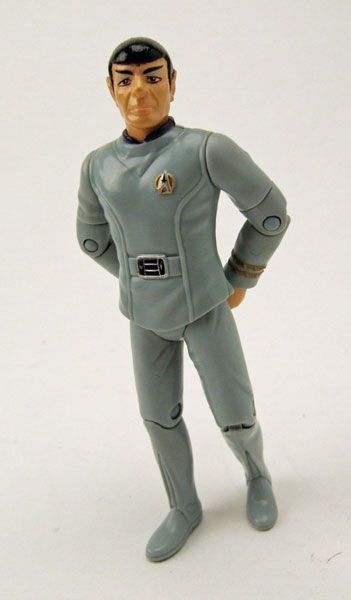 Each of the TMP-era figures released in the wave feature newly-sculpted bodies that do a fantastic job of recreating the screen costumes. I hear a lot of folks often complain about the Playmates bodies, but I don't see how anybody could look at Spock here and call this a bad figure. I'll admit that there work could be a bit questionable at times... but the TMP figures ROCKED.
BUT...Spock isn't a completely flawless Playmates effort. First, I believe they got the background color on his delta shield wrong. Second, Playmates for some reason felt the need to sculpt one of Spock's feet slightly bent to give the appearance that he is stepping forward. I have no idea why they chose to give Spock an "action-oriented" stance. Kirk? Sure. Sulu? Yeah, I get that. But Spock? That's just not logical. It's not really a huge deal, but it does makes it difficult to give Spock a straight stance without the aid of a figure stand.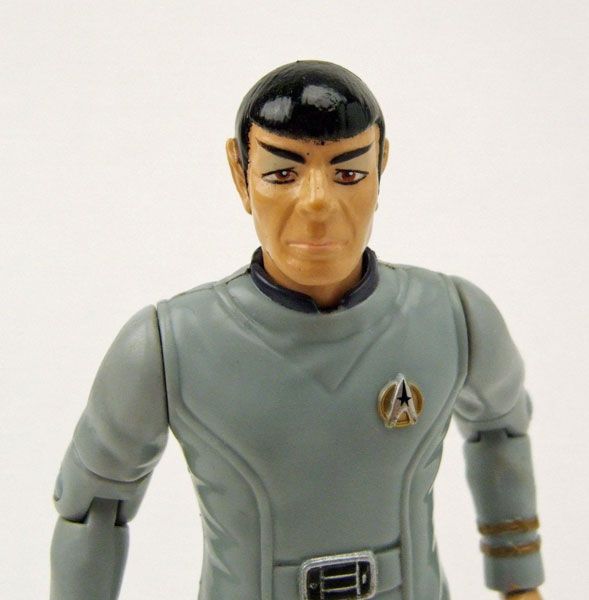 Now here comes my big gripe with this release. While all of the other figures released in the classic movie series featured head sculpts that were a bit more aged than their TOS counterparts, Spock simply gets a new paintjob on his TOS-era head. Check it out-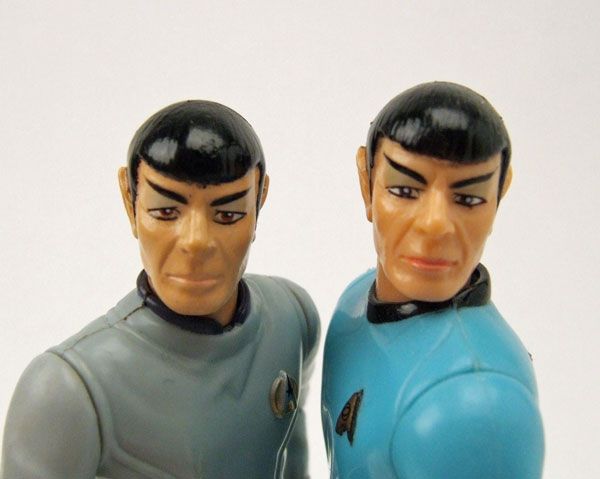 It's a little tough to tell due to the paint on the TMP head, but if you look closely enough you'll see that this is indeed the same head. While you could argue that Spock looks relatively the same in TMP as he did in the classic series, I still feel Playmates should have given us a new sculpt. Sulu gets a new head, Uhura gets a new head, but not Spock? Oh, and to add insult to injury- having the skin painted on instead of being molded in flesh-tone makes this figure very susceptible to the dreaded "nose rub". You'll often find this figure with the paint rubbed away from the tip of his nose, sometimes even when he's still in the package. Bummer.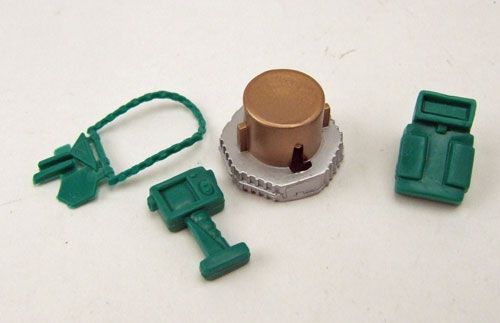 Accessories: Spock includes some engineering tools, a display base (not pictured), and an awesome little Kolinahr necklace...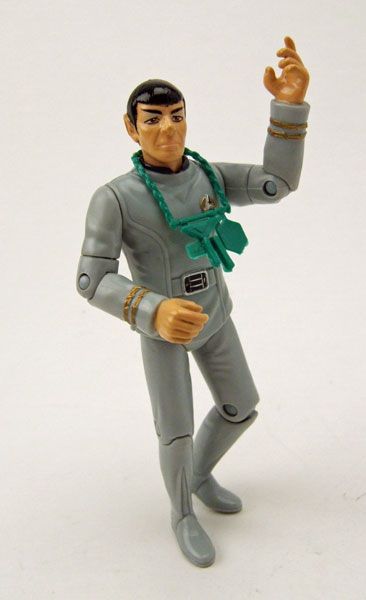 ...which you can use to reenact scenes from the recently spotlighted novel
Crucible: Spock
by David R. George III! Reading is FUN-da-mental!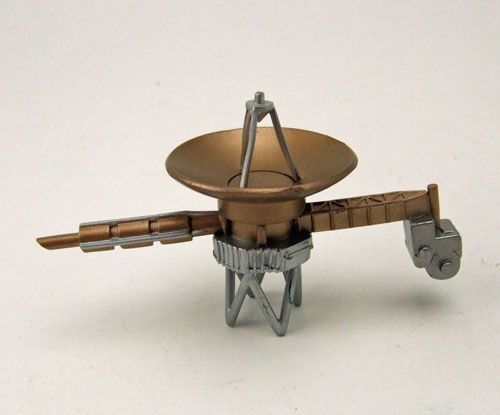 Also included with Spock is a piece of V-Ger. Collect all 5 TMP figures to complete your own mini-V'Ger!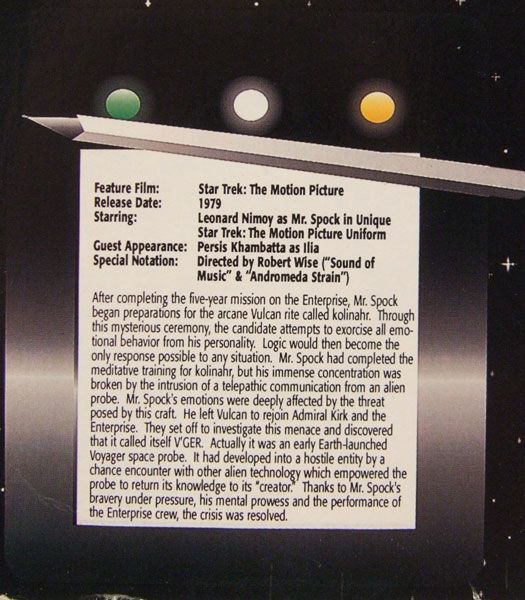 And there's the bio from the back of the box... just in case you like reading such things.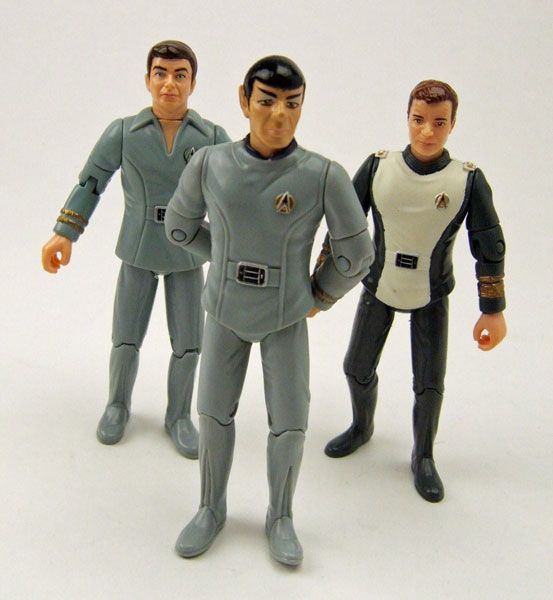 A couple of minor quibbles aside, Spock is still a pretty fine figure. He's got a solid sculpt and looks great alongside the rest of the TMP-era figures. While Playmates never released a Scotty, Chekov, or Decker from "The Motion Picture", the Classic Star Trek Movie Series is still overall your best bet for an accurate display featuring these uniforms. Mego's 3.75" efforts were diverse, but lacked accuracy when it came to the uniforms. Their 12.5" figures on the other hand were quite accurate, but only covered a handful of characters. DST put out great figures of Spock and Kirk (in both his Captain and Admiral uniforms), but never managed to release any other crew members. So yeah... if you want a good TMP figure display, you gotta go with Playmates. The best part is that you can do it on the cheap, with most of these guys usually going in the $5-$10 range. At that price, it would be a crime not to jump into these if you're a fan of the first film. Just remember to watch out for that nose...