Item Name: Official Starfleet Belt, Buckle, And Insignia
Manufacturer: South Bend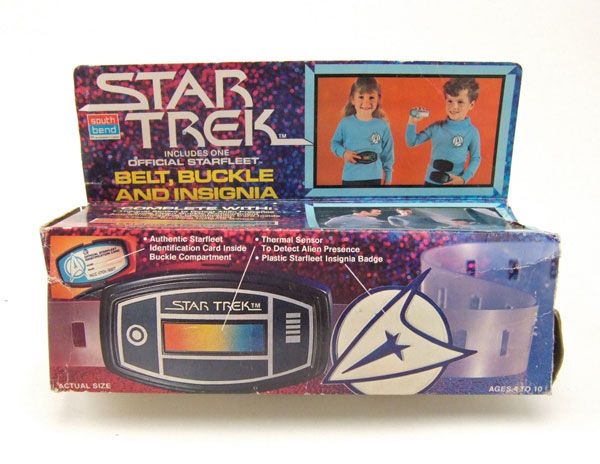 This puppy was released to stores way back when "Star Trek: The Motion Picture" was still showing at your local theater...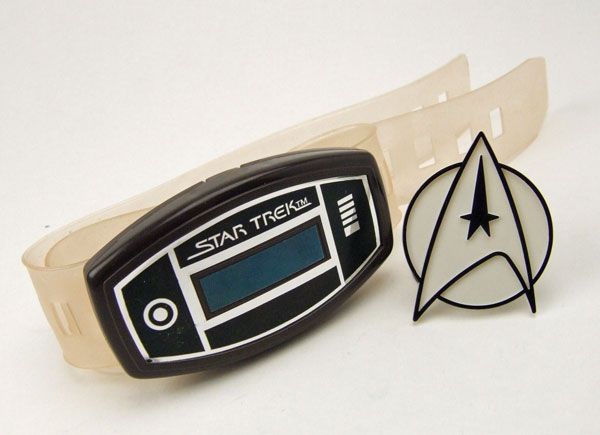 The Rundown: Ah, South Bend... Why couldn't you do just a few more Trek products? Your
Electronic Phaser Guns
are some of the coolest phaser toys ever made, and your
Electronic U.S.S. Enterprise
was WAY ahead of its time. Oh how I wish you had released just a few more things... Wait- What? They did do something else!? A belt buckle and insignia pack!?! You don't say! Well, we have to to take a look at that ASAP! Like now!
While it still carries the South Bend logo, these goodies from Milton Bradley's sub-division lack the electronic features that usually accompany that brand name. Who cares though... look how much fun those kids on the packaging are having! No way did they get made fun of at school.
The set includes all the stuff you need to turn an ordinary shirt into a screen-accurate TMP uniform. Let's start with the insignia; It basically a white plastic delta shield with painted lines that you stick to your shirt. I know exactly what you're thinking- "But James, I don't want to ruin my nice blue turtleneck by putting pin holes in it!" Well, South Bend has your back.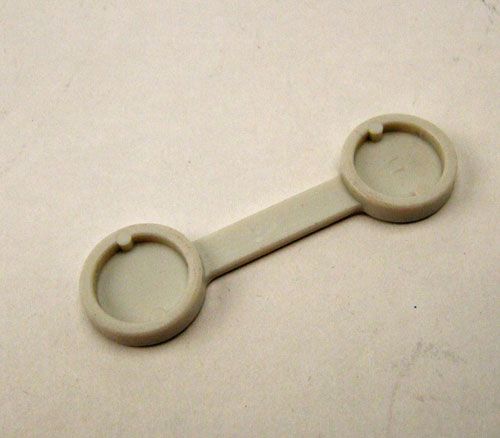 Instead of pointy pins protruding precariously from the back of the insignia, South Bend went a much safer route. Included with the set is this nifty white plastic bar...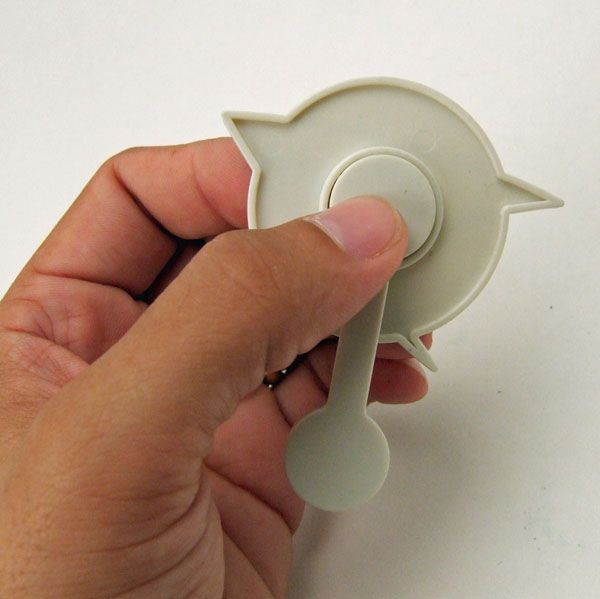 ...which fits neatly into a recess in the insignia's back. Place your delta shield on the proper spot, reach under your shirt, press the plastic bar into the recess, and you're good to go! No messy pin holes, and no danger to your tiny digits!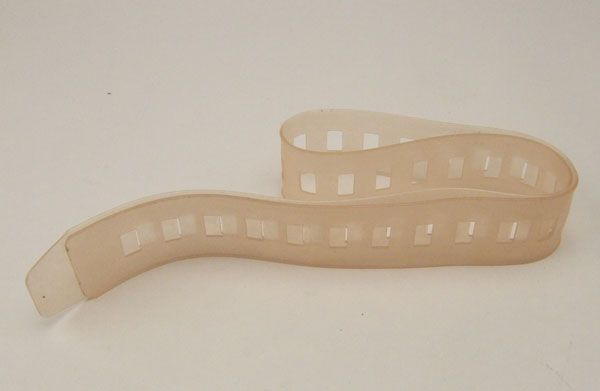 Next we have the belt. Ummmm, yeah. It's clear plastic belt with a bunch of holes in it. You know... just like the movie. Moving on.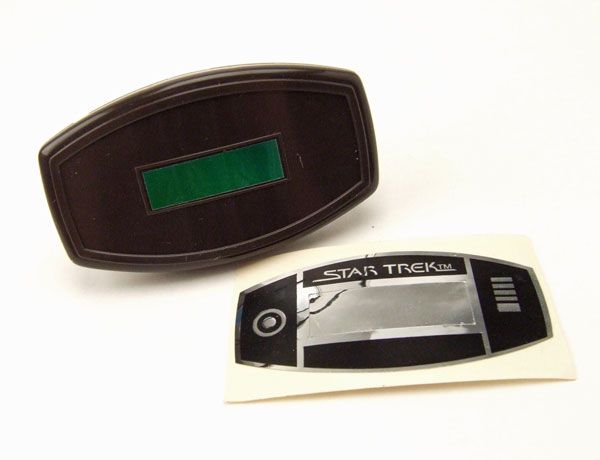 Lastly, we have the coolest item of the trio- The belt buckle! When you open up the box, this is how you'll find your belt buckle. Looks pretty plain without that sticker on it, doesn't it? I wonder how I'm supposed to get that on there...
Oh! So that's how you do it... thanks South Bend! You're a life-saver!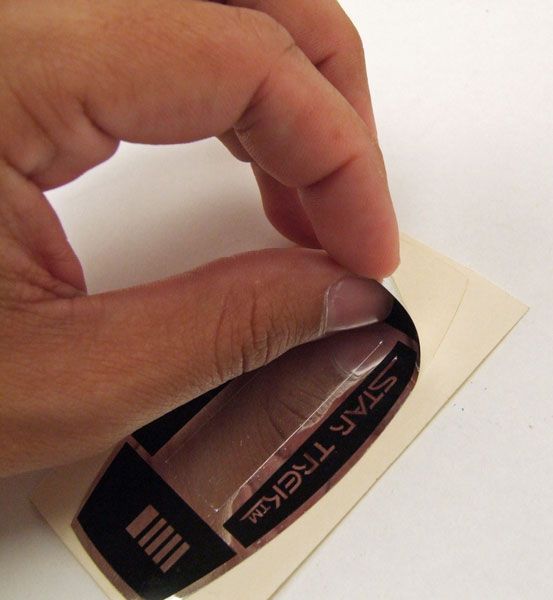 So I just peel the label off of here...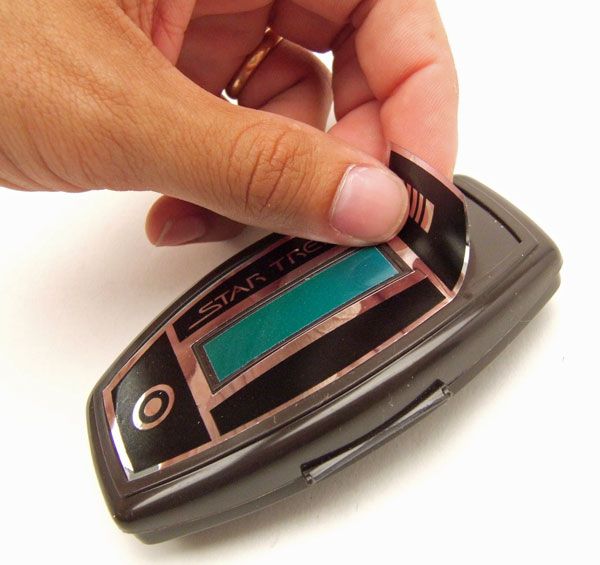 ... and stick it right on here.
Now THAT is a belt buckle! But the buckle isn't there just to look good. Quite the opposite. This thing was multi-tasking before we even knew what multi-tasking was. Check the box-
Yeah, that's right. It has a freaking thermal sensor to detect alien presences. Or warm fingers. One of the two.
How's it work? Glad you asked. Place a finger (hot or cold) along the sensor strip for a few seconds, just like I am in the picture above.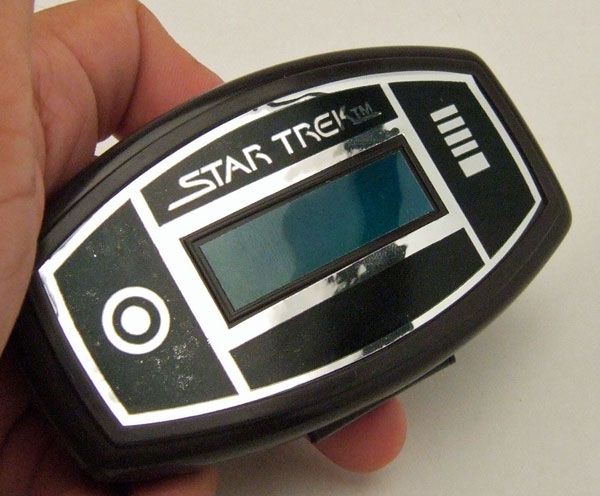 Now move your finger away and use the chart from the box to determine whether you are hot or cold. I am apparently hot. Well, I can't argue you with that South Bend... but when does the whole "detecting alien presences" thing start?.... Hello? South Bend? Hello? *Crickets Chirping*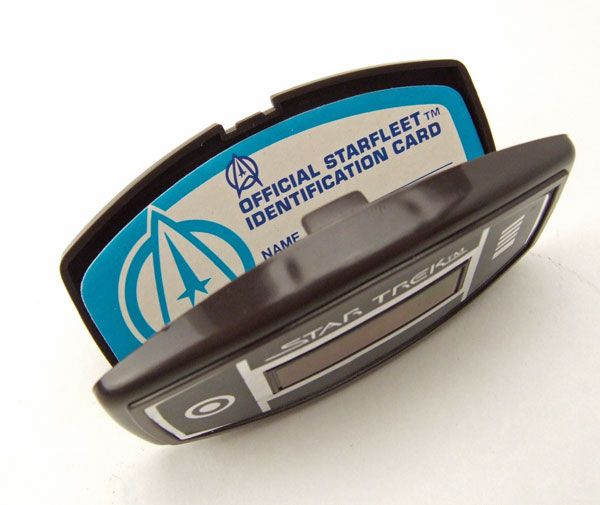 Okay, so let's forget about the alien presence detecting- The buckle still has something else to offer! You might notice a little tab at the top of the buckle. Snap it open and you'll find an "Official Starfleet Identification Card".
To be filled out in the presence of a senior official I'm sure, the card lists important things like your name, rank, and the designation of the ship you are serving on. Since the TMP uniforms didn't look like they had much in the way of pockets, I bet being able to store your ID in your buckle came in pretty handy at the Starfleet bars.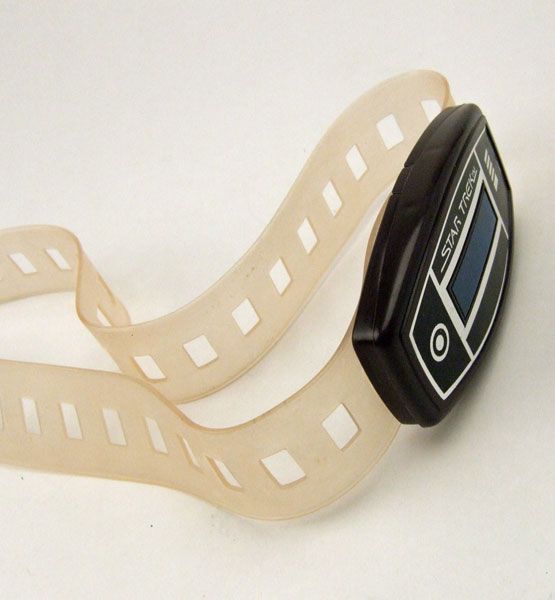 And that's about it. While the set lacks the electronic extras of their South Bend brethren, this is still a pretty cool pack. While I don't think there's any need to rush over to eBay and snag one (they typically run around $40-$60 in box), it might be nice to have if you already own the other South Bend items. Since only a few Star Trek items were released under this brand, putting together the entire range could make for an interesting display....