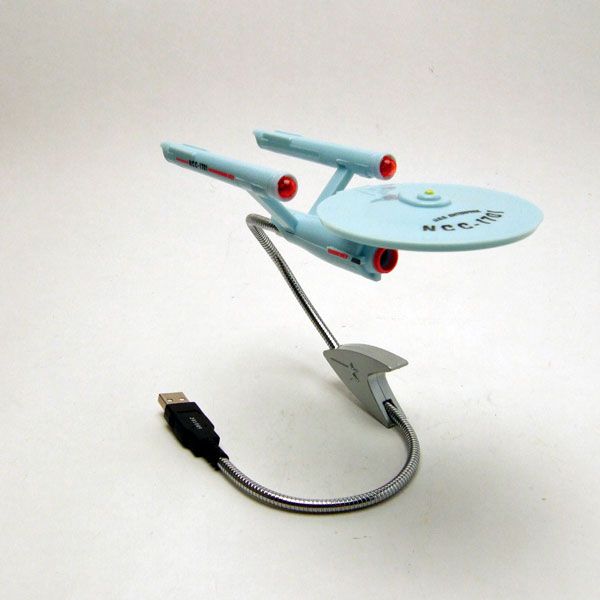 Item Name: USB U.S.S. Enterprise Webcam
Manufacturer: Dream Cheeky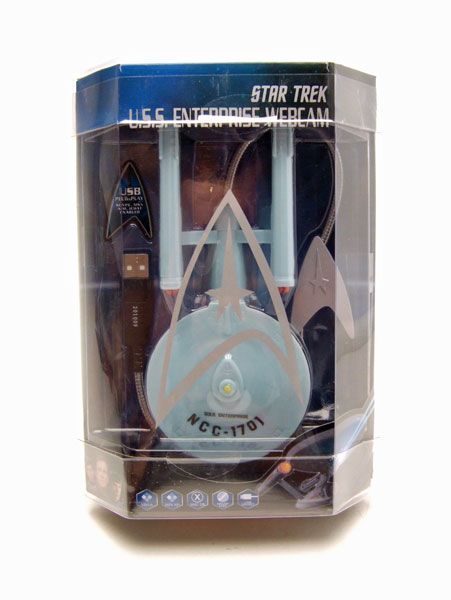 Dream Cheeky released the Trek-tastic webcam in this nifty packaging for around $29.99.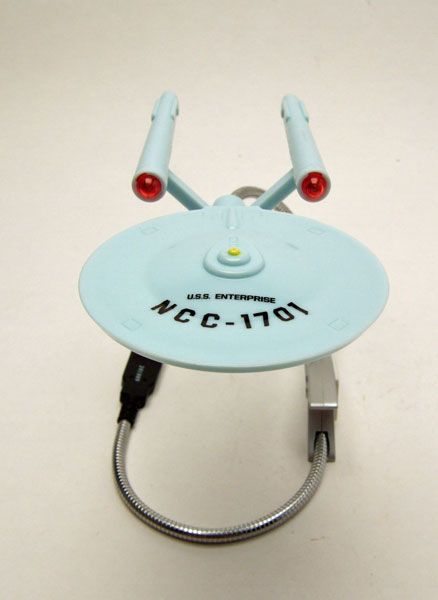 The Rundown: Truth be told, I know absolutely nothing about webcams. I've never owned one and I've never used one, so I'm a big novice when it comes to judging a good one from a bad one. If you're going into this expecting me to break down the abilities and quality of the camera itself, you may want to turn away now, because I am not qualified to judge it based on that. I just like Star Trek stuff, thus why I bought it. Cool? Okay, let's look at it...
There aren't many products that I have had immediate disappointment with, even before removing them from the package. This is one of those products. See, when I pre-ordered the webcam, it looked like this: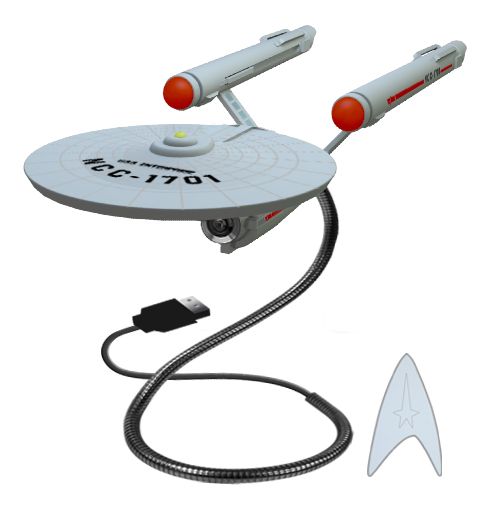 And when my local shop got it in, it looked like this: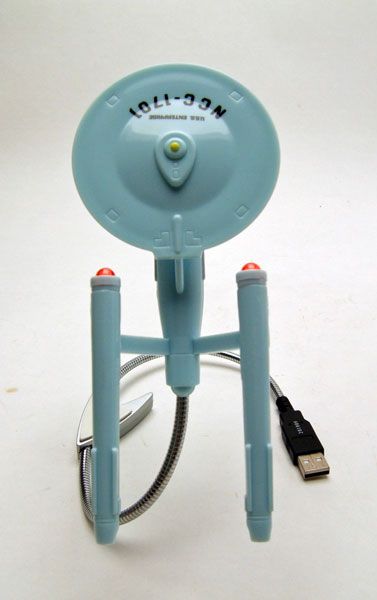 Yeah, pretty big difference there. Gone were the gray color, grid lines, and other small details, and in their place there's shiny blue plastic. Yikes! I'm aware that there's always those disclaimers that state "Final product my vary from picture", but that's a pretty big decline in quality.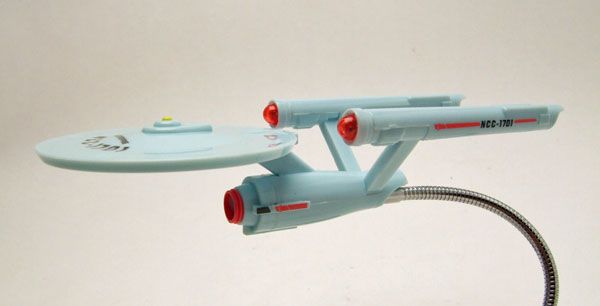 Moving past the lack of detailing and odd color, the ship itself isn't horrible or anything, it's just plain mediocre. It's got the basic look of the Enterprise down pretty well, and there is at least some detailing, but overall it kinda reminds me of a cake decoration. I keep trying to remind myself that it's a camera and not a detailed replica.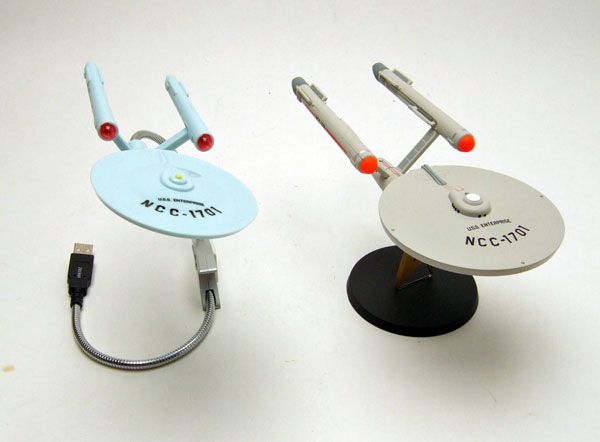 The overall size of the ship is pretty decent, and actually a little bigger than I expected. Take a look at it next to the Corgi Enterprise up there. Not bad at all on that front. Oh, and before I forget to mention it- The nacelles light up when it's plugged in, which is kinda cool.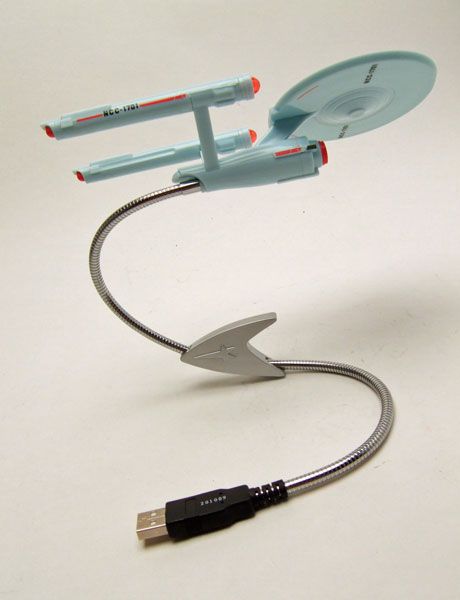 The ship is mounted on a metallic bendy cord with a delta shield in the middle. You can use the cord itself to balance your cam in mid-air, or use the sticky tape on the back of the delta shield to mount it on the back of your computer. The bendy cord is probably my favorite feature of the whole thing.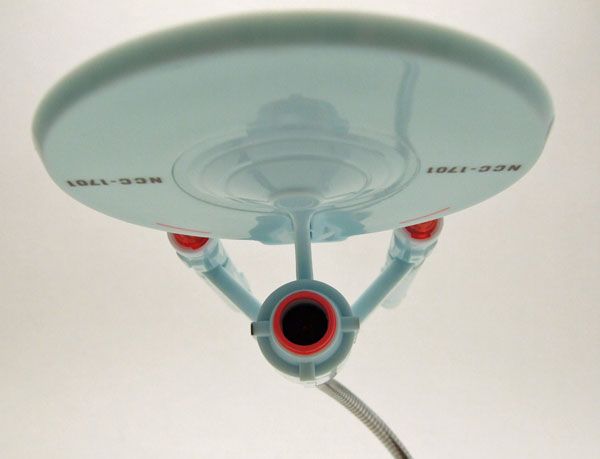 There's a look at the camera lens itself. Again, I'm no expert on webcams, so I'll just list the specs out here for ya:
- 300k Pixels Camera, 30 frames/second
- Workable on Skype, AIM, MSN, iChat, etc.
- USB plug and play, NO CD required
- Compatible with Windows XP, Vista and Mac (UVC compatible)
- 4 foot USB cable included
Make sense? Good. I have no idea if any of that merits a $30 price tag, but I can tell you that the pics don't seem all that great to me. Here's a shot I took with it at my office computer-
Not terrible, but quite tiny. The video seems pretty choppy too, but again I have no idea what to expect from this level of camera. At $30, I'm sure there are higher quality webcams out there though. The fact that it's the Enterprise definitely ups the cool factor, but the quality of the ship itself is pretty poor. Even a simple thing like using gray plastic instead of blue would have helped immensely, and as it stands now, it's a little too cheap looking to warrant a spot on my desk. So back to the bin you go webcam...
-James