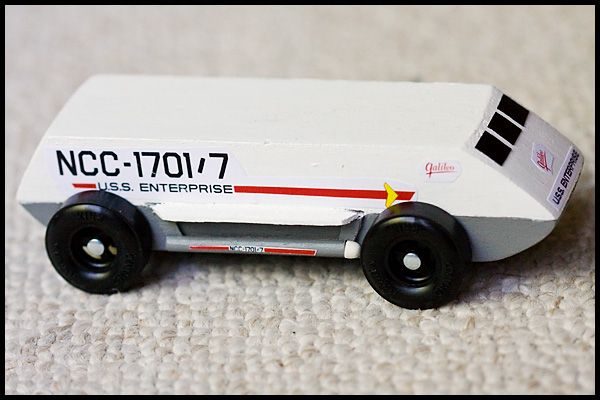 Item Name: Galileo Shuttlecraft Derby Car
Manufacturer: Uh... me?
(Special thanks to my wife Bobbi for doing the picture duties on this one!)
The Rundown: I know it's not really merchandise... but I was pretty happy with how this turned out and thought I'd share this with you guys. My oldest son Blaze is now in the Awana group at church. Every year, they hold an "Awana Grand Prix" derby car race...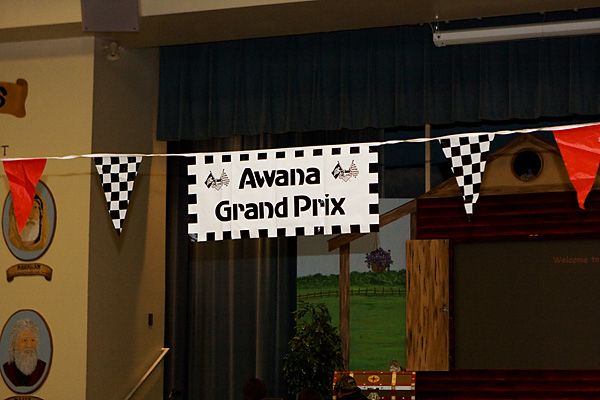 Each participant is given a block of wood, 4 axles, 4 wheels, and a set of instructions listing weight and height restrictions. You can pretty much make the car look like whatever you want, as long as it fits into the guidelines listed.
The minute I saw that block of wood, all I could think of was "Shuttlecraft". Blaze and I both love Trek, and since we knew we probably weren't going to win in the speed category (since we were going up against guys that had been making derby cars for an average of 10 years), we decided to make ours into something that would make a really cool display piece after the race ended.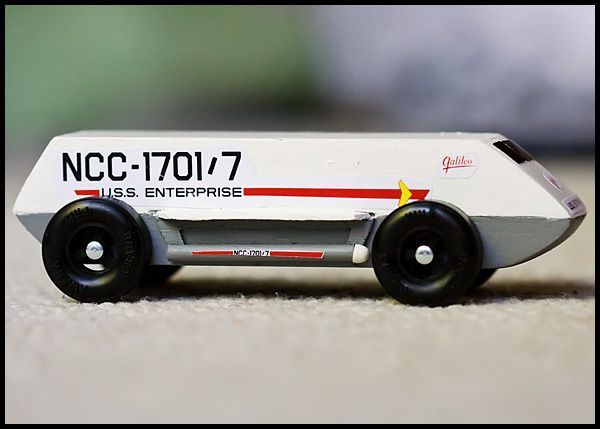 I started off by cutting and sanding the basic shape into the block of wood. I'm no derby car engineer, but I knew enough to put more of the weight in front than in back so that the car is pulled down the lane a bit faster.
Next, I added wings and warp nacelles using balsa wood and a small wooden rod. I sculpted the nacelle caps out of model magic clay. The derby car can't exceed a certain size, so you have to make the wings and nacelles small enough to stay within the width the wheels.
To add to the craft's authenticity, I scanned a sticker sheet from both the Playmates Shuttlecraft toy and an AMT model kit. I resized the images in photoshop and then hoofed it over to kinko's to get a decal sheet made from the image. The nacelle stickers in particular were really hard to cut and place, since they are only about as wide as fingernail.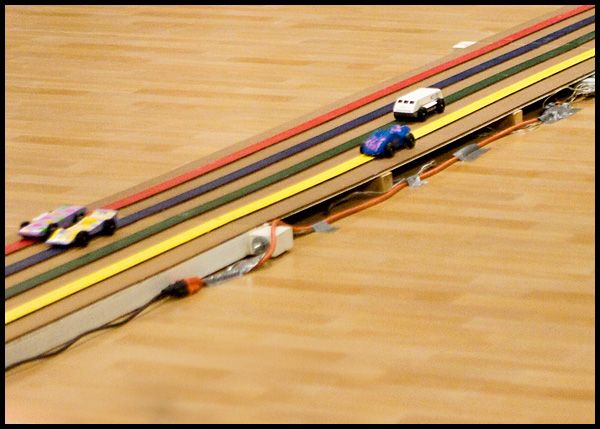 Look at it go! While Blaze placed 4th in this heat, he also grabbed second and third in the other heats. In a race where many cars didn't even make it to the finish line, our little shuttlecraft made it all the way down in each of it's times down the track. We didn't win any awards, but I think we came home with the coolest car. ;)
Oh! Real quick note- The site clicked over the 100,000 hit mark last night! It's only been about a year since I started this, so for me that's a huge landmark! Thanks for reading everybody!
-James