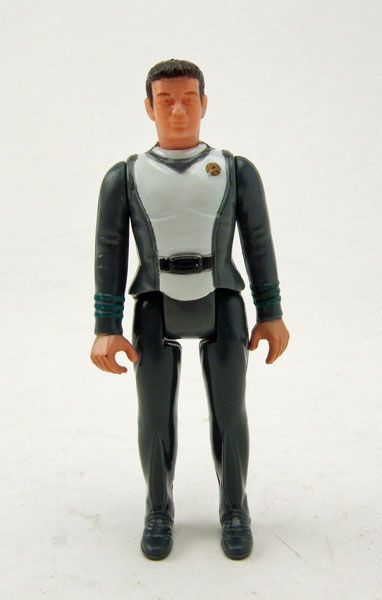 Figure Name: Capt. Kirk
Manufacturer: Mego toys Corp.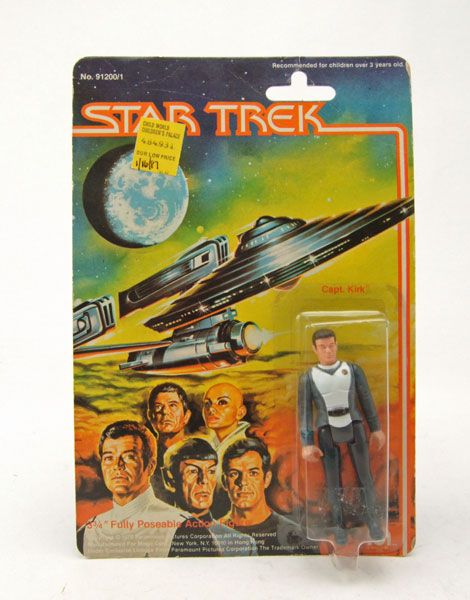 Mego released Captain Kirk as part of it's carded 3&3/4" Star Trek: The Motion Picture line.
The Rundown: Wow! If memory serves, I'm on the final 2 figures of the Mego TMP line! The very first Mego 3.75" figure spotlight was way back in May of 2009! If I keep my act together over the next few months, I should be able to spotlight the whole line within 2 years. I'll go ahead and make that a goal. Goals rule. With only Kirk and Ilia remaining, I can't really save the best of the line for last (since the aliens are EASILY the highlight of this line), so I guess I'm going to do the opposite- I'll save Ilia for the final spotlight, since she kinda stinks. But enough about ol' baldy... Let's look at Kirk! (And no, Shatner is not bald.)
Unlike some of the other crew figures in the line, this Kirk figure features a fairly accurate uniform. Sure, there's a couple of minor differences, but this one is a whole heckuva lot closer than the likes of Decker or McCoy. Oh, and Kirk had a couple of different looks from the film for Mego to choose from, but I for one am glad they went with this one. Kirk's admiral duds are AWESOME.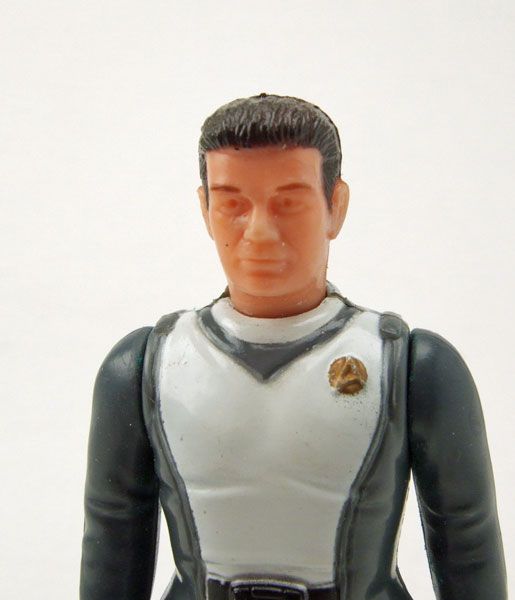 The head sculpt is pretty decent here, especially considering it's age. You know what's a little strange though? I only think it's a fair TMP Kirk... but I think it looks EXACTLY like TJ Hooker.
Kirk has the same 5 points of articulation featured across the line. Again, this was over 30 years ago, so you can't judge it by today's multi-jointed 3.75" fare. It got the job done back in the late 70's, and was pretty much the standard until the G.I.Joe 3.75" line of the early 80's.
I did want to address something on Kirk here that I don't think I've mentioned on this line up to this point. I have a couple of TMP Kirk figures in my collection, but I chose to picture this one in particular to highlight a small problem you have to watch out for on this line- the gold paint. Over time, the gold paint used to bring out some of the detailing on these figures can turn green. Kinda funky, so be sure to keep a close eye out for it. Of course, Mego wasn't thinking about how these figures would look 30 years later when they chose the materials for production, so I can overlook this little shortcoming.
Accessories: Nothing. That's really my only true gripe with the line. All it would have taken is one phaser sculpt that could have been dropped in with every figure in the line. Ah well.
If you're collecting this line, OF COURSE you will need a Kirk. All of the crew can be had dirt cheap, so I really shouldn't have to sell you on this one if you decide to buy into the line. So yeah. Go buy him. Spock would say that it is the logical thing to do.
Wait... What's that you have their Kirk? A TRU DST Kang figure?!? Why do you have that? Oh... you inexplicably found a couple sitting on the shelves this past weekend at your local Toys R Us? Weird. And it was on clearance!?! Even weirder. Well, why are you bringing it out here? Oh... you want me to give it away since you hate those Klingon bastards? Yeah, I don't blame you. They did kill your kid afterall. I'm down.
That's right folks! It's time for another giveaway! You want a free DST Kang figure? Well shoot an e-mail to apieceoftheaction@live.com with your name and zip code, throw "Kang giveaway" in the subject line, and help me get this Klingon out of Kirk's face. I'll accept entries for about a week and then announce a winner! Good luck!