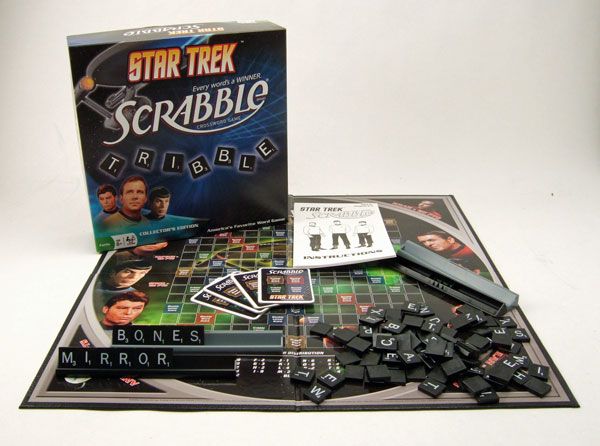 Item Name: Star Trek Scrabble
Manufacturer: Fundex
Fundex released this Star Trek version of the classic Scrabble game to stores back in 2009.
The Rundown: The release of the new Star Trek film in 2009 ushered in a plethora of classic Trek related merchandise... including a wide range of TOS-themed games. Now that my oldest son is approaching his 9th birthday and can better understand the rules involved, we've been having a lot more game nights at my house. Last night, we cracked open our copy of Star Trek Scrabble for the first time. How did it turn out? Glad you asked...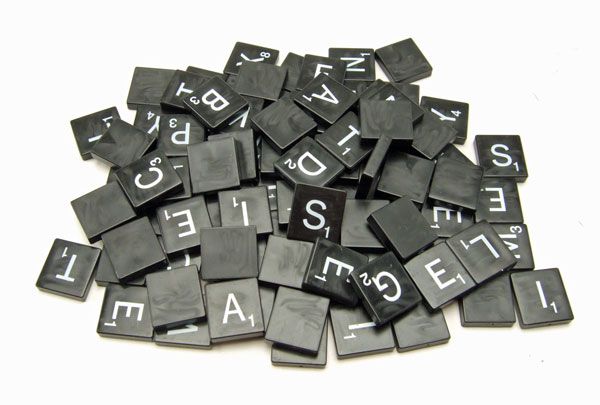 In case you were raised by Thasians and have no prior knowledge of the Scrabble game, here's a brief synopsis: Players are each given seven random letter tiles (which are cast in black plastic in this Trek version) to work with at the start of the game. Each letter has a specific point value marked at the bottom of it's tile.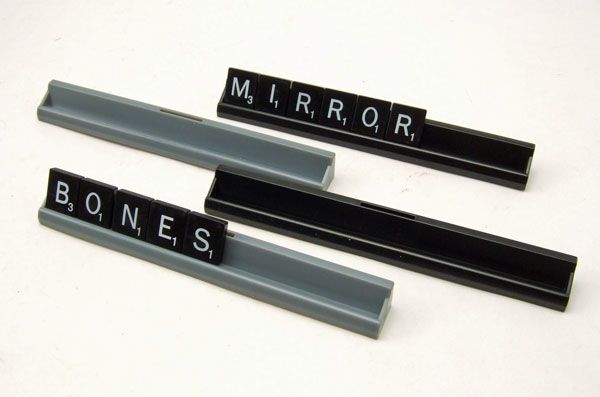 Players arrange their tiles on the included tile racks (the Trek version includes 2 gray and 2 black). The objective of the game is to use your tiles to spell out words... the longer the word, the more points you get.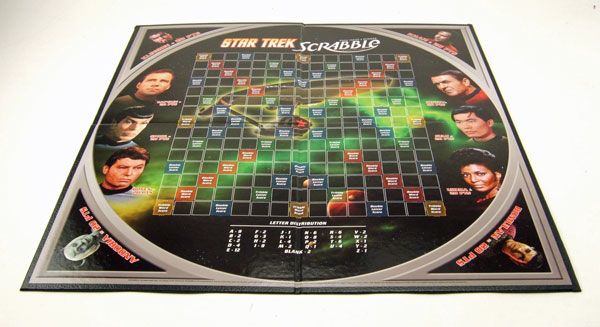 Words are arranged on the game board, each one building upon the other. The Star Trek version of Scrabble follows this standard method of play, but with a couple of "Trek-centric" extras thrown in.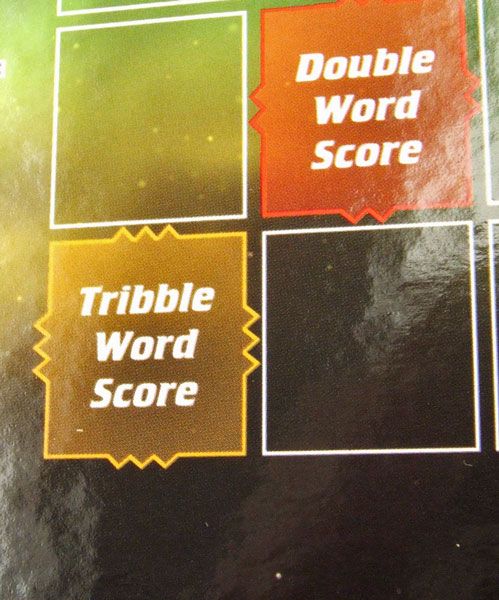 Just like in regular Scrabble, random squares on the board add bonuses to your word score. One difference here is the change from a "triple word score" into the much cooler "tribble word score". Very clever.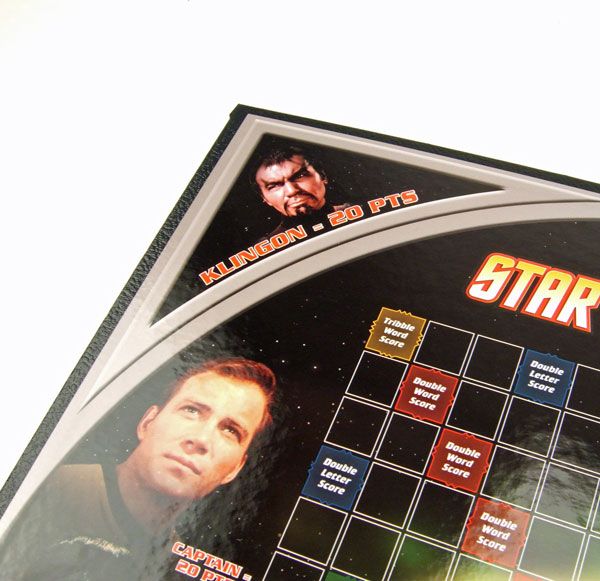 The board itself showcases a bunch of Star Trek mainstays. There's the crew of the Enterprise pictured in the middle, and 4 different ferocious foes featured on each each corner. If you manage to spell out the names of any character featured on the board, you get an automatic 20 point bonus added to your score. Nice! One odd thing here though- Since you only have seven letters to work with, Fundex shortened "Andorian" to just "Andoria". I'm a little baffled by that. Why bother including the Andorian if you wanted it to be something that has a maximum of 7 letters in it's name? Why not stick a Gorn on there, or maybe a Mugato or something?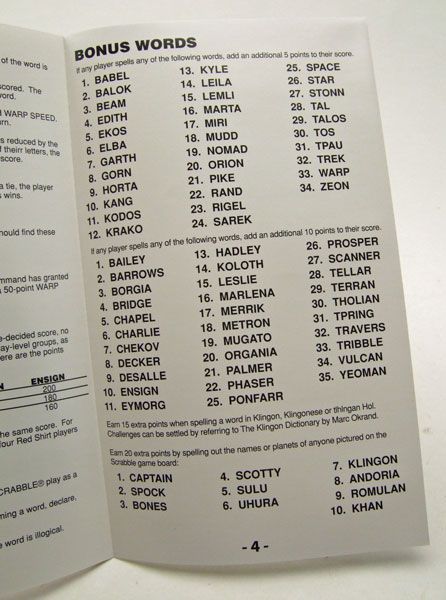 A look inside the instruction book reveals that bonus points for Trek words aren't limited to the just the characters pictured on the board. The book includes a long list of Trek-inspired words which also offer bonus points too. Sadly, none of us were able to spell out any of the words when playing last night. I failed miserably... but I took comfort in the fact that had I been able to spell out "PONFARR", I woulda got 10 more points.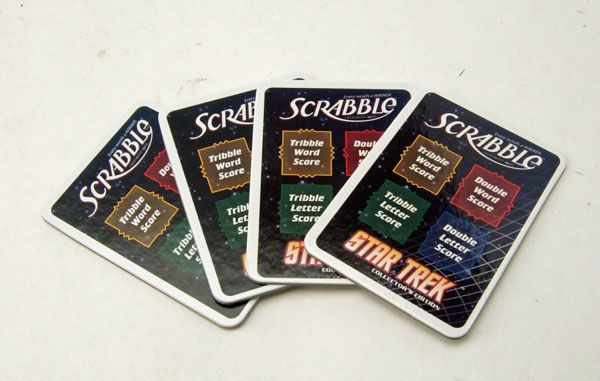 One last thing I want to mention before I wrap this up- The game also includes these 4 thick Scrabble score card things. I have no idea what they are meant to do, and they don't seem to be mentioned in the instructions. If you happen to know what they are supposed to do, please let me know! Otherwise, I will assume they are meant to be coasters.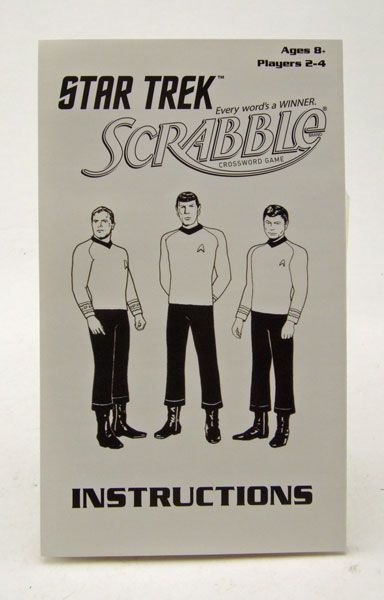 Do I recommend this one? Sure, why not. Scrabble is fun. Star Trek is nifty. If you are a fan of both things, how could you not like a Star Trek Scrabble game? That would be like being a fan of peanut butter and chocolate, but hating Reese's peanut butter cups... and that's just foolish. I guess the only thing that might hold you back is the price. A standard Scrabble game runs about $20, while the Trek version will cost you around $30. But if you are buying Scrabble anyway, I'd say go ahead and plunk down the extra $10 for this one. The sheer coolness of the board is worth that...