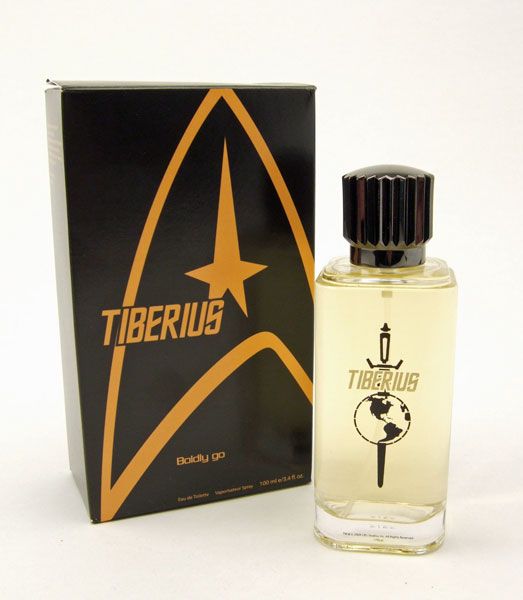 Item Name" "Tiberius" Cologne
Manufacturer: Genki Wear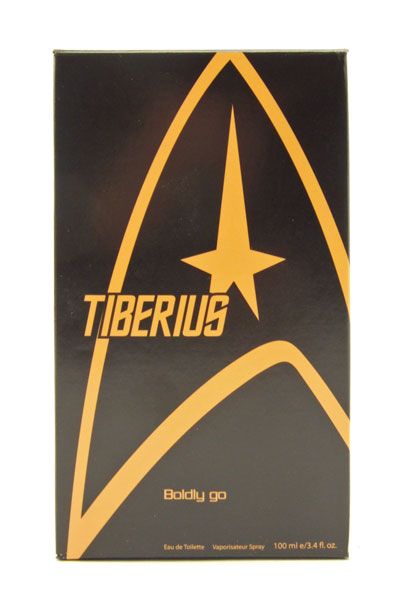 Genki Wear debuted this cologne back in 2009.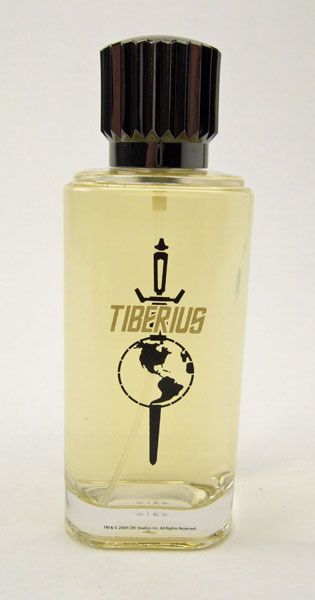 The Rundown: This is a review I've been debating for quite awhile. I kept going back and forth on how I'd tackle this one. How does one review a smell? Since liking or not liking a smell is a matter of personal taste, I can't exactly say "hey, yeah you'll love the way it smells" since I have no idea what smells you love to smell. You see my dilemma, right? Then I figured I would just review the packaging and design, give a brief statement on my opinion of the product, and call it a day. But that would be way too short and sweet to make this worthy of a spotlight. Then it hit me... I'll tackle this one as a product battle! I would put Tiberius in the fragrance fight of his life against the manliest man smell I'd ever encountered. A true test of testosterone. An odorous encounter the likes of which had never been seen before...
So all the lady readers out there- Be prepared to catch the vapors. For this is the battle of Tiberius versus... Mandom.
Choosing an opponent capable of battling the manliness inherent in a cologne called "Tiberius" was no easy feat. Preferred Stock? Nope. Drakkar Noir? I don't even know what that means. Old Spice? Too old. No, the only plausible adversary was Mandom. Created back in the 70's by the Tancho corporation, Mandom is a Japanese import after shave lotion. The product takes it's name from the combination of "human" and "freedom". Mandom's tagline? "All the world loves a lover. All the world loves mandom." Yeah, if that doesn't sound like a worthy opponent for Jame T. Cologne, I don't know what is. Let's get it on!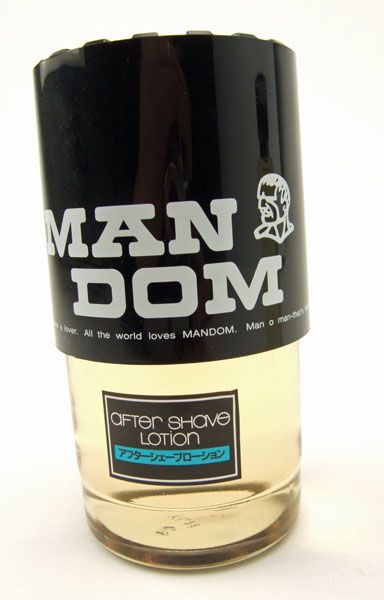 Let's start with the look of the product. Mandom features the "Mandom" logo, the tagline for the product, and a weird drawing of a dude's face.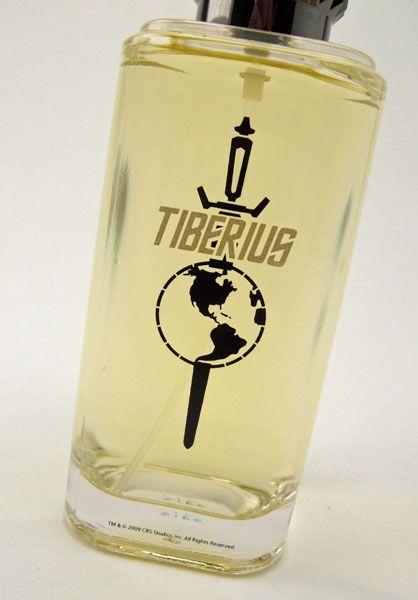 Tiberius knocks it out of the park by showcasing the name "Tiberius" (in classic federation font) emblazoned across the Terran Empire symbol!
Round 1- Tiberius!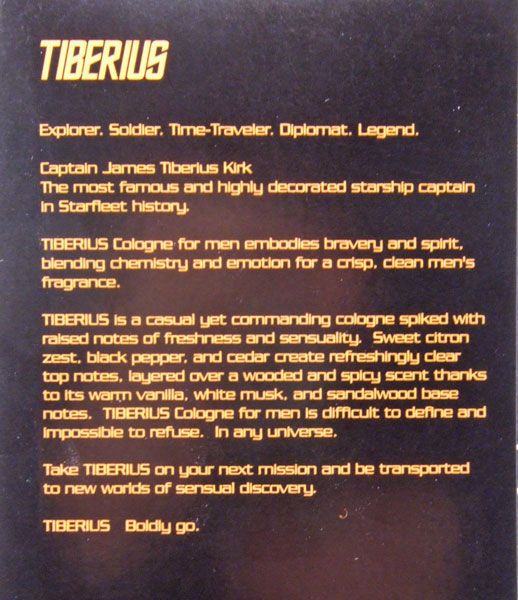 For our next matchup, let's take a look at the advertising. I can't seem to find much in the way of ads for Tiberius. Pictured above is the back of the box, detailing the cologne and the man it's based on. Most of the print ads I've seen use some kind of variation on this text. Mandom, however, had a string of television ads back in the 70's... featuring none other than Charles Freaking Bronson. Take a look-
Wow. He turned into a Native American gun-slinger for part of that. And he splashed that Mandom on like he was showering in it! This one wasn't even close.
Round 2- Mandom!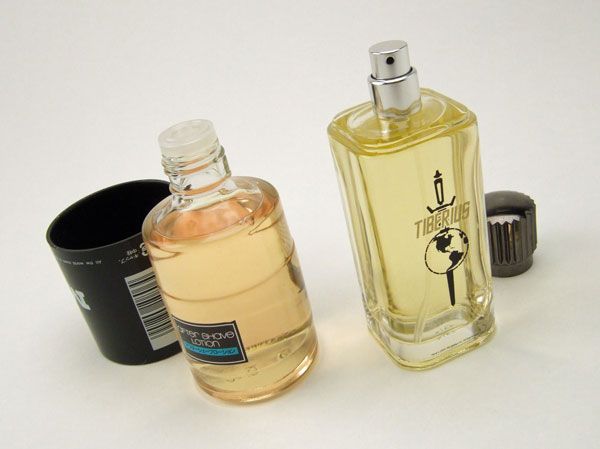 Round three: Method of application. I had thought this third round would be an easy pick, what with Tiberius featuring the easily-applied spray nozzle versus the boring splash-on method... but that commercial just changed all that. While I love the convenience of the spritz, watching Bronson liberally douse the stuff all over him reaks of awesome. I'm gonna have to call this one a tie.
Round 3- Draw!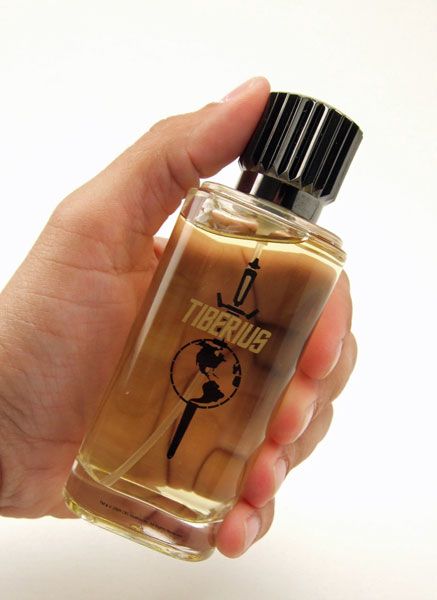 For the final bout, it would only be appropriate to compare each product's distinct fragrance. I hadn't expected much out of Tiberius, thinking it was just a novelty cologne. But it actually does have a pleasant smell! It reminds me of wood being chopped- entirely appropriate, given Kirk's wood-chopping scene in "Generations". Mandom? Mandom kinda smells like my Grandpa. And while my Grandpappy was a heckuva guy and I'd be proud to smell like him... I gotta give this one to Tiberius. Who wouldn't want to smell like Kirk!?!
Round 4- Tiberius!
So our winner is Tiberius! Congrats to our man Kirk for being smelly. In all seriousness, the cologne is pretty cool. It's a little pricey at $30 for a 100 ml bottle, but it's quirkiness and surprisingly pleasant odor make it an especially ideal gift for the male Trekkie in your life. While I don't know if I'd recommend splashing this one on before a date, I could definitely see this as something my kids would get me for father's day, or as a birthday surprise from a brother or sister. That's it's niche, and for that- the product is perfect.
Tiberius (and various other Trek-inspired fragrances that I have yet to try) is available now at
Genkiwear.com
for $29.99. Set phasers on sensual and order some now!