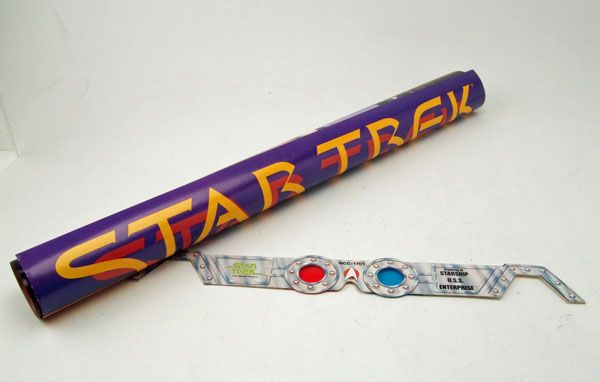 Item Name: Star Trek The Motion Picture 3-D Poster & Glasses
Manufacturer: Umm.... I have no idea. The copyright thing says "Sales Corporation of America". So maybe them?
The Rundown: I know what you're thinking. No, I'm not running out of things to spotlight. Yeah, it's a poster. But it's a 3-D POSTER! How cool is that? The answer is very cool. What are we waiting for... Let's look at it!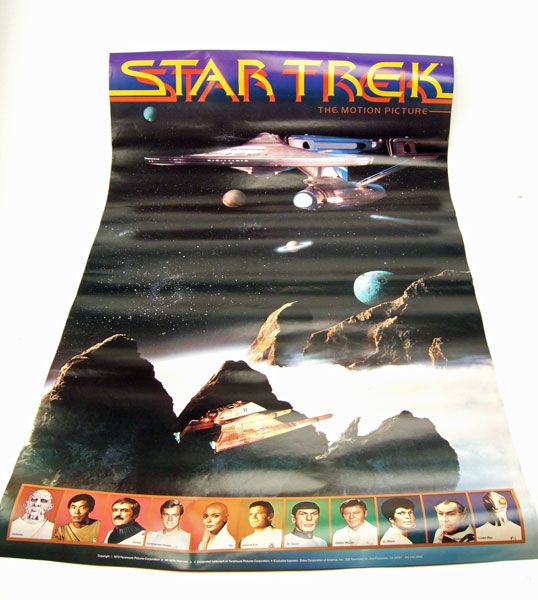 What we have here is one amazing 22" X 33.5" hunk of marketing awesomeness. You want to get folks excited about seeing a movie? Give them a kick ass poster. You want to get them REALLY excited? Step up your game a bit like the folks over at "Sales Corporation of America" did back in 1979. Sure, the front side of the poster looks like your standard fare- Big Star Trek TMP logo, a nice picture of the Enterprise flying through space, and an alien planet landscape down below...
Towards the bottom of the poster, there's a cool shot of the Vulcan shuttle departing the planet (an obvious miniature, but that makes it even cooler in my eyes). Spanning the width of the bottom are pictures of the key players from the film, bookended by a couple of the TMP aliens. All the important characters are here, like Spock, Kirk, Bones, and the Vulcan Master... Wait... Who?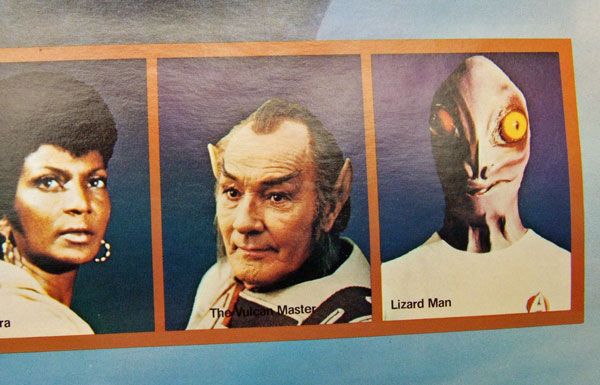 Yep. Smack dab between the lovely Uhura and the *ahem* "Lizard Man" (I guess the Sales corp had as much trouble naming the Saurians
as Mego did
) is the "Vulcan Master". How'd this guy sneak in here? The crew I get... including a couple of the weird aliens on each end I get, but this guy? He must have been buddies with one of the guys over at Sales Corp to get this coveted spot on the poster. Either that or it was a Vulcan mind meld. He is the freaking master after all.
So the front is cool, but nothing to get jazzed about, right? Well, maybe you should try flipping this bad boy over.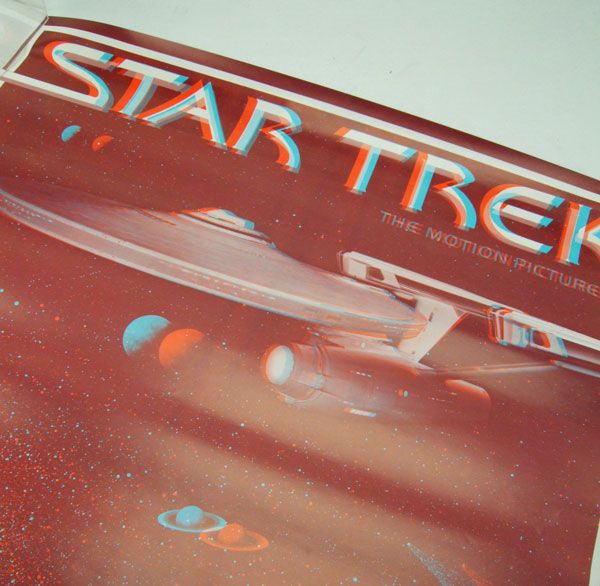 Yep, they went there. Not only do you get a cool standard TMP poster, but the backside features a 3-D version! Pretty sweet, eh? Now you might be saying at this point: "But James, how can I experience the Vulcan Master and his pal Lizard Man in all three dimensions without glasses!?!". First- Calm down. Second- Of course Sales Corp has you covered!
Included with the poster are these rad spectacles, possibly the greatest 3-D glasses ever made. The area surrounding the lenses look like portholes, there's a big Trek logo on the side, and check it out-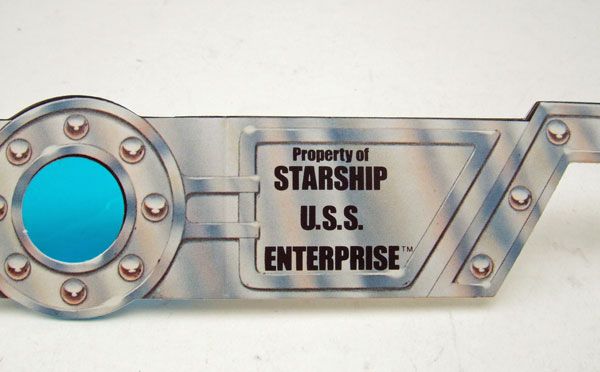 They are the property of the USS Enterprise! You can't beat that.
So yeah, this poster was definitely worthy of a spotlight. I bought if for $10. I would have paid $11 easy. If you can get it for that cheap, go for it... but only if it has the glasses! Otherwise, you'll have to wear boring old regular 3-D glasses to check it out. And why do that when you could look like this-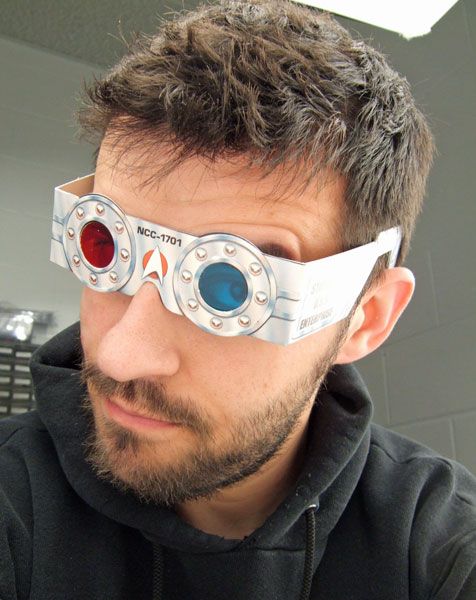 OH! Before I go, I just wanted to say thanks to everyone that entered the Infestation and Kang giveaways! The winners have been randomly chosen and contacted by e-mail. If you didn't win, don't take it too hard! I have plenty more Trek stuff to giveaway!
I do want to take a moment and say thanks to all the folks who sent kind messages about the blog along with their entries. It felt really nice to hear that people are enjoying the site. I would have taken the time to respond to each one in person, but I didn't want to give people false hope that a reply in their inbox meant they won the contest... So I'm saying it here! Thanks everybody!