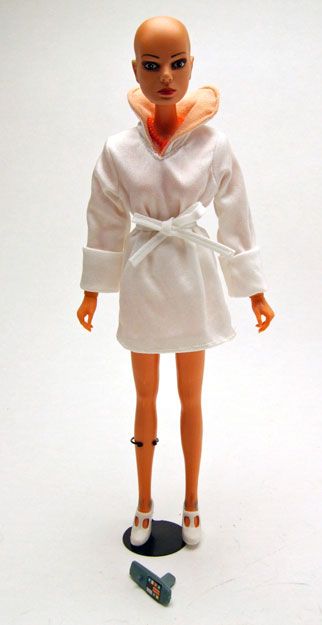 Figure Name: Ilia
Manufacturer: Mego Toys Corp.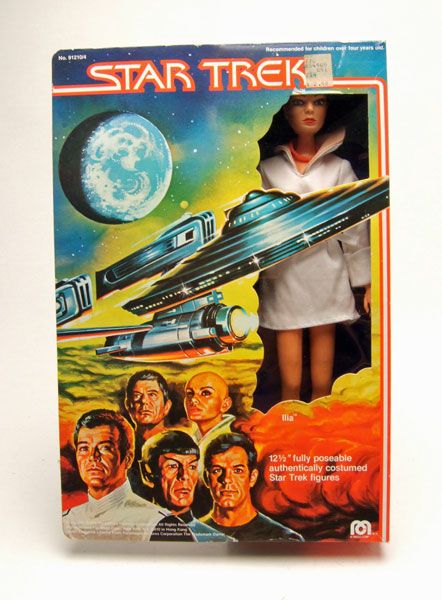 This Ilia was produced as part of Mego's 12.5" Star Trek: The Motion Picture line.
The Rundown: It's been quite awhile since we've looked at one of these, hasn't it? The last one was the
Klingon
way back in August of last year! Time flies... Well, in case you don't remember my feelings on this line, I LOVE IT. Mego produced some really high quality stuff here at a low price point, something unheard of in the 1/6th scale nowadays. Pretty much every figure in the line rocks in my eyes... except maybe one...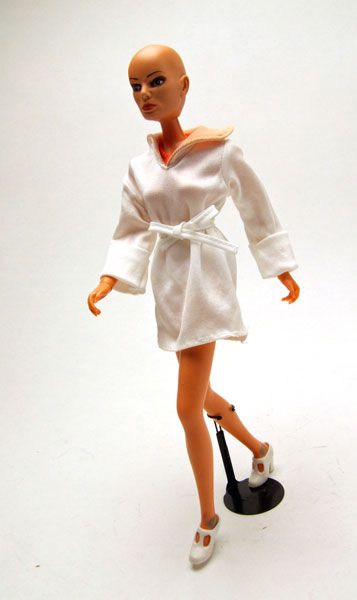 Ilia is probably my least favorite of the bunch. She's not a bad figure, she just doesn't equal the quality of the other releases. Maybe it's the fact that she is dressed in the "probe" outfit, which is nowhere near as detailed as the crew uniform... or maybe it's the fact that the body is more of a fashion doll type rather than the "action figure" body used on the males. It's probably a combo of both coupled with...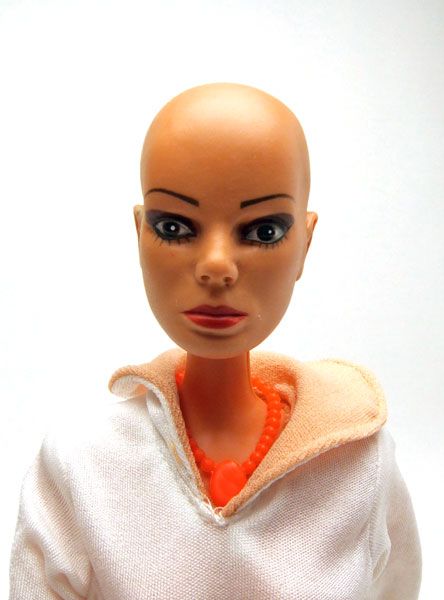 ...a somewhat mediocre head sculpt. While I think Mego produced a better likeness than Playmates did on their version (seen
HERE
), it lacks the accuracy of the other figures in the TMP 12.5" line. I do like that they included the necklace though, or at least an approximation of the necklace (reworked from a different Mego release).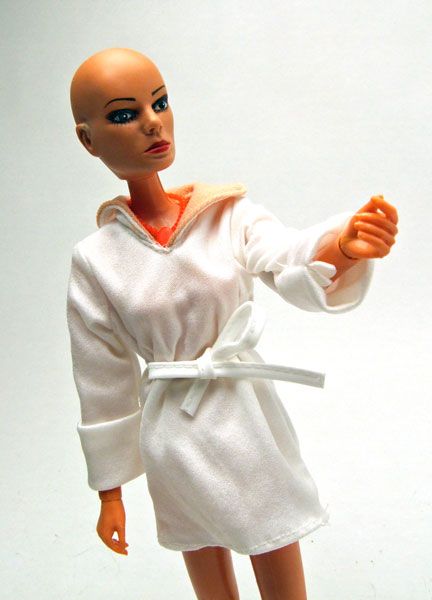 As I stated earlier, Mego chose to go with the "probe" outfit for the 12.5" Ilia instead of the crew uniform (which they did use on her 3.75" release). It was undoubtedly an easier outfit for them to replicate, but that doesn't mean that Mego slacked off here. The hemline hits at just about the right spot for movie accuracy, and the collar features a really nice dark cream colored inner lining, allowing Ilia to "pop it like it's hot".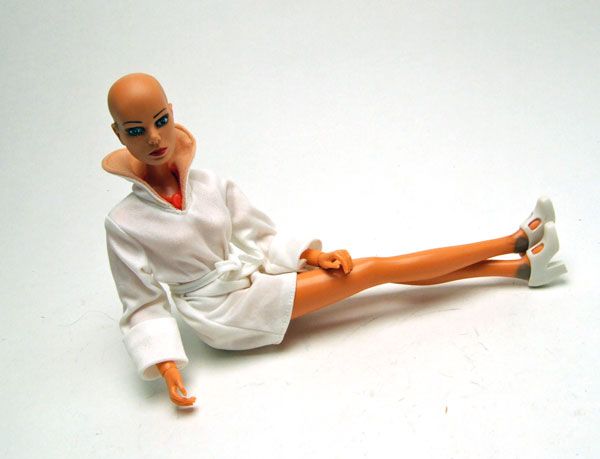 Okay, problem time! We've covered the gray "zombification" of the heads before (head over to the
Mego Museum
for tips on getting the gray out), but Ilia has an additional problem all her own! See it up there? Sure ya do...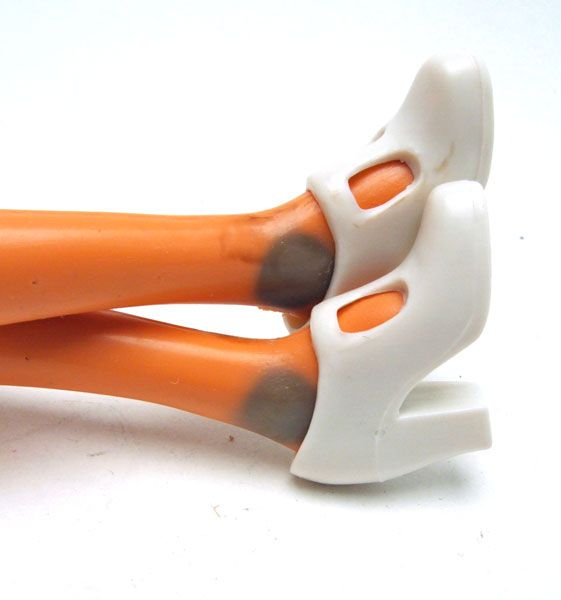 Gah!?!? What's wrong with you girl? Yep. She's got some nasty green ankles. If your Ilia was freed from her plastic prison back during her initial release, you are probably safe from this issue. But if she has resided in that box all that time, her little ankles are probably all hulked-out by now. See the metal used in the twist ties reacts with Ilia's bare ankles, creating this nasty green effect. Yuck. The male characters are usually safe from this, since their uniforms provide a barrier from the twist ties. Lucky dudes.
Another slight issue with Ilia is the fact that she has tiny hands, leaving her unable to grasp her phaser. I really don't mind this though, as there isn't much reason for her to even have a phaser in this look. Oh, and it's also really hard to make her stand up without some kind of support (thus why she's sporting that black figure stand in almost all these shots).
Accessories: Ilia includes the aforementioned phaser. It's very well-sculpted, with a cool decal on top depicting the weapon's readouts.
...and in case you want to read her box bio: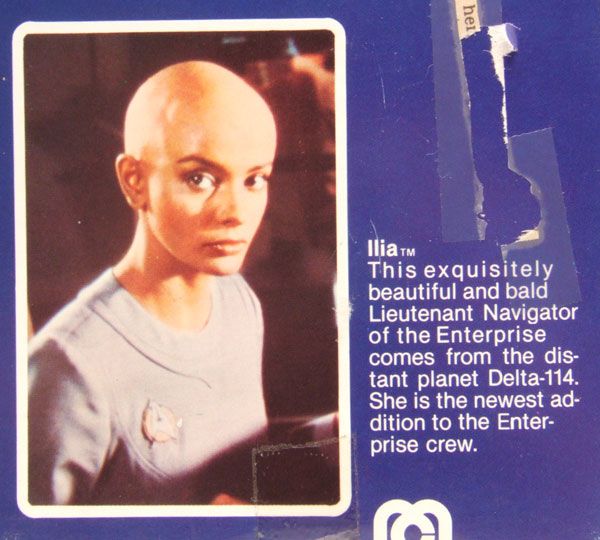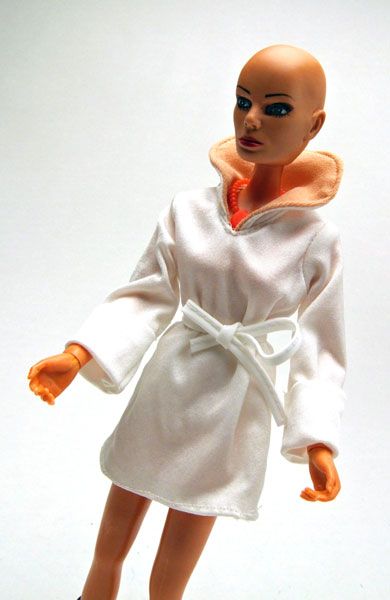 While not my favorite of the bunch, Ilia is still a pretty decent release. The 12.5" line is a far departure from Mego's 8" line, what with it's attention to detail and screen accuracy. The TMP 12.5" figures are probably my favorite representations of the crew in these uniforms, so I'd definitely recommend this set if you are a fan of that look. You can get most of the figures for reasonable prices on ebay, usually for a lot less than anything in the current 12" figure market. Just watch those ankles...
-James