Figure Names: Captain Kirk & Mr. Spock (Ultimate Quarter Scale)
Manufacturer: Diamond Select Toys
DST released these 2 individually in their "all-era-inclusive" style packaging. (Sorry, I can't seem to find where I put the boxed pics...)
The Rundown: There are very few Trek items that I absolutely dread doing spotlights on. Every once in awhile though, I have to look at stuff like the terrible
Galoob Star Trek V figures
and the horrendous
Kurt Adler Nutcrackers
. Writing those are just no fun because: a.) I have nothing good to say about them, and b.) I spent actual money on them. Today is one of those kind of days. Today is the day we look at the Diamond Select "Ultimate" Quarter Scale Kirk and Spock. See how I put "ultimate" in quotations there? That's because the only thing that these are the "ultimate" of is sucking. I dislike them so much that I can't bring myself to do this twice, so we'll look at both Kirk and Spock together today.
When I first heard about the UQS line, I was actually pretty excited. 18" figures, nice cloth outfits, electronic features, and decent articulation! They sounded like a great, affordable alternative to Sideshow's expensive premium format line. What was not to love? Very much apparently.
DST's first mistake was with this body. If I'm not mistaken, it's a re-use of an old Art Asylum 18" Bruce Lee figure. While the build is nice for Bruce Lee, it doesn't work for everyone... which is what DST expects it to do. I'm sorry, but Leonard Nimoy and Bruce Lee don't exactly seem like the same build to me...
With many of the UQS releases, the odd proportions of the body are at least hidden under multiple layers of clothing (like the "Hoth" Han Solo). Unfortunately, Trek doesn't have this same luxury, so every bit of those weird proportions is brought right to the forefront... and boy do they look bad. Both Kirk and Spock feature incredibly thin waists and long, gangly legs that are impossible to ignore.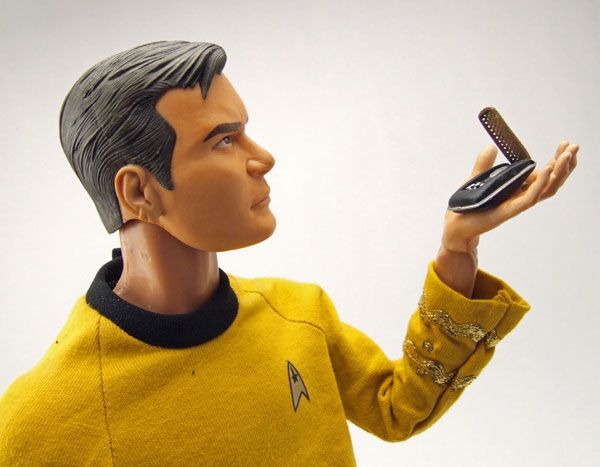 Both figures feature one oddly opened hand (which might also be a carry-over from Bruce). The hand is basically useless and makes for some very odd poses. About the only thing you can do is gently place the communicator in it and hope it doesn't fall off. Oh, and speaking of poses... the articulation on these, while ample, is very difficult to work with. The figures are hard to move around naturally and can't really look good in any position other than standing still.
Inside each figure's chest houses their electronic features. Press in one of their ample abs and a line of dialogue from the show will emit out of their torsos. Take a listen:
The voices are fairly clear and the button is easy to get to. There ya go- I said something nice about these.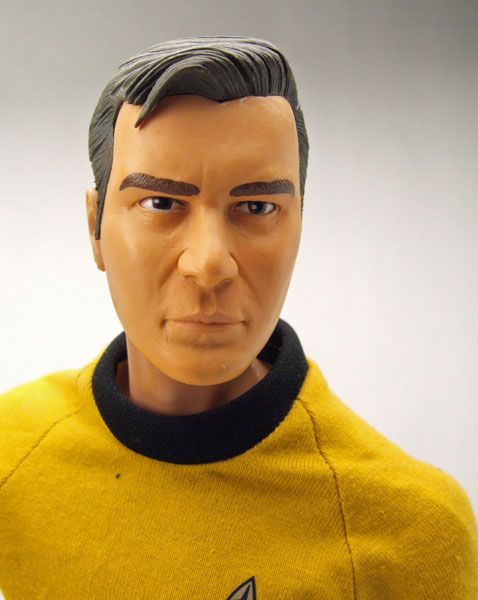 One would think that since this is such a large scale that the heads sculpts must at least be pretty decent, right? Yeah, not so much. Neither head turned out that great. Kirk is always tough to capture, but the head up there looks worse than the 6" scale version. Spock doesn't fare much better either...
That's just not that good, especially for this scale. But you know what upsets me most about Spock? These-
What's up with your boots dude? Did you steal these from Olive Oyl or something? I could almost excuse this as just lazy re-use of some other boot mold or something... if it weren't for the fact that Kirk actually has the correct standard boot! Look-
I actually asked DST why they went with this boot awhile back and their response was that they researched the boots and Spock wore different, shorter boots than everyone else on the show. I'm sorry, but I just don't think so. I know there were some scenes filmed where the actors did wear shorter, more comfortable boots (especially evident in outdoor scenes like in "Arena")... but to place that as the "normal" look for Spock is just crazy. That's basically saying every other figure produced of Spock up to this point was wrong, and only this turd has it right. I ain't buying it. It looks terrible. If I didn't feel like I'd already wasted enough money on these, I would be tempted to buy an extra Kirk and switch out the lower legs with Spock. But no... there is no way I'm putting any more money into the "Ultimate" Quarter Scale.
Accessories: Both Kirk and Spock include a phaser and a communicator, both of which are poor sculpts compared to the accessories included with the 6" figures. The communicator's antenna cover does flip open, but pops off very easily and is quite junky. A stand is included with each figure, which is good because getting these to stay upright for pictures was quite a chore. Spock includes an interchangeable Vulcan salute hand (which is at least the correct hand this time).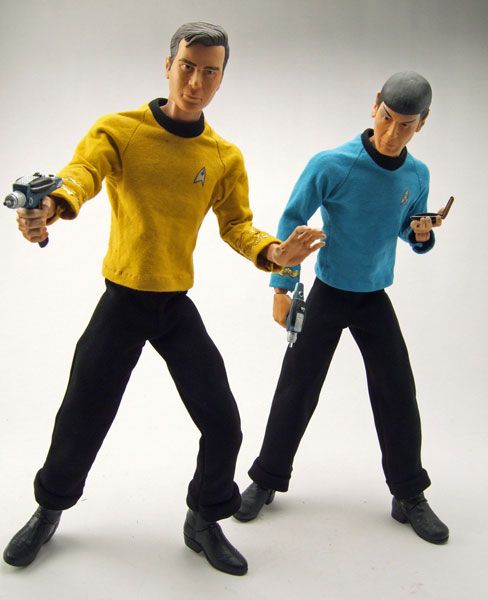 In closing- Please don't buy these. The original retail price was a whopping $79.99 each! That's crazy... and what sucks is that I probably paid pretty close to that for them. I am an idiot. Taking a look at ebay, it appears that you can now get them for around $30 each. That's still too much. Take that money, buy a ton of ice cream, turn your heat way up, and watch it all melt in your kitchen. That would be more fun than these.