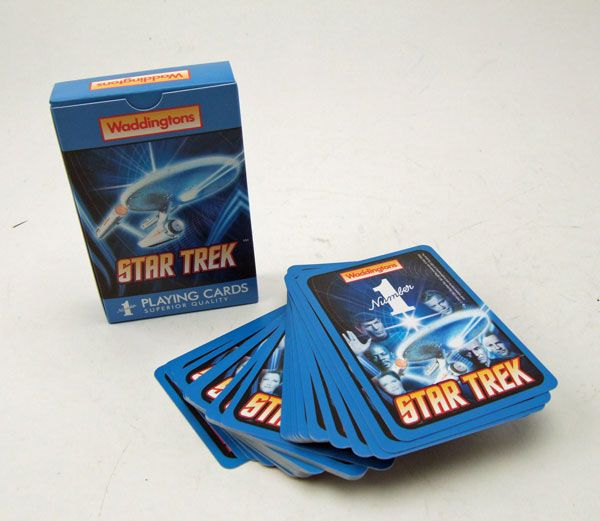 Item Name: Star Trek Playing Cards
Manufacturer: Waddingtons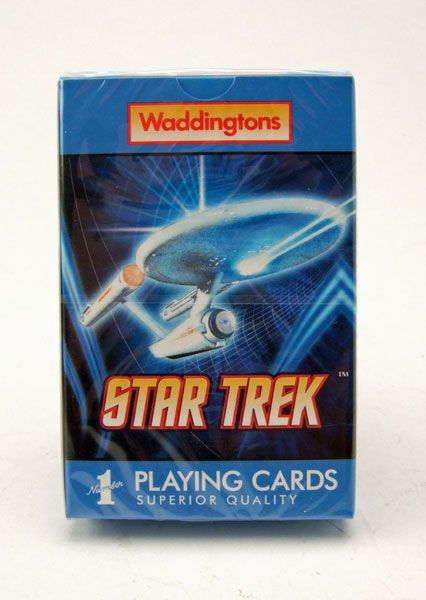 Wadingtons released these Trek-themed playing cards in 2010 at a retail price of $4.99.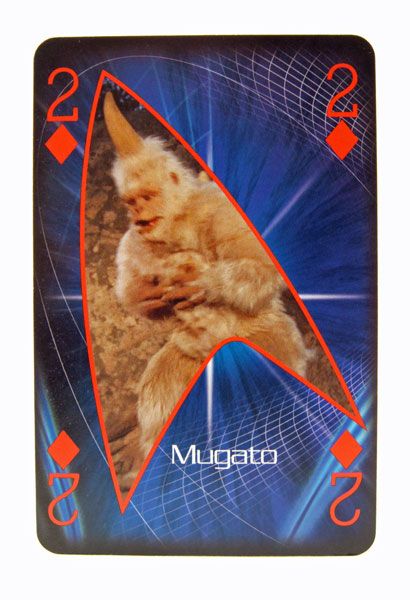 The Rundown: Remember my review of the
Vandor Gifts Star Trek Playing Card Giftset
from July of 2009? Well if you don't, click that link and then come back here. I'll wait.
Finished? Okay good. I wasn't really pleased with that set, as it was simply a standard deck of cards with Kirk and Spock pictures slapped onto the card backs. I had been hoping for set that featured things like Kirk on the King card, Spock on the Jack, Uhura on the Queen, etc... but alas Vandor cheaped out and it seemed my dreams of a card deck worthy of the Trek name would never come true. All hope was lost...until I saw the solicitation for a new Star Trek playing card set in Previews magazine. So I took the gamble once again... Did it pay off? Well, sort of-
The picture that Previews magazine used to solicit the deck featured the front of the card box, with the classic Enterprise firing it's phasers above the Star Trek logo. I naturally assumed that meant the cards would all be TOS-centric. Wrong. Sliding the deck out of the box reveals the card back, which features not only TOS mainstays Kirk, Spock, and the Enterprise, but also characters from the other 4 television series as well. I could hear the "waaah-wah" sound effect of defeat playing in my head.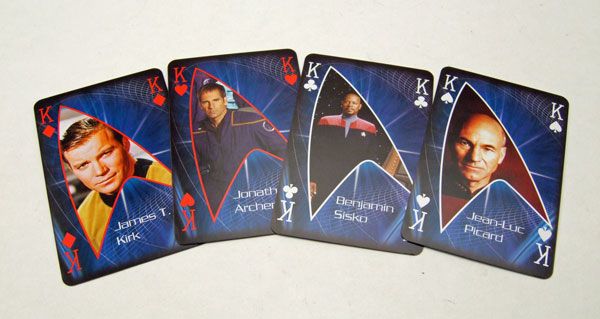 Waddingtons divided the 5 series into the different playing card suits. Diamonds for TOS, spades for TNG, hearts for Enterprise, and clubs being split between DS9 and Voyager. I was a bit disappointed to see this set as being "all-inclusive", but I do like the fact that each and every card features a different picture.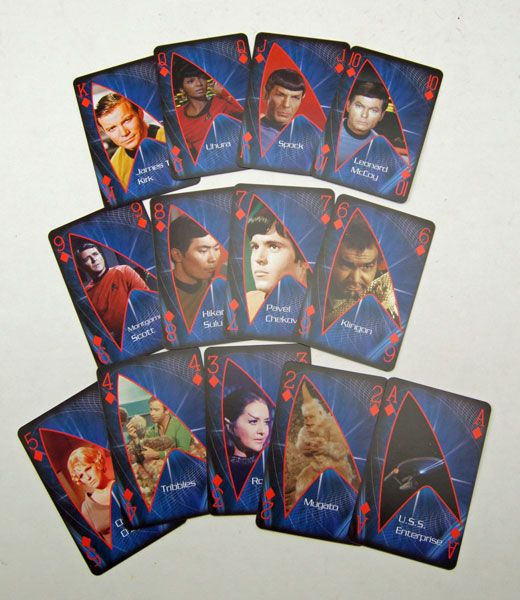 Since I'm a TOS fan first and foremost, my focus is mainly on all the diamond cards. It's like Waddingtons read my mind on these, with Kirk as king, Uhura as queen, etc. There's even a Nurse Chapel (!), a Tribbles card (Double !!), and a couple of adversaries thrown in (though why they chose the Mugato over the Gorn is beyond me). Another nice treat is having the various ships from each show featured on each suit's Ace card. Very cool. I do have one complaint though...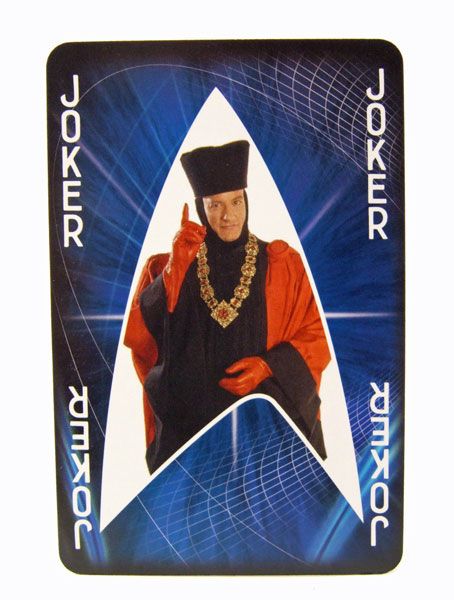 Q on the Joker card. This may not be the most popular thing to say amongst my fellow Trek fans... but I've never been much of a Q fan. I know he has his place in Trek lore, and he's a mainstay villain across multiple series, but I could never get into him that much. I understand why he was chosen for the Joker card... I just wish he wasn't on BOTH Joker cards. Would it have been too much to ask to have Trelane on at least one of them?
Still, even with the inclusion of the other shows, this deck is VASTLY superior to the Vandor set. The design on the cards is cool, the pictures are great, and the price is just right at $4.99. So whether you want to play a game of poker with Data, or a hand of Fizzbin with Captain Kirk, this is definitely the deck to buy!
UPDATE-
I had a bunch of folks ask me for pics of the other, "non-TOS" cards in the set... so here ya go!