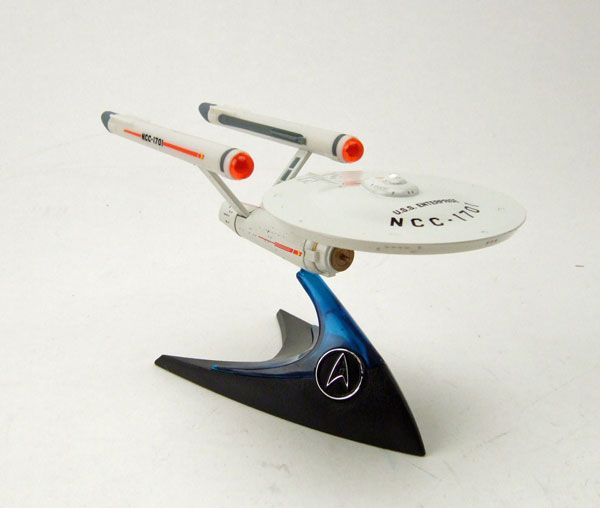 Item Name: USS Enterprise NCC-1701 (From "Star Trek: The Original Series")
Manufacturer: Mattel (Hot Wheels Division)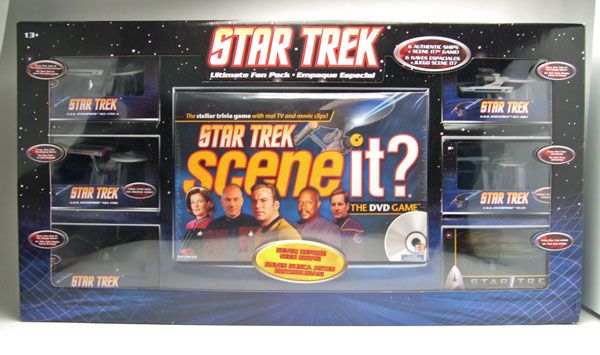 This Enterprise was released boxed as part of a mega-set through Costco stores. Here's what the individual box looks like-
The Rundown: I was pretty excited about the Star Trek Hot Wheels line when it was first announced. Decent replicas of ships at an affordable price? Sign me up! I gobbled up the first wave, hunted down the new ships from the second, patiently awaiting my classic Enterprise. But, as more and more of the ships from the first 2 waves started piling up, and with nary a sign of later ships like the 2009 Enterprise in stores, I figured all hope was lost for my beloved TOS Enterprise. Until an unlikely hero by the name of Costco saved the day...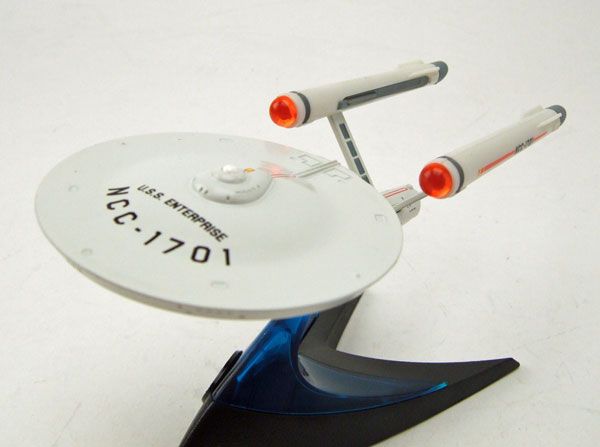 In case you aren't familiar with Costco... where have you been? It's only the largest membership warehouse club in the United states! Well, at least according to wikipedia it is. I have no idea, but I bet they have that right. Anyways... Costco worked out a deal with Mattel to do a big boxed set of the remaining unproduced ships from the Trek Hot Wheels line plus the DVD Scene-It game. The whole set originally retailed for $79.88, which isn't a bad price considering what is included... but with the current state of Star Trek merchandise, I have to question how Costco thought this was a worthwhile gamble. I mean, the Trek Hot Wheels line wasn't all that successful to begin with- couple that with the price (plus the fact that most folks had no idea that the set was even there) and you're left with an item destined for clearance pricing. First it was $79.88, then $59.99, then $49.97, $29.97, and now $24.97 (as of this writing). Yeah, I'm pretty sure Costco can't be happy with how the set is performing. I can't help but think that it would have made more sense to sell these individually through their stores at $15 each. But, back to the ship...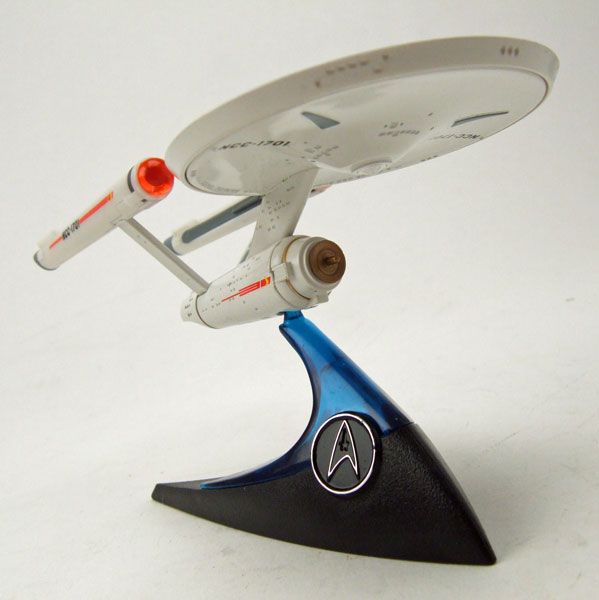 While none of the Hot Wheels Trek vehicles are the "definitive" versions of the ships they are replicating, I do really like their Enterprise. Maybe the simplistic beauty of the original Enterprise makes it easier to translate, but I think they did a fine job on her, perhaps even besting some of the other previous small-scale replicas.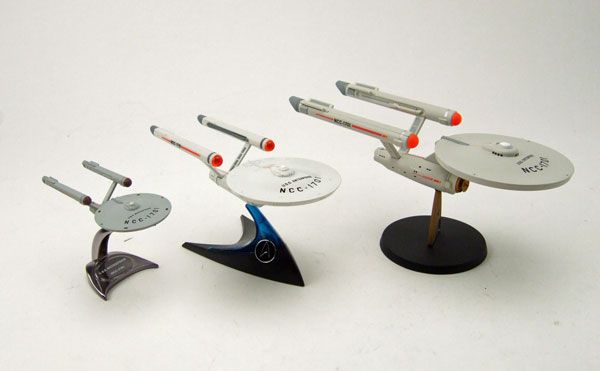 There she is amongst some other comparable Enterprises. The Hot Wheels version is considerably lighter in color than most current toy versions, which is something I like. Regardless of how accurate or inaccurate it is, the color reminds me very much of the
old Dinky version
(which, as we all know, ruled).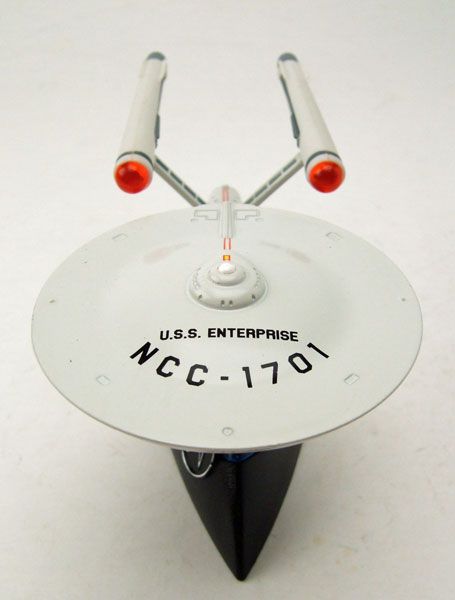 Since the Costco set has 6 ships all together in one set, finding solid paint jobs across the board would seem to be a challenge. Surprisingly this isn't the case, as most of the sets I've seen have pretty even detailing. My Enterprise (and all the other ships in my set) has a very concise paint job, with no stray paint blotches that I can see.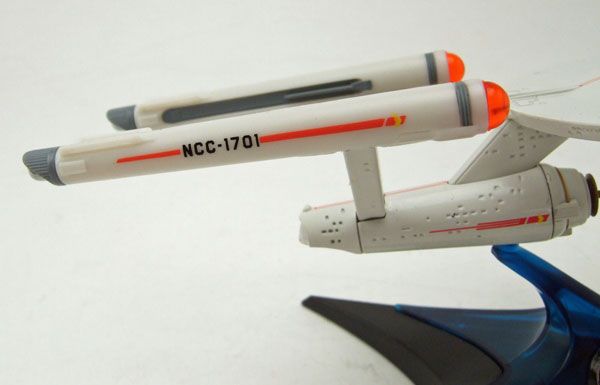 I really like how Mattel handled the illuminated nacelle tips of the show version. Instead of just painted caps, they used a translucent orange plastic. It's a small detail, but it adds a lot to the look of the ship.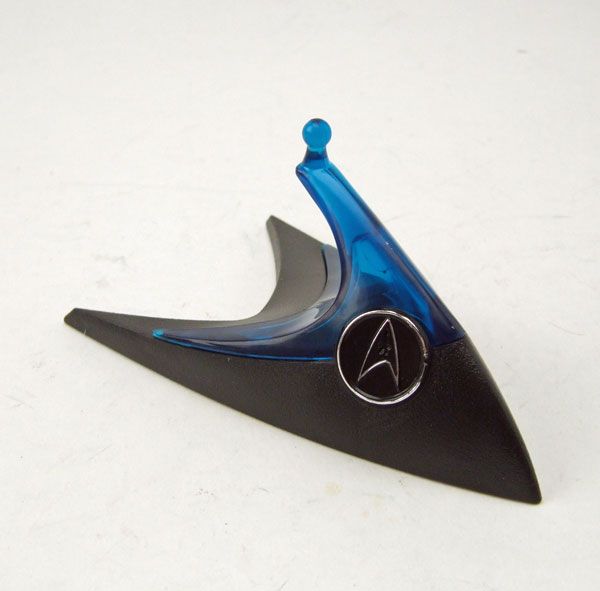 Of course, just like all their other releases in the Star Trek line, the Enterprise includes a nifty display base. How else are you going to display it? Duh.
And there's your regularly scheduled box bio if you care to read it...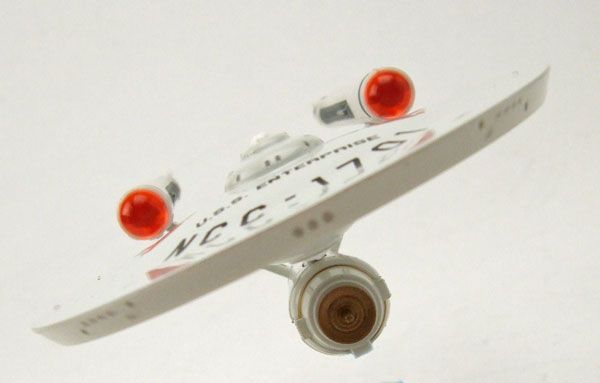 Would I recommend this one? Of course! In my opinion, it's the most important ship in the entire Star Trek franchise- meaning no display in this scale is complete without it. The only thing that stinks is that you have to buy a giant boxed set to get it. At the current retail of $24.97 though, this ship alone makes it worth the price of admission.
Costco currently has it on their site
HERE
, but at $39.97 it's a bit pricier than the in-store cost. You do get free shipping with it though, which helps even it out. Either way, you'll need to be a Costco member to buy it. If you aren't already a member, you may want to check with your friends, as the yearly cost is $50...