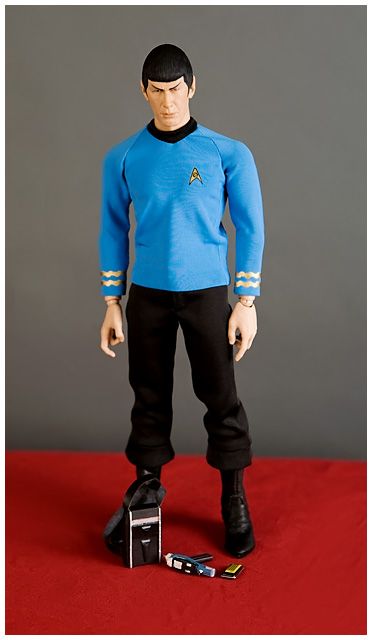 Figure Name: Commander Spock
Manufacturer: "Nanjin"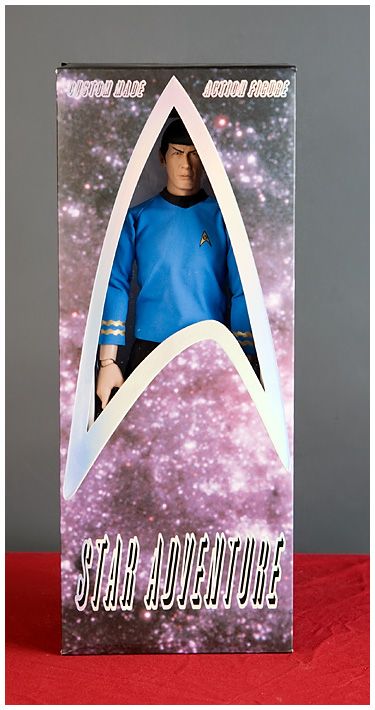 This custom Commander Spock 12" figure was released in 2010 as part of a trio of "Star Adventure" figures.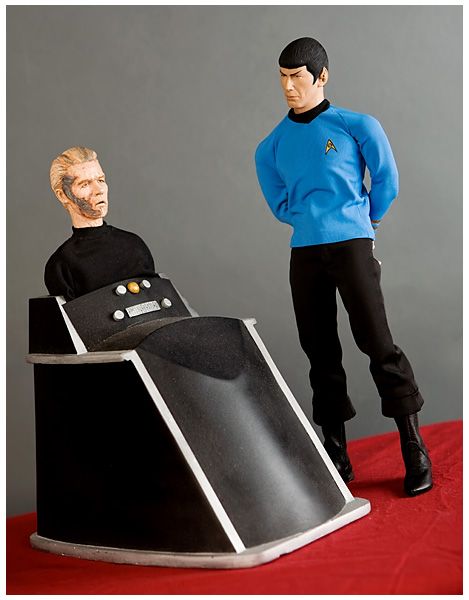 The Rundown: A Kirk without a Spock is like a Reese cup without the peanut butter center... so of course I'm following up the previous spotlight on
the 12" Nanjin Captain Kirk
with today's spotlight on Mr. Spock! It was the logical thing to do...
Just like Kirk, I want to give you a head's up that Spock here isn't exactly how Nanjin sent him out. Instead of the body that he arrives with, Spock's head and outfit are mounted on a Hot Toys body. The original body is fine (and is actually a bit taller than Kirk and McCoy), but I just felt that the outfit and head deserved something just a little bit better. So, with that said, let's check him out!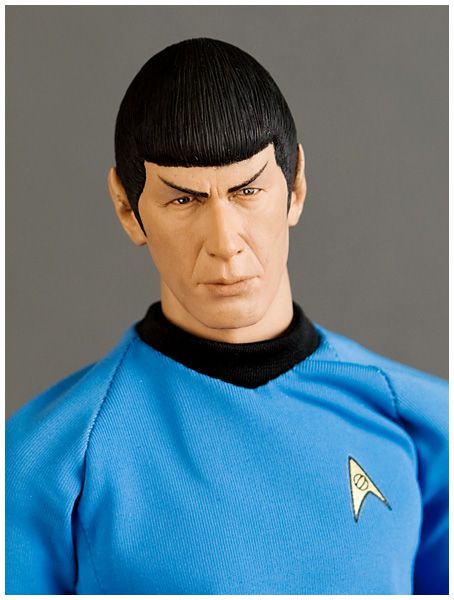 If you read my
Kirk review
, you already know the deal with the head sculpts. Nanjin had a pro in line to do these, but that sculptor scrammed on the project, leaving Nanjin to do the work himself. I think the likeness really works at certain angles, and is better in my eyes than both
DST's "Ultimate Quarter Scale" Spock
and
Sideshow's Premium Format Spock
.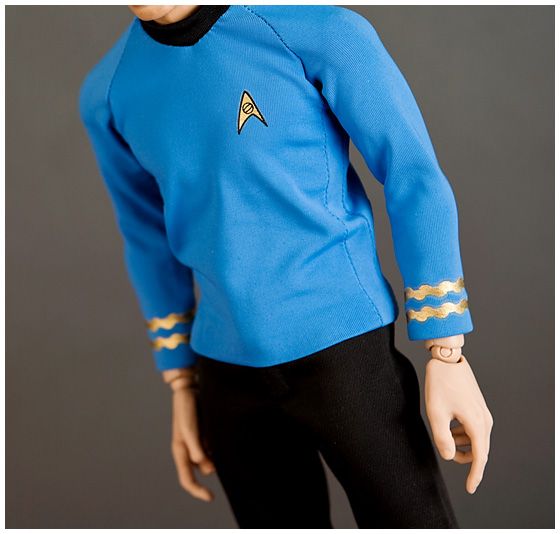 Spock's shirt is expertly rendered, replicating the look of the third season attire to perfection. Some folks asked why Nanjin went with the later look of the uniforms instead of the earlier velour shirts. Easy answer-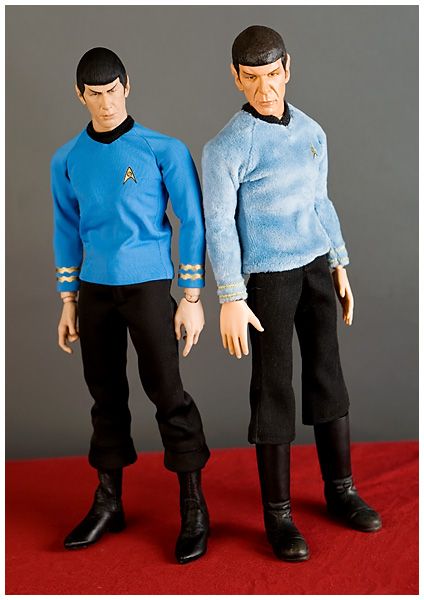 Sci-Fi Metropolis showed us that the velour look doesn't really work that well at 1/6th scale. Some materials just don't look right on a 12" figure. If it meant having shirts that looked like that, I too would have gone with the later look.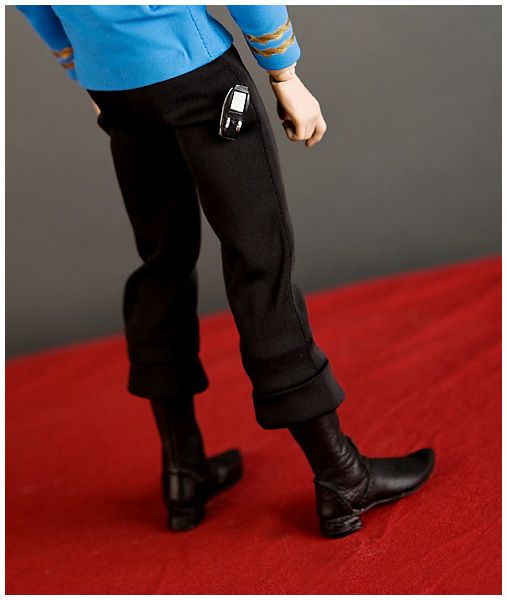 Spock features the same trousers we saw on Kirk. There's 4 strategically placed magnets in the pants allowing Spock to "holster" his communicator and phaser. An ingenuous way to eliminate the velcro used on the show, which again would not have worked at this scale.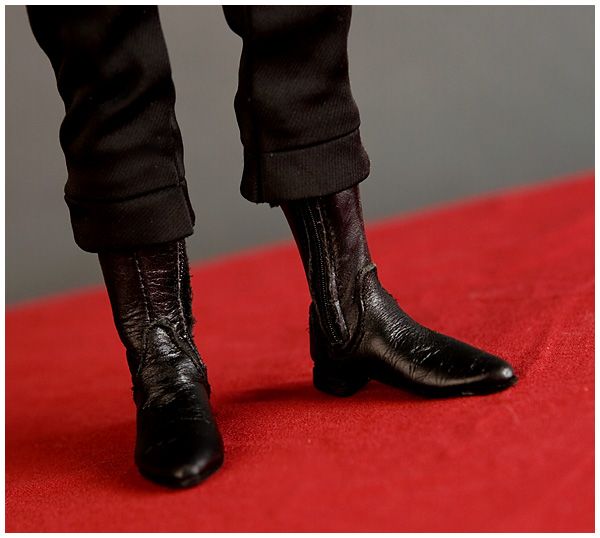 The boots are made of a leather-like material and feature a real zipper sewn into the side. I neglected to mention this on Kirk, but since the boots are made of a softer material than the standard rubber used on most 1/6th scale figures, the ankles are still able to achieve a wide range of movement. They are a little tricky to get on and off though, so you should take great care if you get a set of these and want to switch them onto different bodies.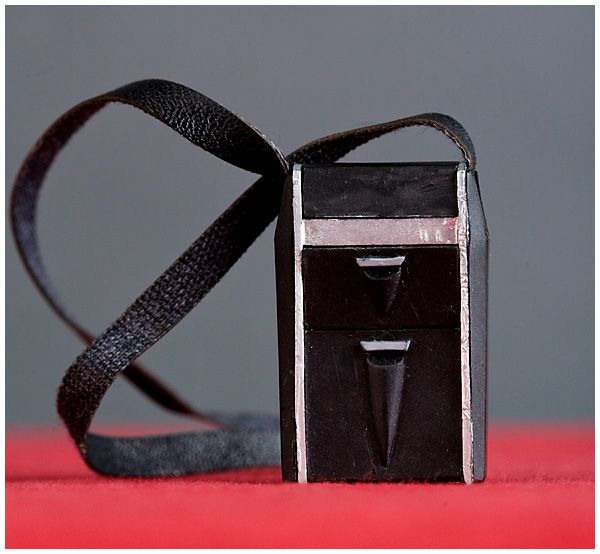 Accessories: Spock includes a communicator, a phaser, and a tricorder. Since we already took a close look at the communicator and phaser in the
Kirk spotlight
, we'll just focus on Spock's tricorder this time. Pictured above is the tricorder with all the panels closed...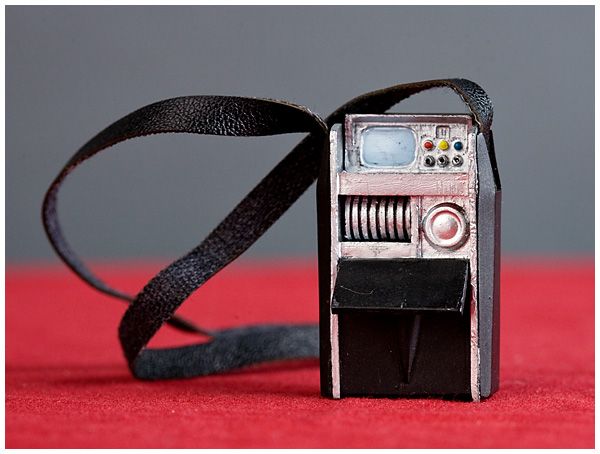 ...and there it is with them open! It's truly remarkable to see this kind of quality at this size, especially given the fact that this isn't the work Hot Toys or Sideshow! The panels swing open easily, and the leather strap is a perfect length, allowing you to pull off poses like this with ease: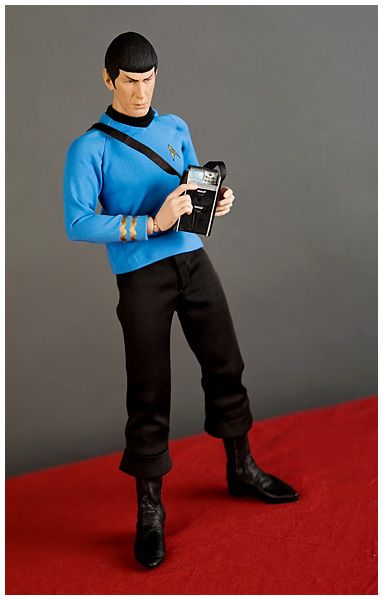 Yeah, that rocks. Again, I'm going to reserve my final thoughts on these guys until we get to the final of the three spotlights, which should be in just a day or two. Until then, here's another teaser-