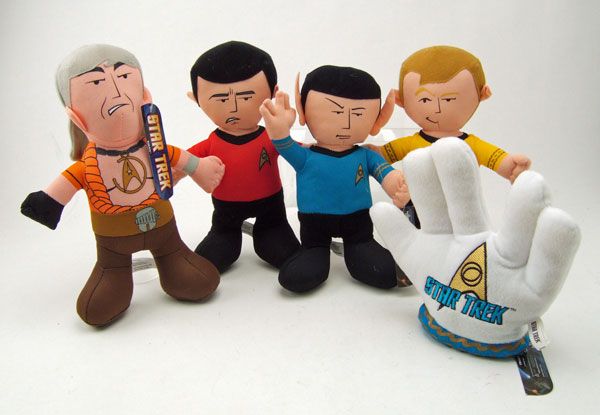 Item Name: Star Trek Plush Characters
Manufacturer: Toy Factory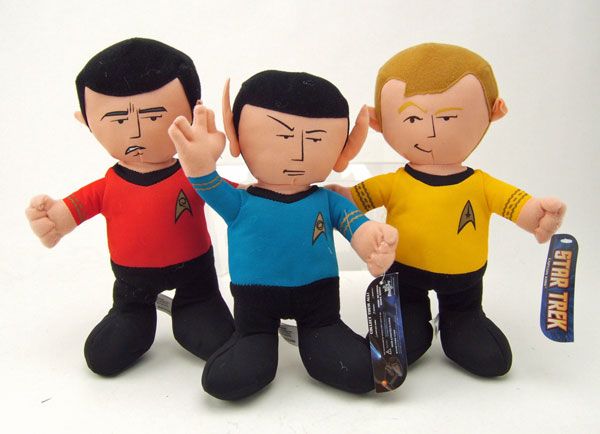 The Rundown: A little over a year ago, I did a spotlight on a really cool trio of Star Trek plush characters from Toy Factory (you can check it out
HERE
if you don't recall it). The versions featured there were the 15" variety. I mentioned that there was also a set of 10" characters and a "vulcan salute" hand available, but at the time I didn't have them... But now thanks to a kind reader of my blog, I am the lucky owner of a full set of the smaller plushes as well! With the release of a new character in the 10" plush scale (which we'll get to later), I thought now would be the perfect time to look at the line in it's entirety...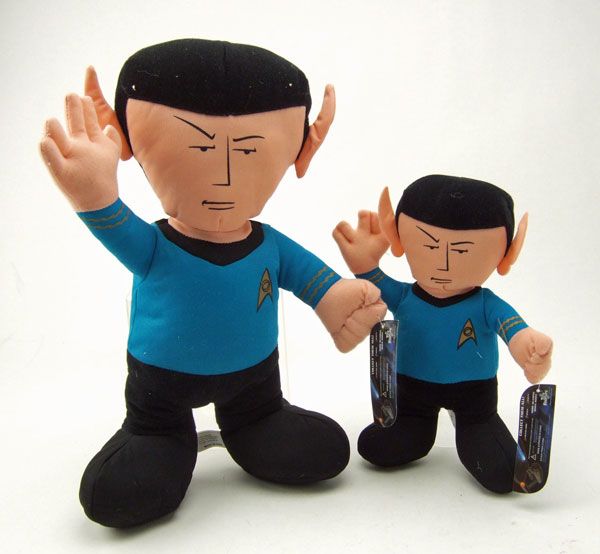 The look on all of these is a mixture between the 2009 Star Trek "QUOGS" style and a design that Toy Factory calls the "buddy" style. As I stated before, this set is a bit smaller than the previously reviewed batch. The details are pretty much the same as their larger cousins, but the smaller size makes them a little easier to display. Just like the 15" set, three classic characters were produced: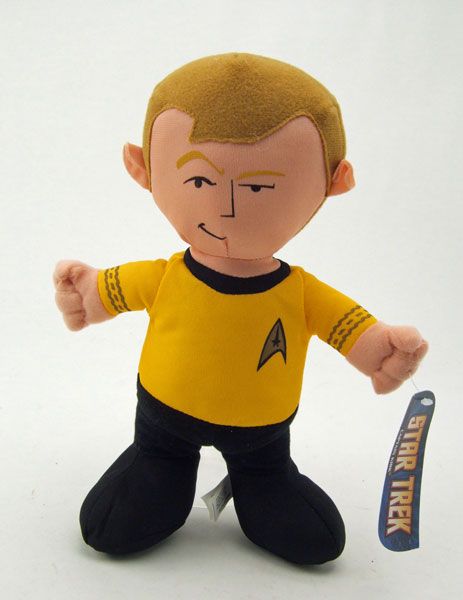 There's the dashing Captain Kirk, with his "devil-may-care" smile and a pair of fists ready to clobber a Klingon...
Mr. Spock looking appropriately logical while flashing his "live long and prosper" hand salute...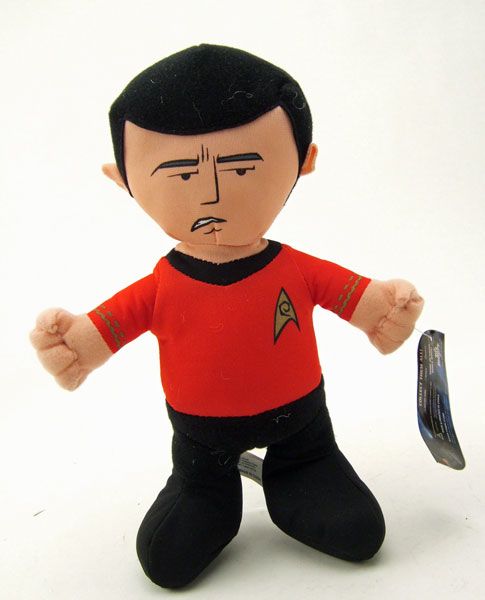 ...and finally Scotty with a concerned look on his face. I had wondered previously why Toy Factory chose Scotty over the more obvious choice of McCoy. Little did I know that my pal Chunky B from over at the insanely awesome
Eclectorama blog
was the design mastermind behind these! He explained to me after reading my post that they wanted to get the three shirt colors out first, as that was the only way they would be able to produce a Scotty. McCoy is a hopeful for future Trek offerings, but I'm not sure if Toy Factory is going to move forward on this line or not.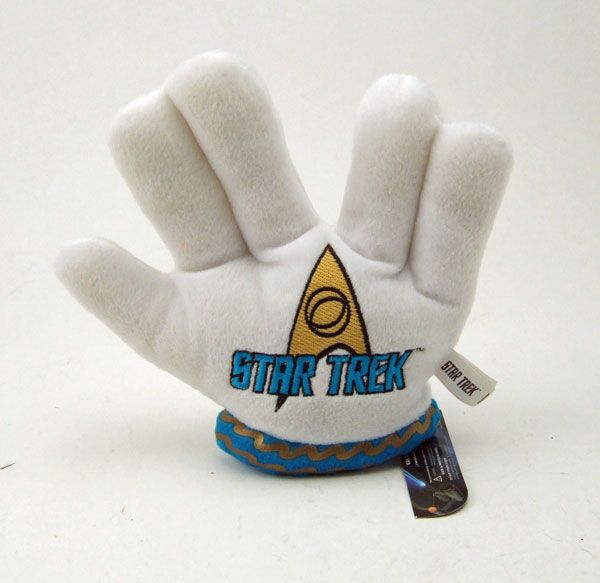 As a supplement to the crew, Toy Factory released this interesting "LL&P" plush glove. It looks like a standard plush item, but you can actually put your hand inside this one and wear it! It kinda reminds of one of those giant foam fingers you can buy at sports events. The 10" version pictured up there is great for kid-sized hands, while the 15" one is perfect for adults. To make it easier to spot me at conventions, I promise to wear it at the next Creation Trek show I make it out to. If you see me, be sure to stop me and give me a plush high-five.
The last Toy Factory Trek item produced (well, so far...) is this really cool Khan plush. Khan is a departure from the other guys in that he is based off of his movie look instead of his appearance in "Space Seed". And while the other plush items were available mostly through those grabber machines, Khan was only available through a promotion with IDW comics. To celebrate the release of "Khan- Ruling In Hell" issue 1 (
which I am actually in!
), IDW and Toy Factory teamed up to make this guy. In what is easily the coolest retailer incentive program EVER, retailers got 1 free Khan plush for every 25 copies of issue 1 ordered. Stores could also order up to an extra 5 Khan plushes once they hit the qualifying 25 copy minimum. Khan actually shipped a little later than issue 1 did, just arriving at shops last Wednesday.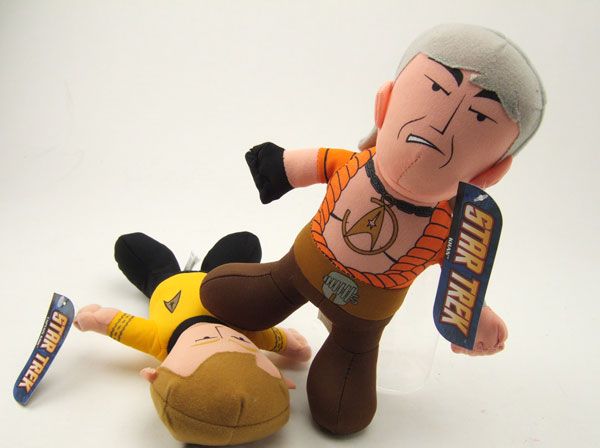 Khan is probably my favorite of the bunch. I mean, how cool is it to have a cute little plush of freaking Khan!?! Chunky B did an insane job on this guy too, cramming every detail he could from his movie costuming. You can really see the passion that he has for Star Trek in this finished product. Kudos my friend on a job well done!
I love all of these guys. I highly recommend picking up a set of these, especially if you have kids (as both my sons LOVE them). If you are going after a Khan, try your local comic shop as they just might have him in stock this week. For the others, hit up eBay. You can kind both the 10" and 15" versions pretty cheap, though you may want to just stick with the 10" guys as they'll fit better with Khan. I can only hope that Toy Factory goes back and gives us a few more Trek pieces to accompany them...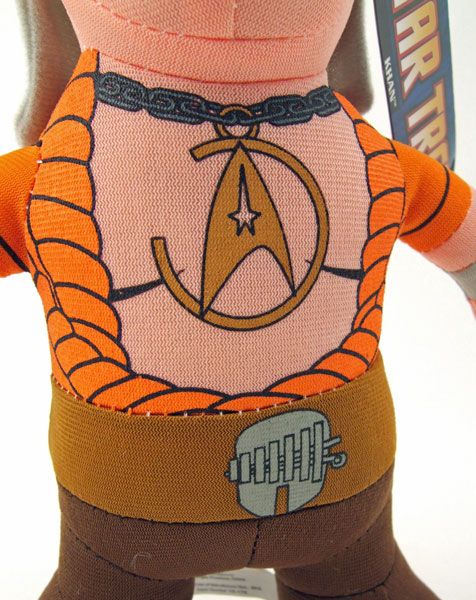 ...and in case you were wondering- Yes, that is his real chest.