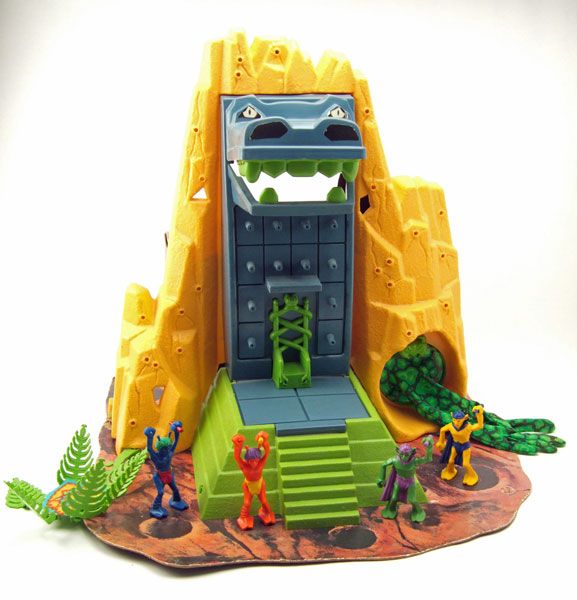 Item Name: Mission To Gamma VI
Manufacturer: Mego Toys Corp.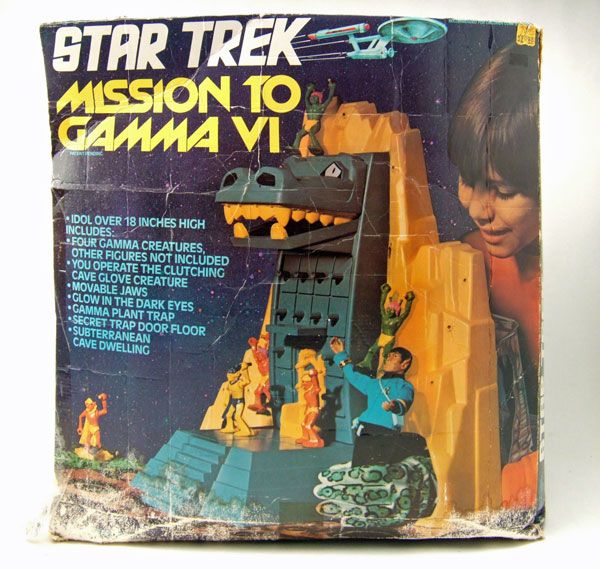 Mego released this playset to stores way back in 1975.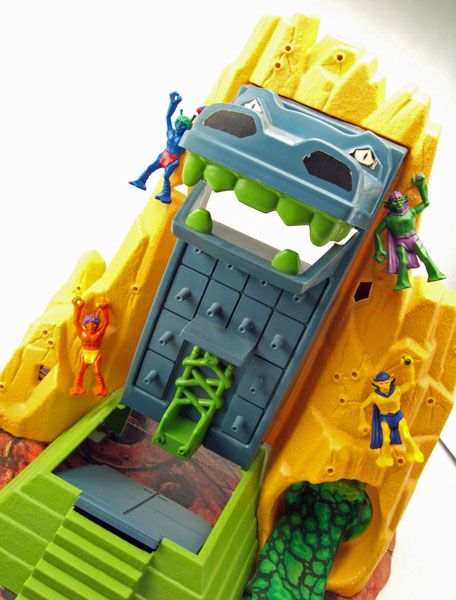 The Rundown: Toy playsets based on Classic Star Trek are few and far between. The closest Art Asylum/ DST ever came to doing them were the command chair releases. Though they did a fantastic TNG bridge playset, Playmates plans for a
bridge playset based on TOS
never came to fruition (though they did manage to put out a couple with the Star Trek 2009 line). After all these years, Mego still reigns supreme when it comes to Classic Trek playsets. There is the
bridge from the 3.75" "Motion Picture" line
, and for the 8" line there's a bridge playset, a telescreen console.... and the Mission To Gamma VI set we are looking at today!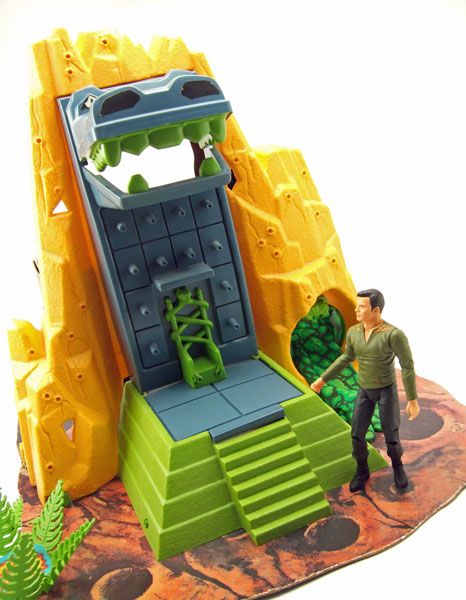 The "Mission To Gamma VI" playset (heretofore referred to as MTG7) is a beast of a playset, clocking in at around 18" tall. The front side of the playset is basically a large idol that should look a little familiar to TOS fans-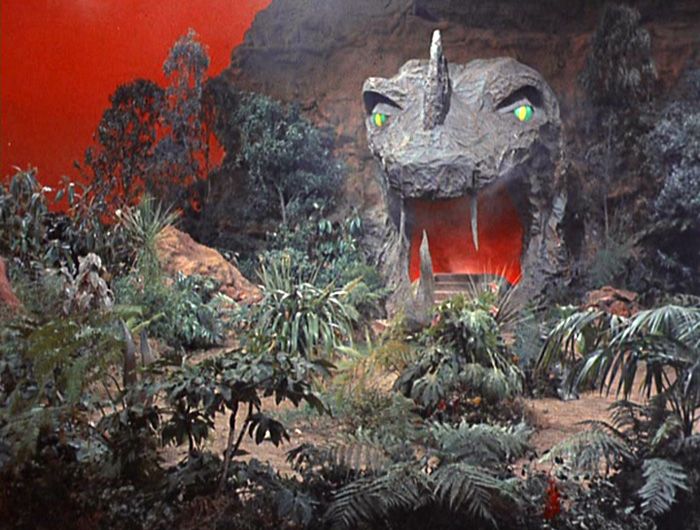 MTG7 draws both it's name and basic appearance from the classic series episode "The Apple". If you'll recall, that episode takes place on the planet "Gamma Trianguli VI", which Mego shortened to just Gamma VI. Vaal's countenance has been altered a bit, but you can definitely see the resemblance in the playset. That's pretty much where the similarities end and the artistic license begins.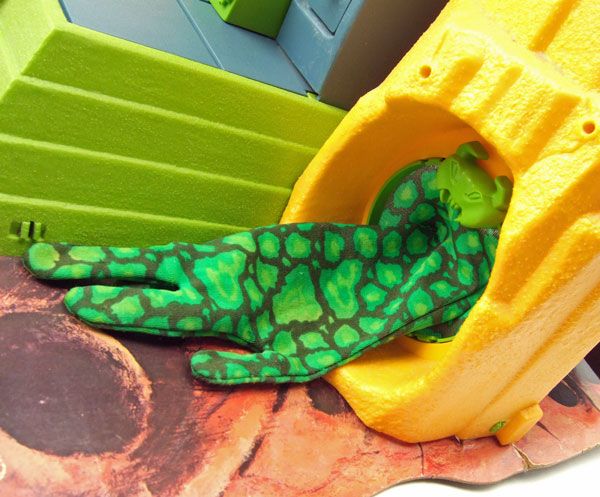 To amp up the play value, Mego added a few bells and whistle to ol' Vaal. To Vaal's lower left is spherical opening with a green speckled glove attached. This is the first of many perils awaiting the crew on their mission...
A child slips their hand through the hole in the back of the playset and suddenly the glove shifts from innocent hand-warmer into a dreaded cave creature waiting to grasp a hapless red shirt! I have no idea if this is the first time this feature was incorporated into a playset, but it's certainly not the last. Oh, and no, I didn't risk trying to cram my whole hand into the glove. The material feels pretty fragile and probably wouldn't stand the strain, so I don't recommend it.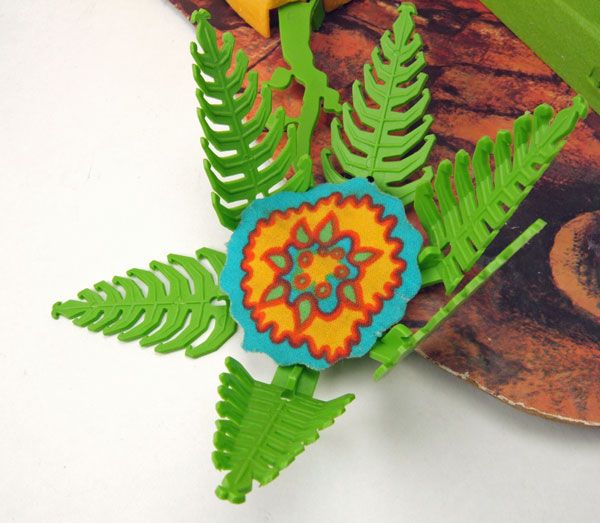 To the idol's right is a pretty little flower. Why don't you stop to give it a whiff Kirk?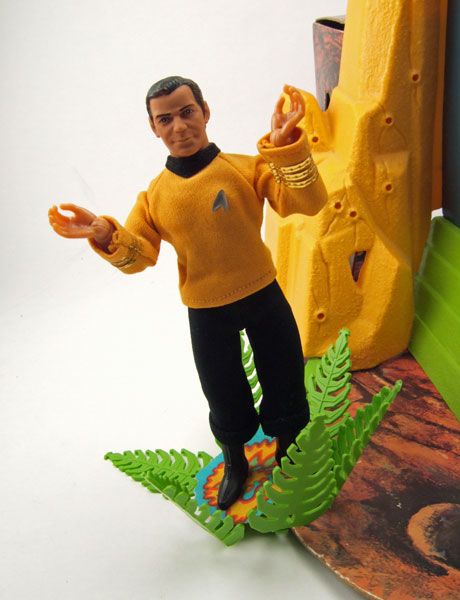 Ah-ha! Got ya! Err... wait, maybe I didn't get you. Apparently I'm missing something here. Literally. The plant is supposed to close up on a careless victim once they trod upon it, but I'm not having any luck here. I'd say I'm missing some kind of cord or band or something that is supposed to run through the leaves, but with so little information on this playest out there, I can't be sure. I do know one thing though- The plant leaves are INCREDIBLY easy to break off, so watch out for that if you ever run across one of these.
Vaal's next trap is located directly beneath his face. A small throne sits atop an innocent blue platform. "Obviously... no danger... here", says our brave captain...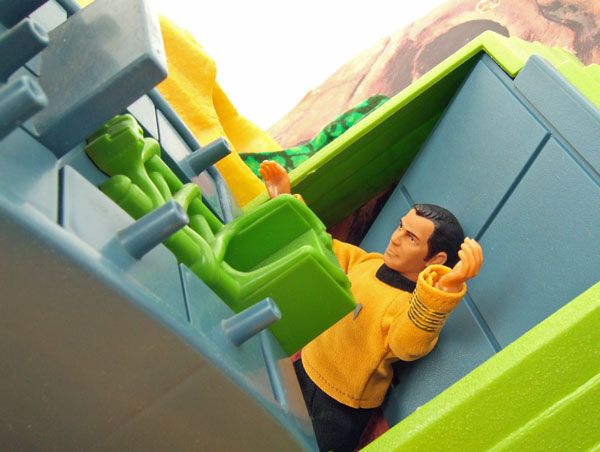 "Sppppooooooooccccccckkkkkkkk!!!!!!!" But it's too late! Kirk has had a nice trip, he'll see you in the fall. The trap door is operated by a rather tricky little mechanism in the back of the playset. You've got to have some pretty strong hands to pop it free of it's catches. Broken latches are probably another issue one should keep a close eye out for.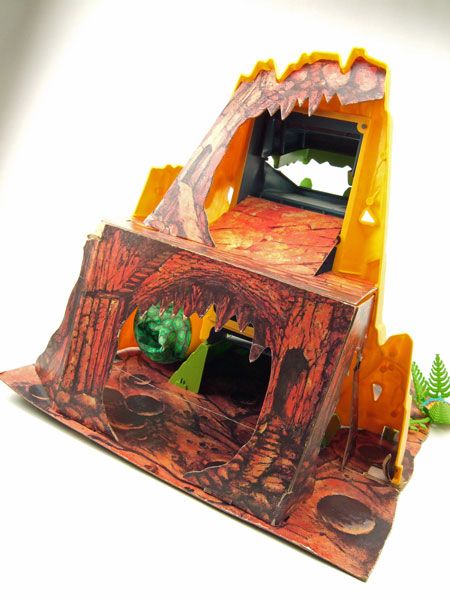 Kirk's trip through the trap door leads us to the back of the playset. While the front facade of the playset is almost all plastic, the back portion is made entirely of cardboard. 3 pieces of cardboard are included, which (when assembled) resemble a large brown cave. The cardboard structure is attached to the base of the plastic portion by means of these small green clips: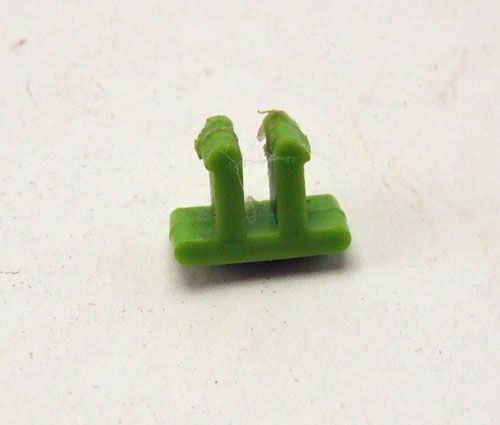 Yeah, good luck not losing those. Anywho...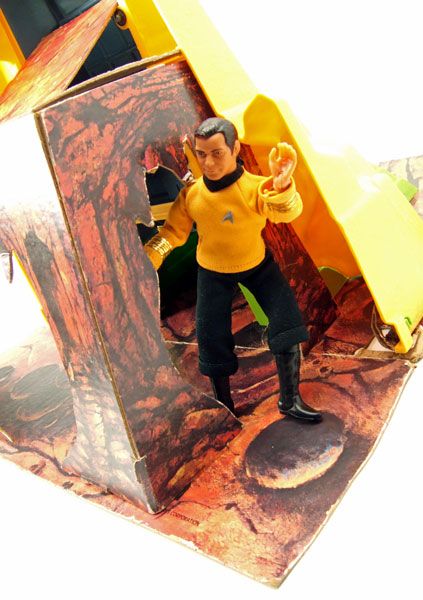 The back side of the playset doesn't offer as much fun as the front. Let's let Kirk escape his cave imprisonment (through one of three convenient openings at the bottom) and head up top...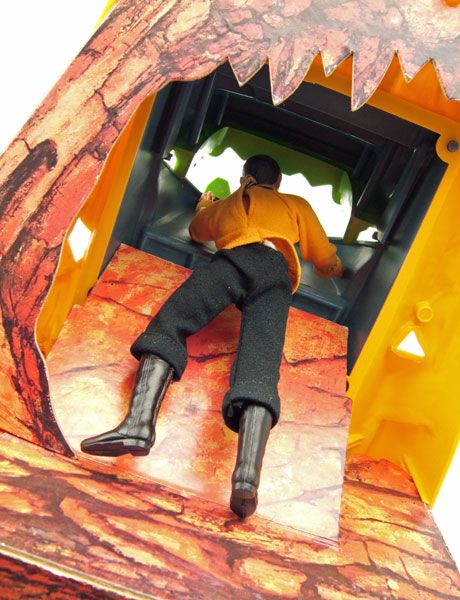 ...where he finds pretty much the same environment. More cave. "But... what's this... little area here"? Well Kirk, I'm glad you asked!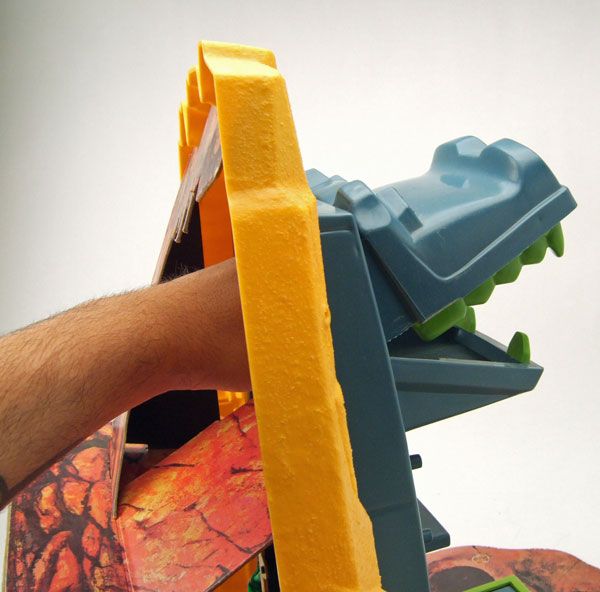 That area is where one would insert their hand to control the idol's mouth of course! Not really sure what good it does, other than for some sweet puppetry action. Oh! Before I forget, let's head back out front and take a closer look at the idol's face.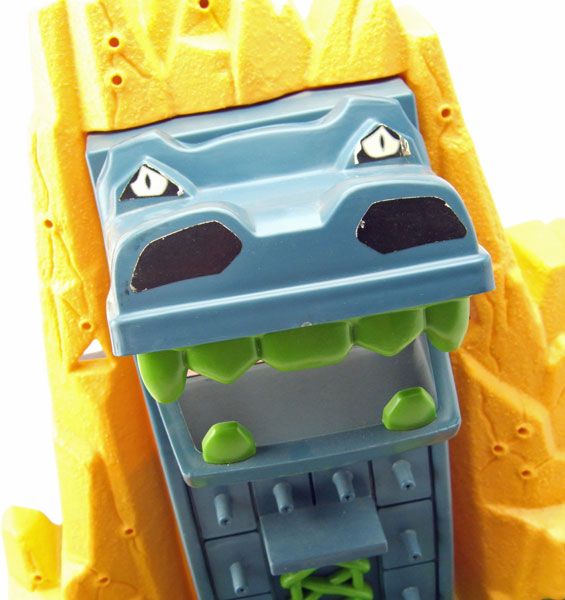 To replicate Vaal's gleaming stare, Mego used glow-in-the-dark material for his eyes. Though I couldn't capture it on film, the effect still works on mine, 35 years after it was made!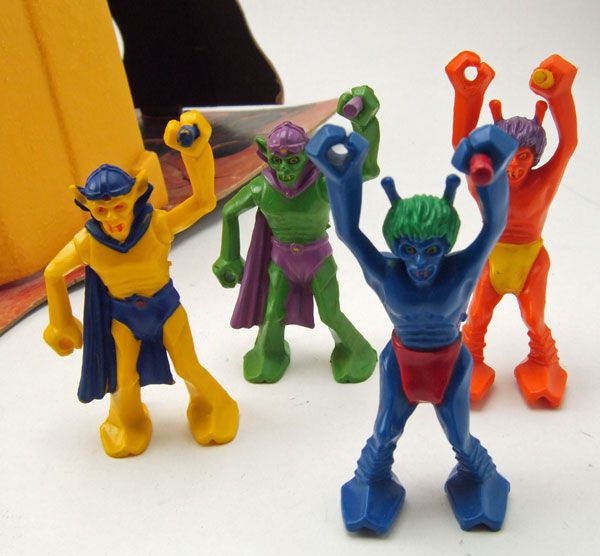 So that's about it for the playset itself... but what a mission to an alien world be without an alien encounter? Mego included 4 little aliens with this set...and boy do I mean LITTLE.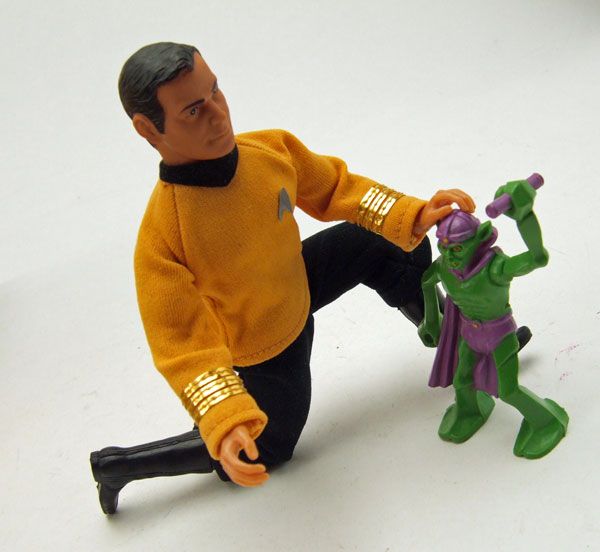 These diminutive little guys, while creepy-looking, don't seem to pose much threat to our beloved starship crew... nor do they bare any resemblance to the natives featured in "The Apple". Just who are these guys? Well, let's take a look at the original commercial and see if that explains it-
Lilliputians!?! Like the guys from "Gulliver's Travels"? Yeah, okay. That makes sense.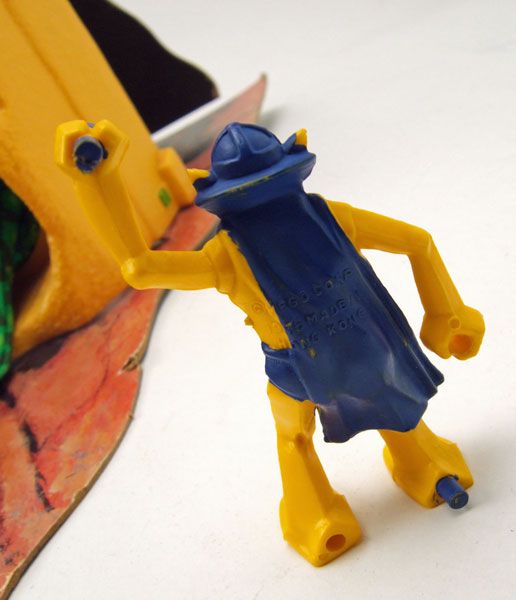 Still, the Lilliputians are kinda cool. They each have little post things in their hands and peg holes in their heels allowing them to either post into the playset front, or...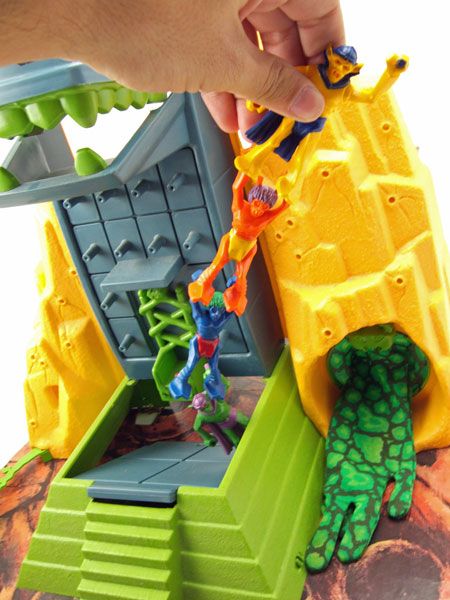 ...peg together into an alien conga line! See, these guys aren't threatening at all. They just love to dance!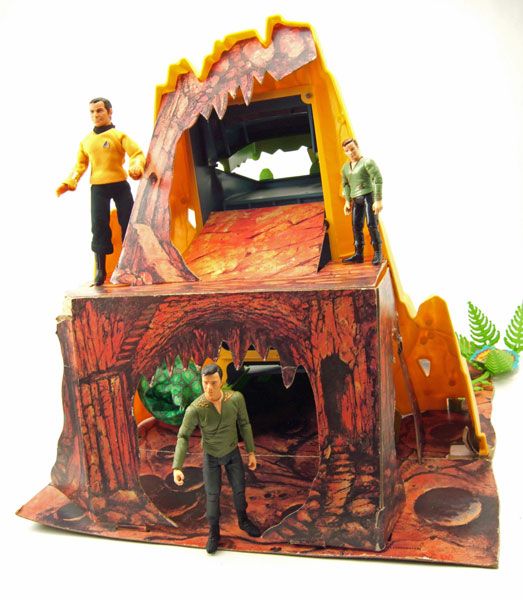 The MTG7 set is easily one of the rarest items in the Mego Star Trek line. It's almost impossible to find complete with all pieces. Even if it's all there, it's somewhat flimsy construction almost guarantees that you'll have wear issues on a loose sample. Taking all that into account though, it's still one AWESOME toy. It has a ton of fun features and it can work with pretty much any scale of Trek figures. I seriously would have never left the house if I would have had this as a kid. It's just too bad it's so pricey nowadays...