Figure Name: Mugato
Manufacturer: Playmates Toys
The Mugato was released as part of the second wave of Playmates 12" Trek figures back in 1999. (Nope... no boxed pic this time.)
The Rundown: Well, unlike the
4.5" Mugato
, Playmates at least got the name right on this one... though that may be one of the few things they got right on this guy. The Mugato is unlike any of the other Playmates 12" Trek figures, as you're about to see...
Let's start with the good. The head sculpt is pretty decent here, with an appropriately angry grimace on the face. I think the 4.5" is a bit better, but I wouldn't say this one is bad by any means.
Playmates captured all the necessary details of the Mugato, including the back spikes and tail. I just have a major issue with how they went about capturing them...
Instead of putting a furry suit over an articulated body, Playmates basically phoned this one in. The Mugato is no more than a stuffed animal with a wire armature inside. That's a little lame considering he cost the same amount as a standard 12" Trek figure. Not only that, the wires don't hold a pose all that well (especially the legs), leaving you with very little in the way of display options.
The other problem is the height. Mugatos are supposed to be around 2 meters tall, not including the head spike. This guys looks like he must be the runt of the litter. Couple his short stature with some majorly poofy fur and the 12" Mugato ends up looking more like a Sprite from Rainbow Brite than he does a fearsome beast.
Accessories: Unless I misplaced them somewhere, the Mugato includes absolutely nothing. Again, pretty lame. Sure, the Mugato uses nothing in the episode, but how about including a flintlock or a mahko root like the 4.5" version did?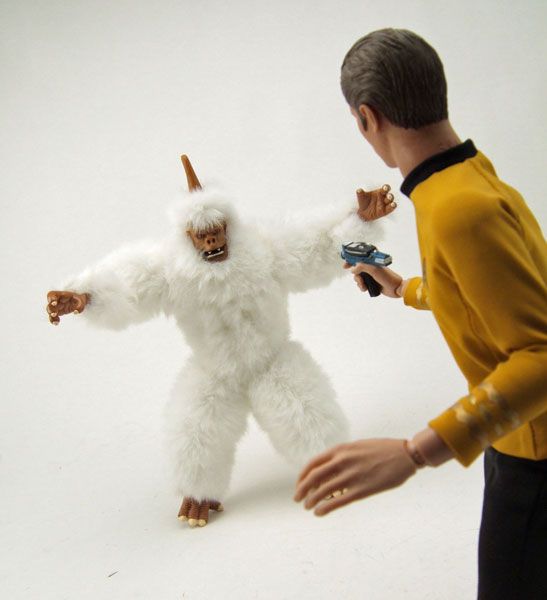 You may be considering picking this guy up to supplement your 12" crew collection with. I would give that some SERIOUS thought before plunking down the $40-$60 that this guy usually goes for. His size makes displaying him a little problematic... and he's a freaking stuffed animal. I'd skip this one if I were you, unless you can get him for under $20.