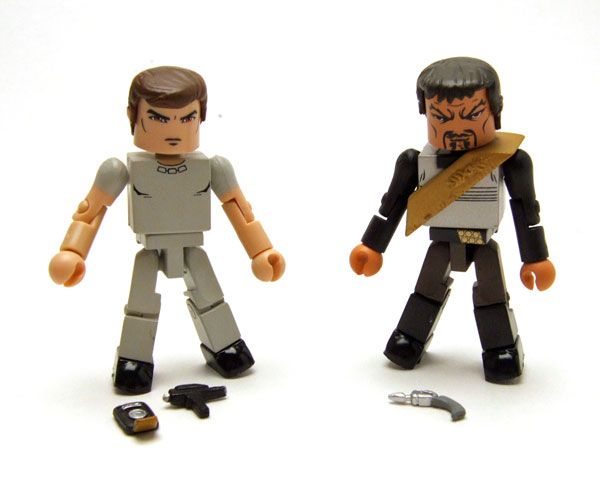 Figure Names: Gladiator Kirk & Kor
Manufacturer: Diamond Select Toys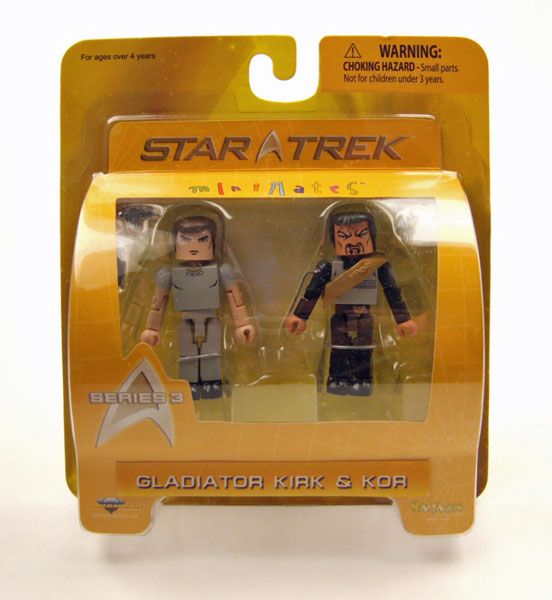 DST released this 2 pack as part of it's third wave of Star Trek Minimates.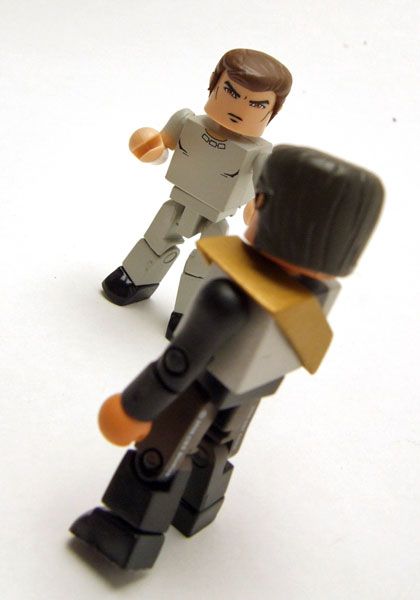 The Rundown: Diamond Select again offers a pairing of 1 essential character and 1 non-essential character (or variation of a character) with this pack. This time out, I'd say Kor would be your essential character and Gladiator Kirk is your non-essential variant. Sure, the pairing doesn't make much sense, but DST could have stuck packing peanuts in with Kor and I would have probably still bought it. Kor rules.
Kor is one of my favorites from the Trek minimate line. Like all minimates, he's very nicely articulated and can pull of a ton of poses. The detail on him is very nice as well, especially the baldric which is a separate sculpted piece. That makes customizing the body into extra Klingons very easy...
The minimate-style likeness is good here, capturing the facial hair and sneer very well. Even if you pop the head off of the body, you'd still be able to pick this out as a classic Klingon face.
Kirk isn't quite as nice as Kor. I'm a fan of "Bread And Circuses", so getting him in this attire is nice, but it's so plain that there's not much going on here. Kor easily outshines him in this pack.
The head features the "determined" Kirk expression. He's gotta play it cool while he watches Spock and McCoy fight for their lives in the arena.
Accessories: Kirk comes with a phaser & a communicator, and Kor comes with a Klingon disruptor. The disruptor is awesome!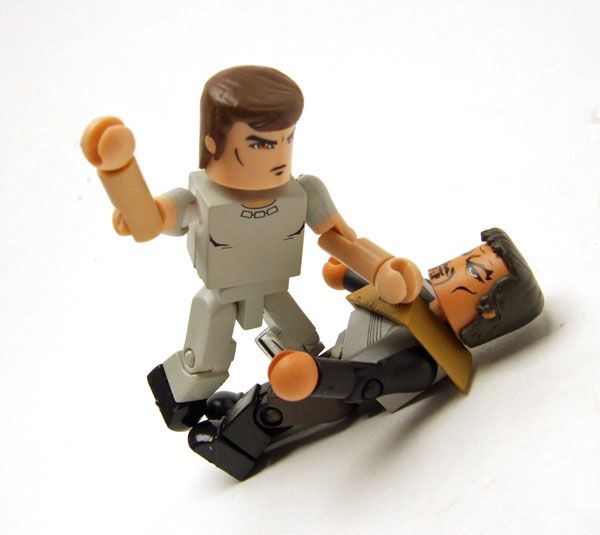 This pack ranks pretty high on the Trek minimate list for me. Kor is absolutely awesome and is one of the best of the line. The pack is also great fodder for customizing. If you buy 2 extra, you can make more Klingons AND have the extra gladiator bodies to make Spock and Bones in this attire. That's a lot of bang for your customizing buck!
-James