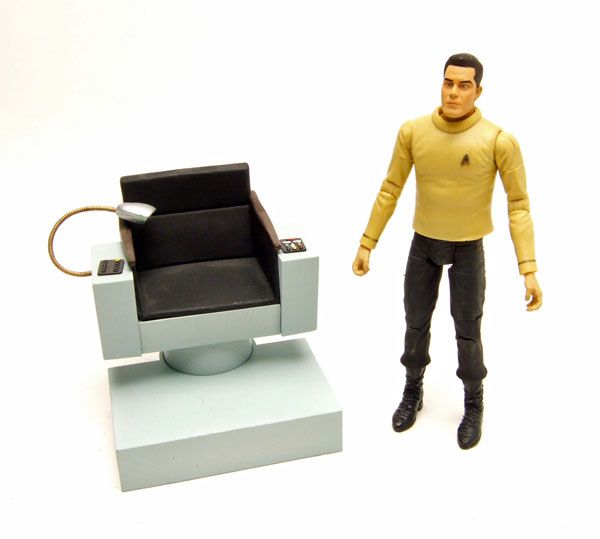 Figure Name: Captain Pike (and Command Chair)
Manufacturer: Diamond Select Toys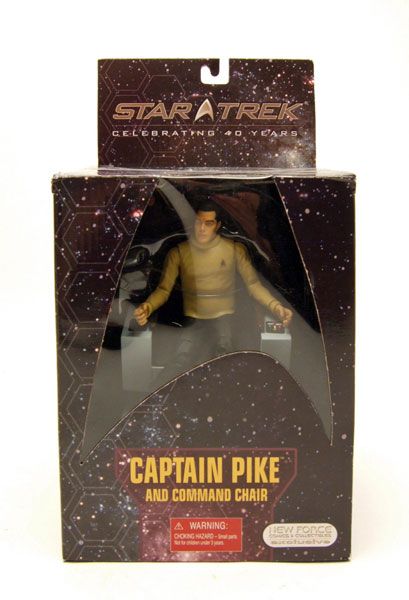 DST released this Pike and chair set as a New Force Comics exclusive.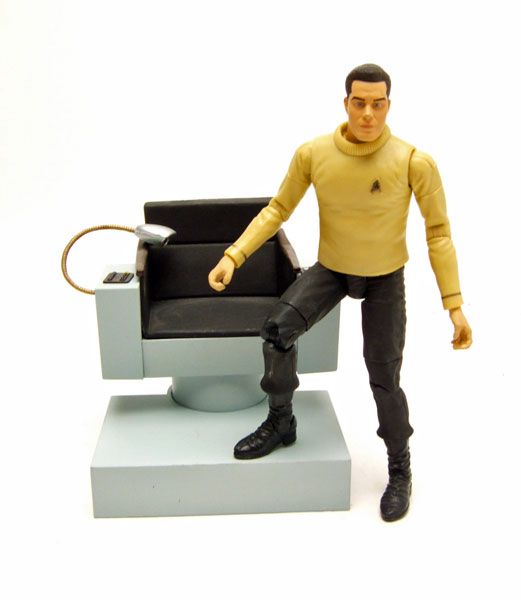 The Rundown: For the most part, DST's TOS "Command Chair" releases focus on just Kirk, but thankfully this release mixed that up a little. DST hasn't given us much in the way of "Cage" inspired figures, with only this Pike and a cheap-o Spock as the only 2 releases (and there's also AA's Vina as an Orion Animal Woman to throw in there). At least this Pike is really nice...
Let's take a look at Pike first. The figure doesn't have an overabundance of new parts, just the shirt and the head. The shirt sits kinda high on the neck, sometimes making him look like a turtle retreating into it's shell, but it looks good if you can get it situated right.
The head sculpt is really nice, with a really great paint job. They did a really good job of capturing Jeffrey Hunter's eye color.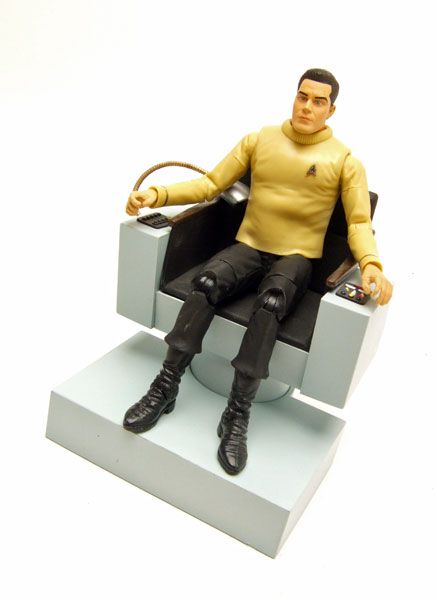 Pike includes the command chair as seen in "The Cage". He looks pretty good sitting in it, but it does accentuate the shirt problem I mentioned earlier.
The chair is basically the same as in all of the other releases. This time it's a bit more blue and the panels are a little different. There's also the scanner/ viewer thing on the side (just like the "Where No Man Has Gone Before" version)...
The scanner is nice, but is VERY easily broken off. Great care should be taken around it!
Accessories: Nothing other than the chair. I REALLY wish DST would invest in a Pike-era laser gun for the figures. Pike needs a weapon!
Box bio: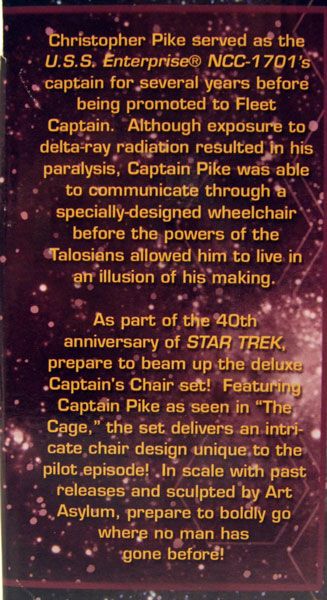 Pike really is a solid release, even with the little nitpicks. The chair is cool, Pike is awesome, and I'm a sucker for any "Cage" stuff. New Force is sold out of him now, so your only chance at getting him is the secondary market. If I were a betting man, I'd say Pike is a prime contender for the Toys R Us Reissue treatment. I doubt DST would take the time to make the laser gun for him though...