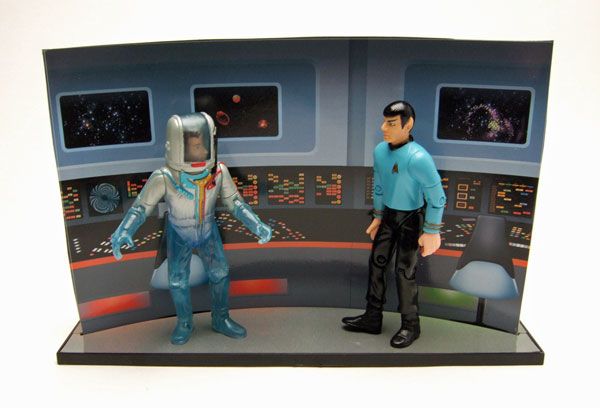 Item Name: Captain James Kirk (in Interphase) and Mr. Spock
(with "The Tholian Web" Display Environment)
Manufacturer: Playmates Toys
This Tholian Web set was released as part of Target's exclusive "Starfleet Command" series.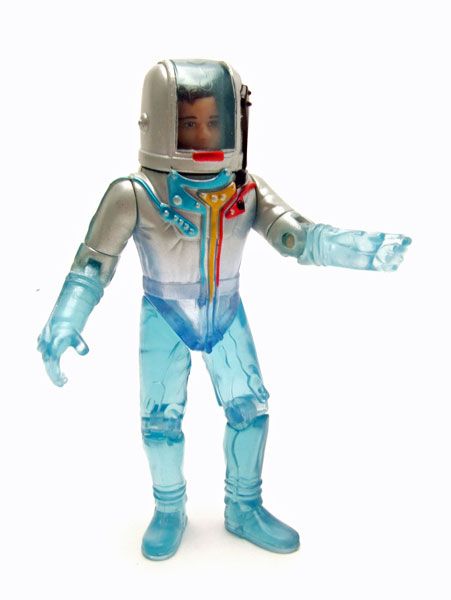 The Rundown: Here's a multi-pack that was a little tough to fork the cash over for. At the original retail of $20, there wasn't an easy way to justify the cost. You get one tweaked figure, and one straight rerelease. Ouch...
Spock is the exact same figure from the Classic Collector Set. This would have been a perfect opportunity for Playmates to give us a non-salute Spock, but no such luck. Instead, your stuck with a Spock telling the Interphased Kirk to "live long & prosper". Yeah, I'm sure Kirk wanted to hear that Spock.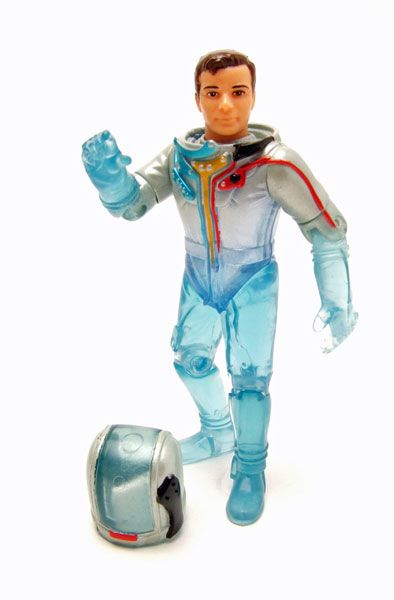 With the Kirk, at least you're getting something new, sort of. This Environmental Suit Kirk is a rerelease of the single carded version, except this time he's molded in a translucent blue plastic, replicating the Interphase effect from the episode:
The lower legs and arms are left unpainted, giving the illusion that Kirk is dissipating right before our eyes! Horrors! The effect looks cool, but it turns this figure into a one-trick-pony, much like the Transporter Series figures...
I should have brought one in for these pictures, but I bet this Kirk would actually look pretty cool on one of those Transporter Series bases. Sure, he doesn't have the glitter like those figures, but I bet the clear plastic would still work great with the light effect. So this Kirk is now a two-trick-pony.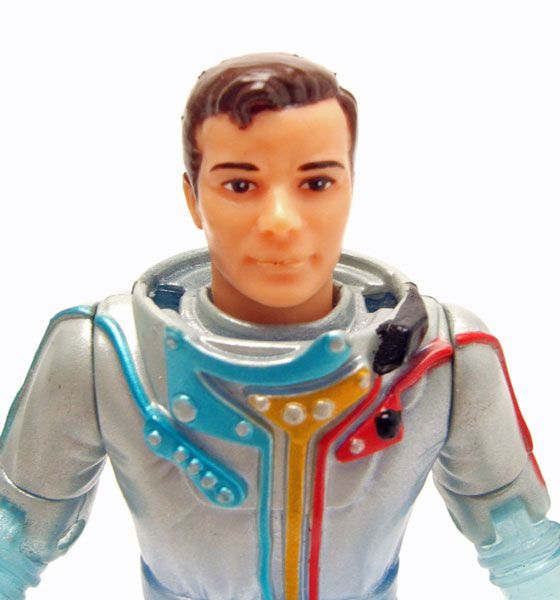 Huh. This Kirk doesn't have the worry lines, much like the Kirk from "City On The Edge Of Forever" (although this one looks better for some reason). Here's one case where worry lines are completely justified- Kirk is floating around in space in a disintegrated state...and he's not worried one bit. Kirk's the man.
Accessories: The set comes with a helmet for Kirk, and a base. That's it, as far as I can recall.
You can cut out part of the background from the box and stick it into the base to make a nifty backdrop for your figures. Is it sad that this is the highlight of this set for me? I'm a sucker for cool figure displays.
Box bio: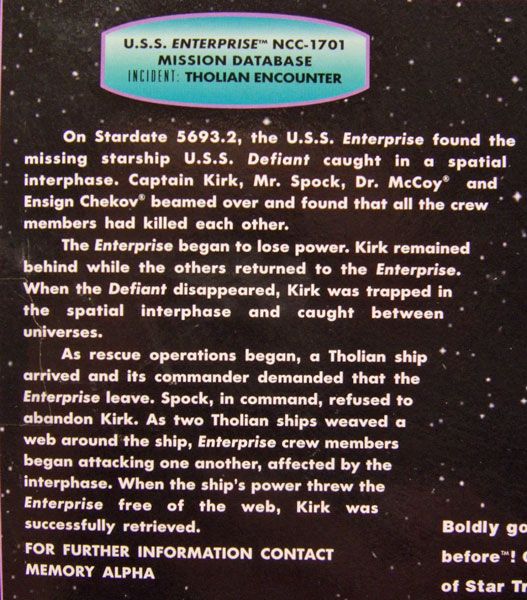 The set isn't really worth the original retail. It was originally supposed to come with an Environmental Suit Chekov, which would have turned it into a "must buy", but with 1 straight rerelease and 1 tweaked rerelease? Nope. You'd be better off just picking up the single carded Environmental Suit Kirk, squinting your eyes at him and pretending his in Interphase. The display is kinda cool though... and I guess if you could get this in the $10 range it might be worth a pickup.
-James