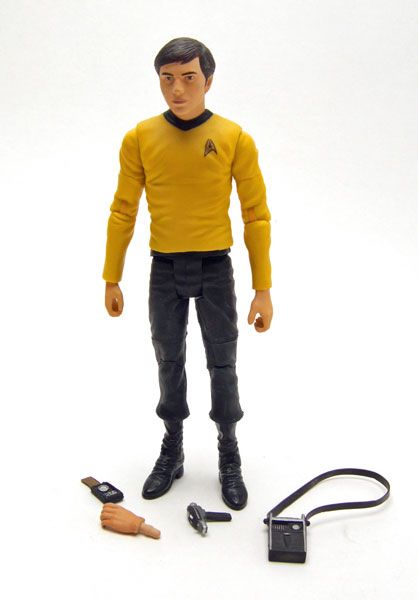 Figure Name: Ensign Pavel Chekov
Manufacturer: Art Asylum Toys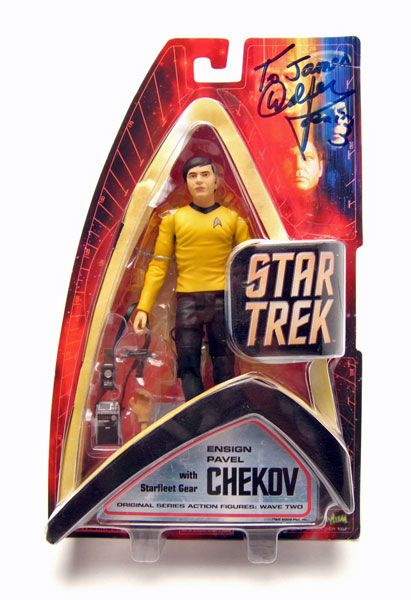 Chekov was released as part of Art Asylum's second wave of Classic Star Trek figures. (I had mine signed by Mr. Koenig)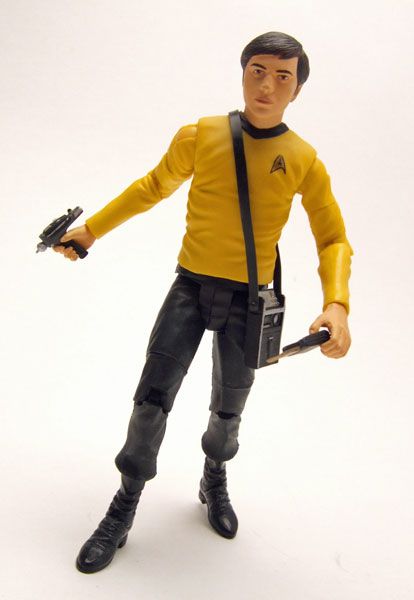 The Rundown: Though he wasn't in all 3 seasons of the original Trek, Chekov definitely qualifies as one of the main crew of the original Enterprise. AA released him in their second assortment, and unlike most of the original AA figures, Chekov hasn't received the reissue treatment from DST as of yet. Is it worth searching out the original? Let's look!
Chekov has the same body style seen on all the AA male classic crew members. He's got plenty of articulation, and the joints aren't too obtrusive. Again, these figures have rubber shirts that cover the torso joint. Mine has caused some dark spots to appear on Chekov's neck. I'm not a fan of the rubber shirts. I really wish DST would go back and rerelease the whole crew with solid torsos instead.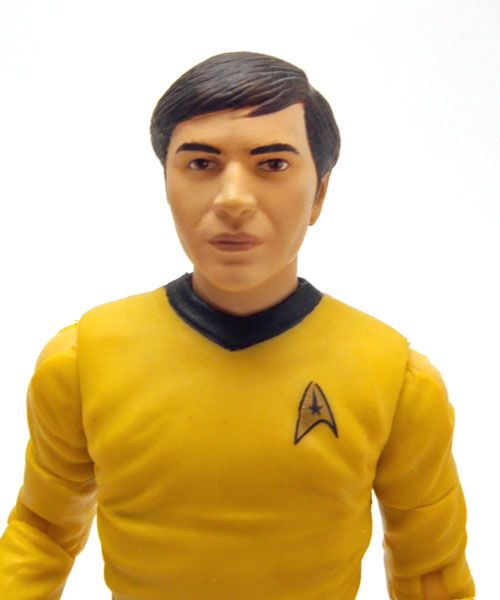 I feel like the Chekov head is one of the weaker likenesses of the AA figures. The DST "Wrath Of Khan" Chekov head is really nice and has a pretty strong Koenig likeness, but this AA classic head is a bit weak. Maybe it's just the paint? I usually prefer DST's paint jobs, so it will be interesting to see if this looks better whenever they decide to reissue him.
Since this is one of the original AA figures, the yellow of the shirt doesn't match the "standard" AA yellow-shirt Kirk, nor does he match any of the DST reissue figures. You'll have to customize a Kirk to get a whole crew in this shade of yellow, which is a bit of a bummer.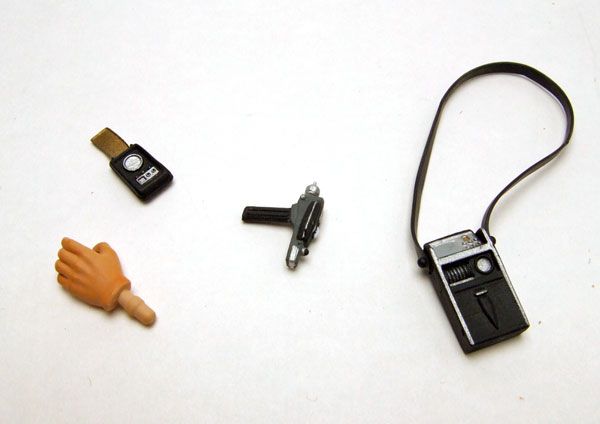 Accessories: Chekov includes an extra hand, a phaser, a communicator, and a tricorder.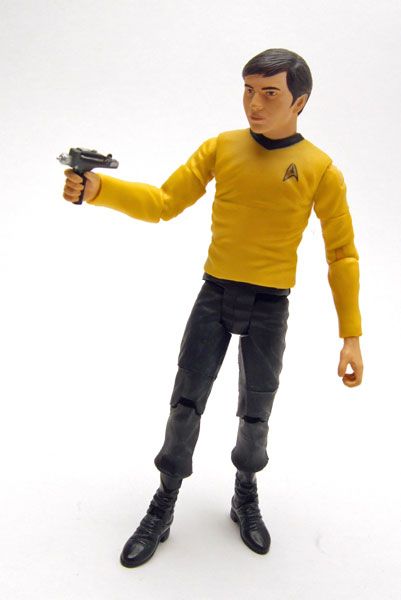 Chekov is real tough one to recommend. On one hand, every crew needs a Chekov, and without a DST version this becomes the only game in town. On the other hand, DST has said that they are looking for a way to get him out there. If that does happen, we'll end up with a version that has a shirt that matches the rest of the DST reissue crew. The head may even look better with a DST paint job. But, as with all things Trek now, it's a gamble whether a reissue will happen or not... I guess it comes down to what you have in the way of other crew members. If you have mostly AA stuff, then hunting down this Chekov probably makes more sense due to the shirt color. If you have mostly DST reissues, you're probably better off taking a "wait and see" approach.
*I drew the winner for the DST Tapestry Picard this morning. Congrats Max! Hope you enjoy him! I'll be doing more of these giveaways in the coming weeks, so be sure to keep checking!
-James