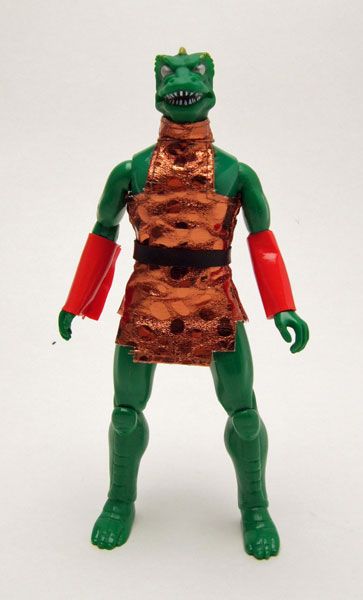 Figure Name: Gorn
Manufacturer: Diamond Select & EMCE Toys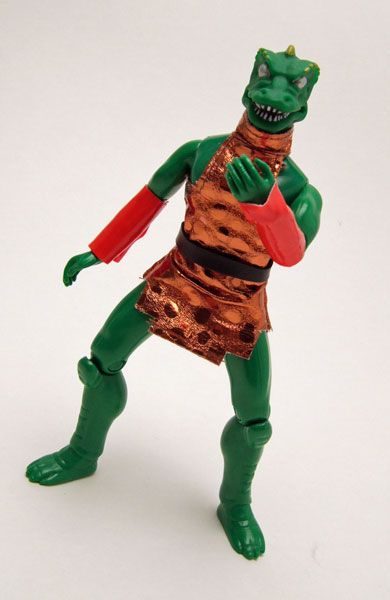 The Gorn was released as part of DST's Mego reissue line in resealable packaging (sorry, no packaged pic yet).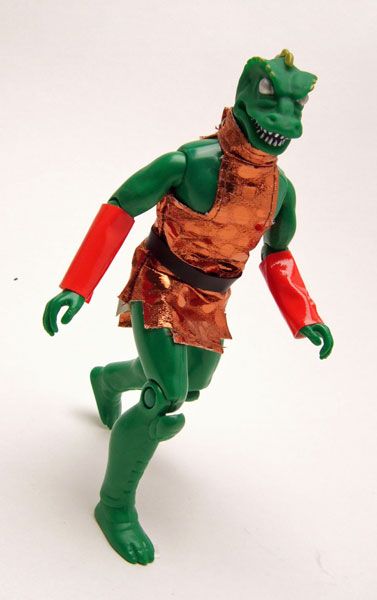 The Rundown: With most of the Mego reissues, DST has just been doing the figures as close to their original counterparts as possible. Well, that all changed with this Gorn reissue. The original Gorn is probably the most inaccurate, cheaply-made figure of the original Mego Trek line, what with his Klingon outfit and brown WGSH Lizard head. Not so with the DST version.
Instead of bringing back the Gorn impostor, DST went back and reworked the Gorn, giving him new parts and updating his look to more closely resemble his onscreen appearance. The out fit is now much more screen accurate here, with his shiny gold one piece and leather bracelets. And look, he's actually green now! Some folks complain that he's a bit bright, but remember that DST still had to make it seem as if Mego produced him.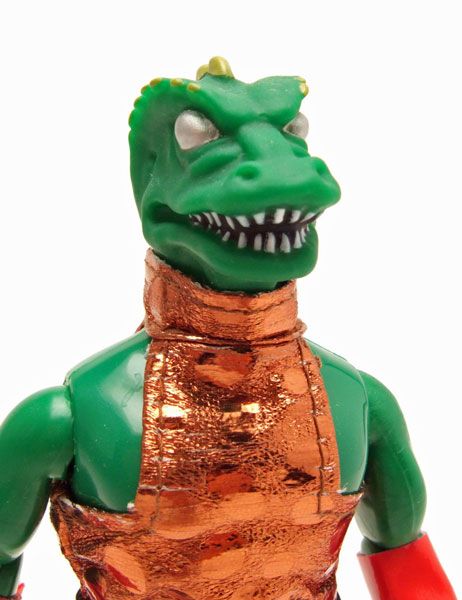 Gone is the old brown Lizard head, replaced with this new more accurate head. The detail here is great. Not as good as the AA head, but again, these have to still seem like Mego figures, so it can't get overly detailed or it would seem out of place in the line.
The Gorn also gets newer lower legs here. Again, they are much more screen accurate and add a much needed "alien" look to the figure.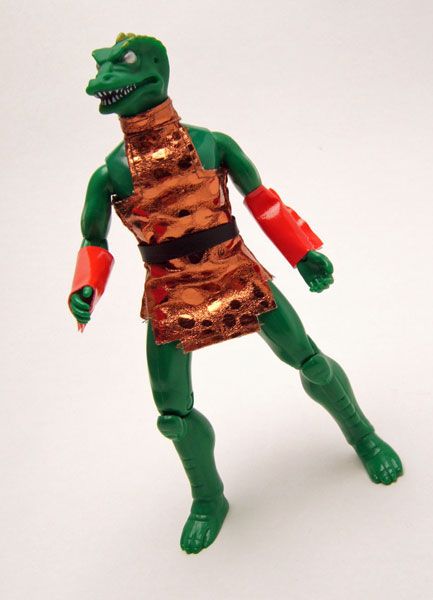 Accessories: My one complaint on the figure is the lack of accessories. I would have loved his stone dagger or a cannon to give to Kirk done in Mego style. Ah well...
I think DST did a great job on this guy. There's a fine line to tread here; just reissuing the original would kinda stink, but if you strive for total accuracy, you lose the Mego charm. DST & EMCE nailed the balance. He's quirky enough to still pass for a Mego, but accurate emough that you can at least tell it's a Gorn now. Nice job!
-James