Item Name: Classic Science Tricorder
Manufacturer: Diamond Select Toys
Diamond Select released the Classic Science Tricorder as a non-exclsuive boxed item.
The Rundown: Those of you that read my spotlight on DST's Medical Trciorder know of my disappointment in that item. That Tricorder had a bunch of issues that were not easily overlooked at it's price point. Although some of those issues are also present on this Science Tricorder, I'm still overall much happier with this version!
Let's start at the top and work our way down- The first change is in the viewscreen. Since the majority of the screen is in an orange color instead of the predominantly black of the Medical version, the light shines through much stronger and makes the screen look much clearer. It's a small change but it really helps the look allot.
The electronic functions have allot more going on in this version. The Medical Tricorder functions basically consisted of pressing a button and hearing a sound effect while the moire spins. The Science Tricorder one-ups that function easily. Press the first button, close the Tricorder, and one of 2 scenarios will play; the Tricorder will play a 'hail' effect or a 'malfunction' effect until opened. Once you open the top, a Spock line will play related to either effect. In the case of the 'malfunction' effect, an explosion sound effect will also play (that whole scenario is directly from "Arena" when the Gorn fed back the Tricorder's impulses and caused it to overload). This feature adds a really great fun factor to the Tricorder missing from the medical version.
The look and build of the Tricorder is basically the same here, meaning the lower door still works a little oddly. You pull it open a bit, and the side's have a small catch at the end to keep it semi-open.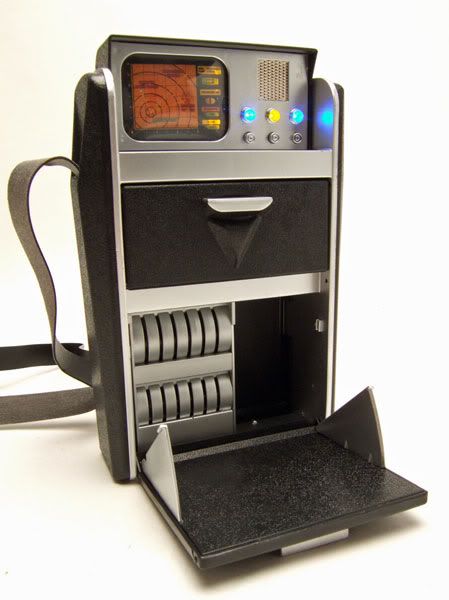 To open it fully, you'll have to kinda pinch in the sides to get them past that catch. When fully opened, the side of the bottom panel look a bit odd. It's probably the only way to make the feature work, but it still looks somewhat strange.
Again, there's an empty portion down there designed to hold the scanner, but no clip to hold it in place unfortunately. A small clip really should have been placed in there.
And here's the scanner. I was greatly disappointed in the medical version, but I'm really happy with the science version!
Flip the switch, and the scanner emits a light from the top. The light cycles through various different color and 'blink' patterns. Much better than the crummy sound effect of the medical version!
So overall, I'm much happier with this guy. Sure, a couple of the minor annoyances are still present, but there's so much more great stuff going on with this one that they are much more easily overlooked. If you're only going to buy one Tricorder, skip the medical and grab this one instead!
-James