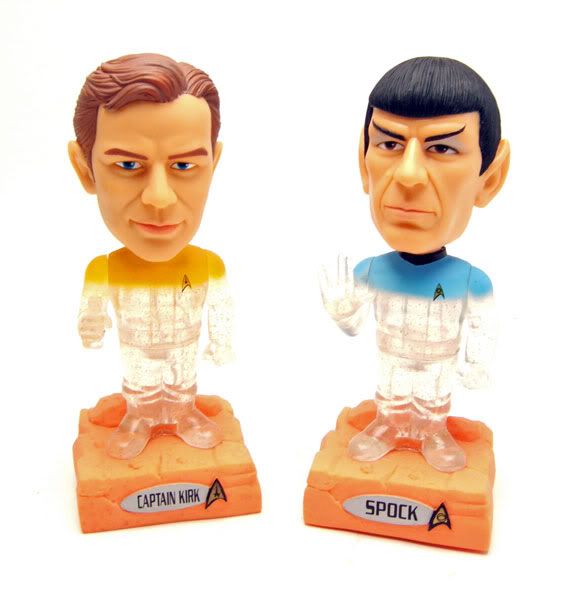 Item Names: Captain Kirk & Spock Wacky Wobbler Bobble-Heads
Manufacturer: Funko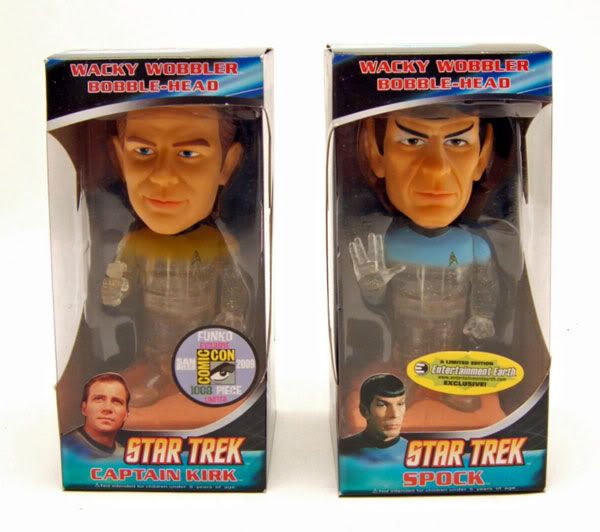 The Rundown: My friend Bob goes to San Diego Comic-Con every year, and every year he does me a solid and scrambles to pick up everything off of my exclusives shopping list. Well, he got back Wednesday with a bag-load of goodies for me so you're going to see a mini-streak of SDCC '09 exclusive item spotlights in the next few days. Today we're looking at the Funko 'Beaming' Bobble-heads.
Let me start by saying I'm not a huge fan of Bobble-heads. The only ones I own are the Trek ones and that's only because they are Trek. I don't really understand the appeal, but who am I to judge?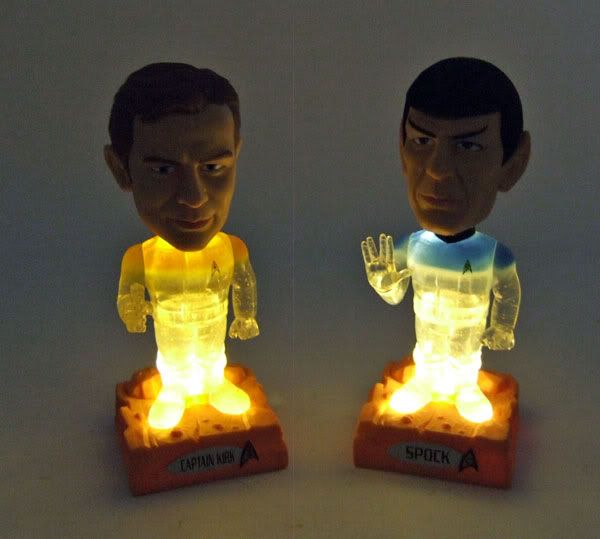 So these SDCC versions of the Funko Kirk and Spock bobble-heads use the same bodies as the regular release Kirk & Spock but with a big difference; the bodies are molded in a translucent yellow plastic and instead of speech effects, the bases emit a beam of light to simulate the beaming effect! The light is activated when the head is *ahem* bobbled and then automatically shuts off after a few seconds. I gotta say...it's really pretty cool looking, especially in the dark.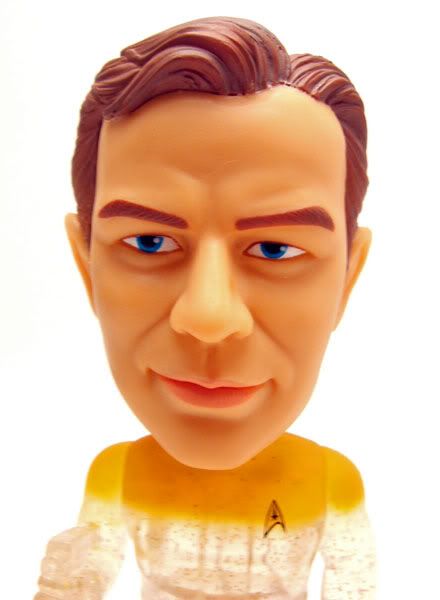 So with these having big freaking heads, you'd think the likenesses would be pretty dead-on, right? Nah, not so much with Kirk here. Sure, they were going for a slightly caricatured version of the Shat...but this turned out looking more like Phil Hartman to me.
Spock thankfully fared much better in the likeness department. It's a pretty good Nimoy, though it does look a bit old for a TOS Spock.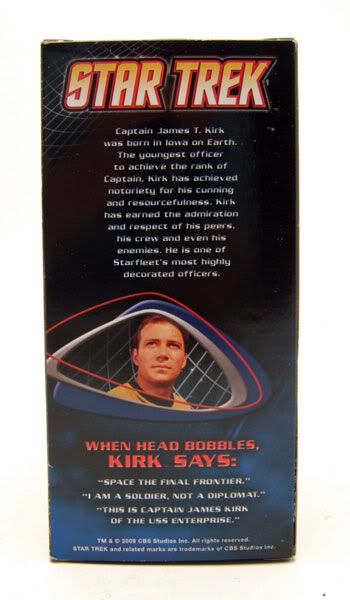 There's the back of Kirk's box. Note that Funko didn't splurge on a new box for these versions. The box still lists the bobble-head as having voice sound effects. Don't be fooled! These don't talk!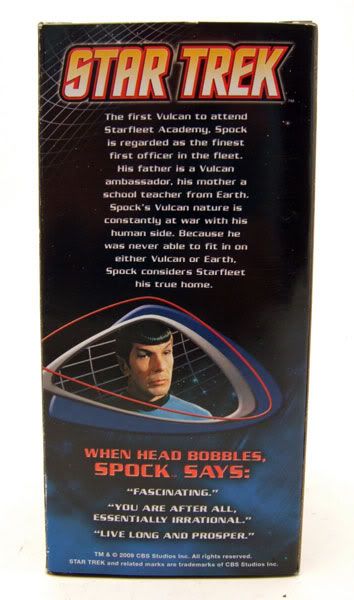 ...and there's Spock's box (that rhymed). Again, note the sound effects listing.
So there they are. Do you need them? Unless you're a crazy completist or a bobble-head nut, probably not. I will say though that do make nice display pieces and are actually far cooler in my opinion than the regular releases.
If you do decide to go after them, they are both still available from each of their exclusive retailers. Kirk was released through Forbidden Planet and is listed as having 1008 made (odd number). Spock was released through Entertainment Earth with a production number of 1500.
-James