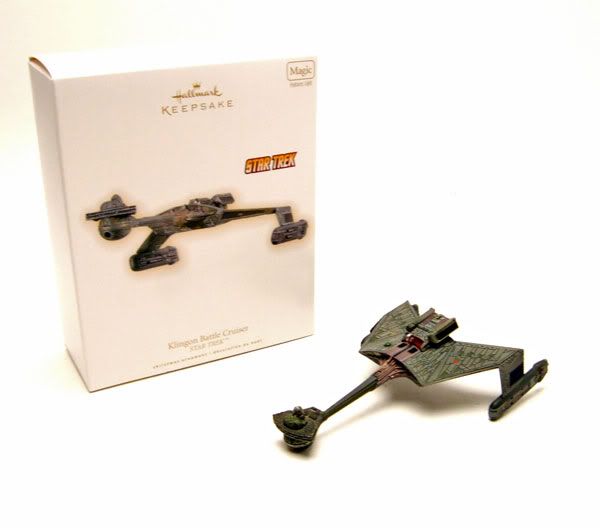 Ornament Name: Klingon Battle Cruiser
Manufactured: 2009 (Hallmark)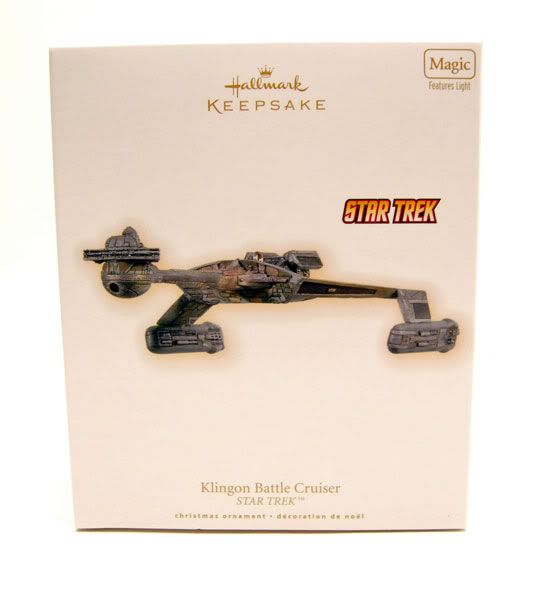 The Rundown: So this will only be my second Hallmark ornament spotlight; the first was the original Hallmark Star Trek ornament, the 1991 Enterprise. I thought it might be fun to jump all the way forward to present day with my second... so here's the 2009 Klingon Battle Cruiser!
To celebrate the 30th anniversary of Star Trek: The Motion Picture, Hallmark decided their next ship to receive the ornament treatment would be the Klingon Battle Cruiser from the film's opening sequence. The ship looks fantastically detailed in the film (especially when you watch it on the newly-released Blu-Ray version of the film), and I'm happy to say that Hallmark did a fantastic job of replicating this.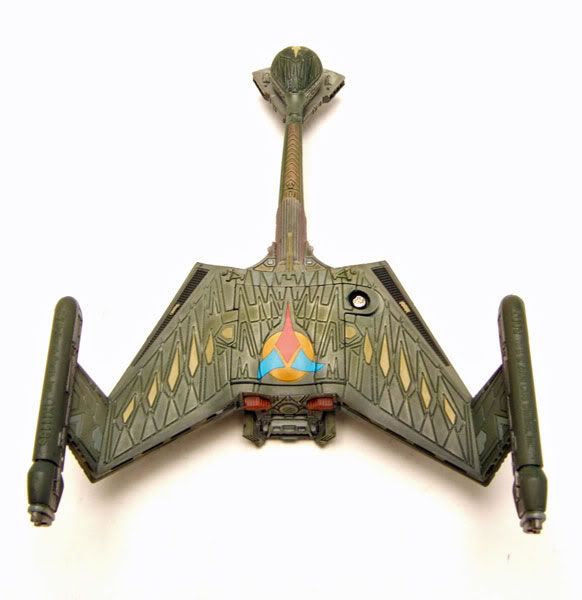 As you can see in the pics, both the the top and bottom of the ship are just covered in tiny detailing with a really intricate paint job. The symbols are especially vibrant and well painted.
I mean, just take a look at the front end of this thing! This isn't an overly large ornament, so it's amazing that they captured such detail at this scale!
Since this ornament is another in the "Magic" series, it of course has some electronic features. There's no sounds, only lights, but they are really nice. When you press the button, the back end lights up as seen above...
...and there's also lights at the top. All of these stay on once the button is pressed; you'll need to press it again to turn them off. There's also a sequence of firing lights that blink on the front when the button is first pressed, but I couldn't quite capture those in the pics. Jsut to warn you- Hallmark has switched over to batteries instead of having the ornament just plug into your Christmas tree lights. Some folks are disappointed by this, myself included to a small degree. It's sometimes a hassle to have to press that little button every time you want to see it lighted instead of it being always on, but I do like the fact that there's not a cord sticking out of the ship. The lack of cord helps it double as a nice little replica of the ship all year round.
So the ornament is really quite fantastic. It's $32, which is admittedly pretty steep for it's size, but the detail really helps take the bite out of the price. There's a chance that these will hit clearance after the holidays if it sticks around until then, but honestly, I have zero buyer remorse at the current price. The work they put into it makes it worth the current price.
Oh, and here's the back of the box if you want to read it-
-James