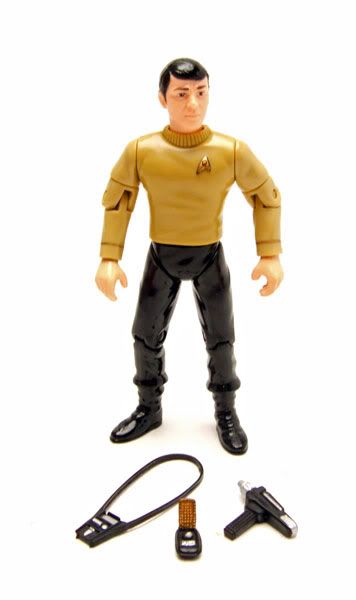 Figure Name: Lt. Commander Montgomery Scott
Manufacturer: Playmates Toys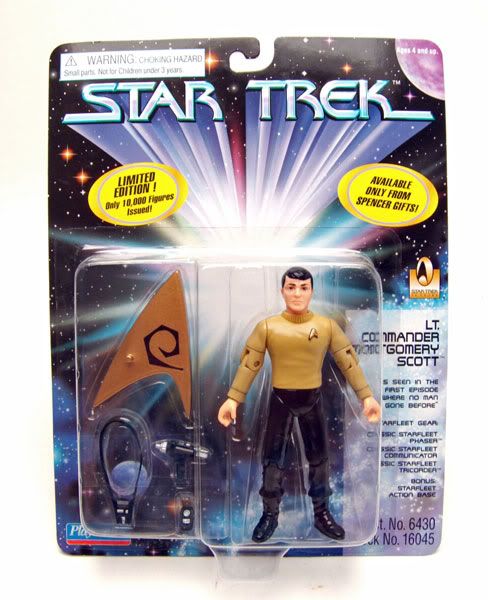 Playmates released Scotty here as a convention/ Spencer's Gifts exclusive in Huntsville, AL. The first 100 had a sticker attached that read "Star Trek One Weekend On Earth"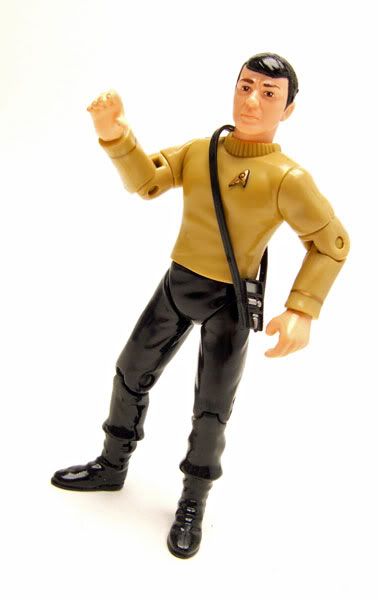 The Rundown: After spotlighting Sulu yesterday, it just makes sense to spotlight Scotty today! Again, this convention special showcases the character in his uniform from the second Star Trek pilot- "Where No Man Has Gone Before".
Just like Sulu, Scott reuses the body from the WNMHGB Kirk included with the Galileo Shuttlecraft. The body works just as well here as on the others. Oh, and thankfully the shirt is not the same shade as the Kirk release, just like in the episode. Nice attention to detail Playmates!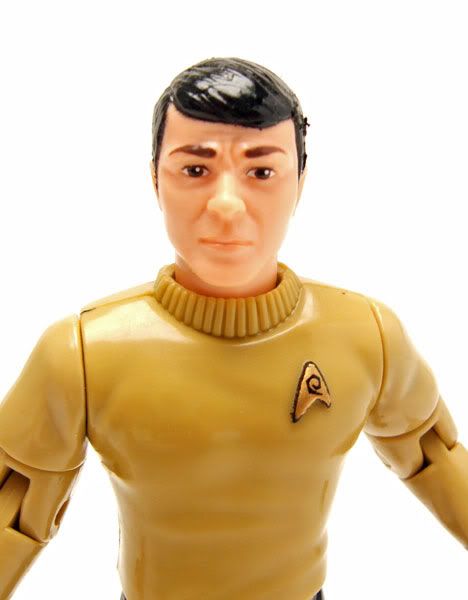 The head is the same as the one used in the classic crew set. It's a very decent Doohan likeness. There's even some lines painted into the forehead to give him that furrowed brow look. Playmates did the same line treatment on it's Kirk figures, but I think it works better on Scotty. Oh, and the delta shield is actually wrong here too- the symbol on the Scotty's delta in WNMHGB actually looked like what we have come to know as the sciences symbol. So even though he is a part of engineering, and that is the symbol used for engineering in the rest of the series, it's inaccurate on the WNMHGB uniform. (Props to Jedigreedo from the trektoy boards for the help on all that!).
So like Sulu, it's not a figure you'll desperately need if you want to put together a nice display of the classic crew. If you're like me and 'need' them all though, this is at least a variation that makes sense and looks cool.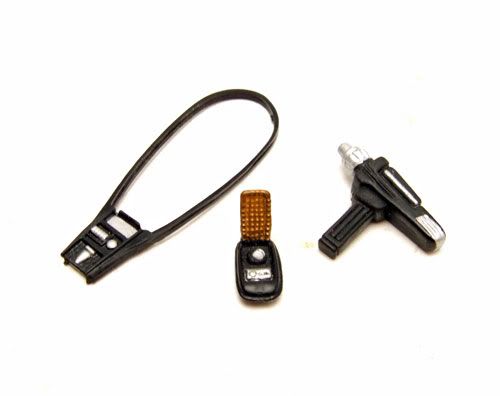 Accessories: Scotty includes a display stand (not pictured), a phaser, a communicator, and a tricorder. All the accessories are nicely painted, a detail sometimes lacking from other Playmates releases.
And in case you didn't read it yesterday, here's that summary of WNMHGB from the cardback: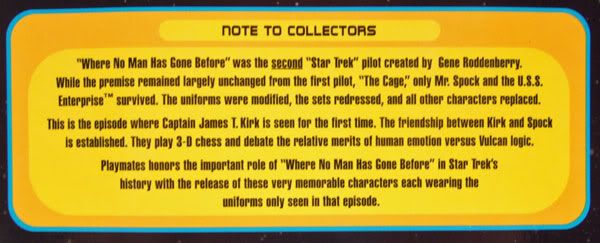 -James