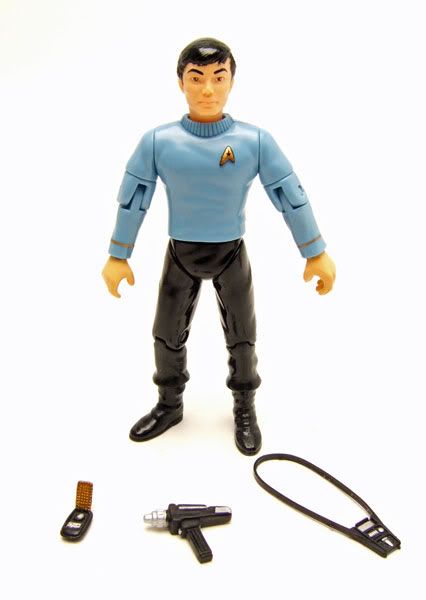 Figure Name: Lt. Hikaru Sulu ("Where No Man Has Gone Before")
Manufacturer: Playmates Toys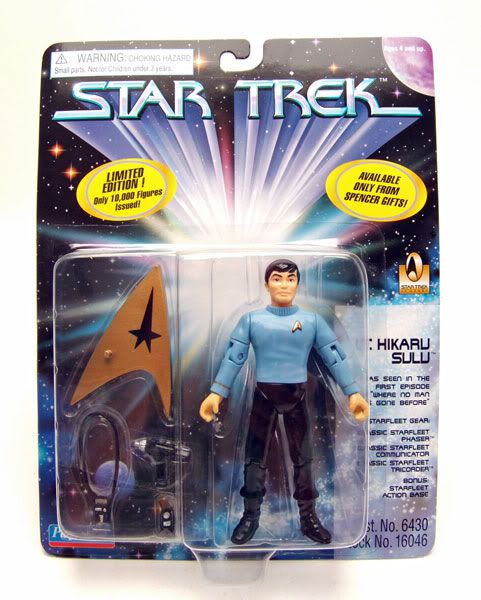 Playmates released this Sulu as a convention/ Spencer's Gifts exclusive in Huntsville, AL. The first 100 had a sticker attached that read "Star Trek One Weekend On Earth"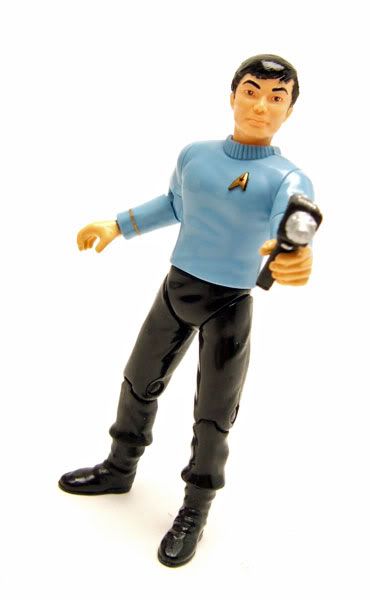 The Rundown: This Sulu (and the Scott which was offered with him) is pretty much the definition of a good convention exclusive. It's an episode-specific, really non-essential variant of a main cast member... something that doesn't really need to take up a spot in regular assortments, but works great as a treat to convention-goers.
The body is the same as the one used for the Kirk figure included with the Galileo shuttlecraft and it works just as well here as it does there. The proportions are good, and the articulation is your standard playmates fare. I can totally understand the reuse here since there's not much else you really need to change to fit other characters... and after all, it's just a con exclusive.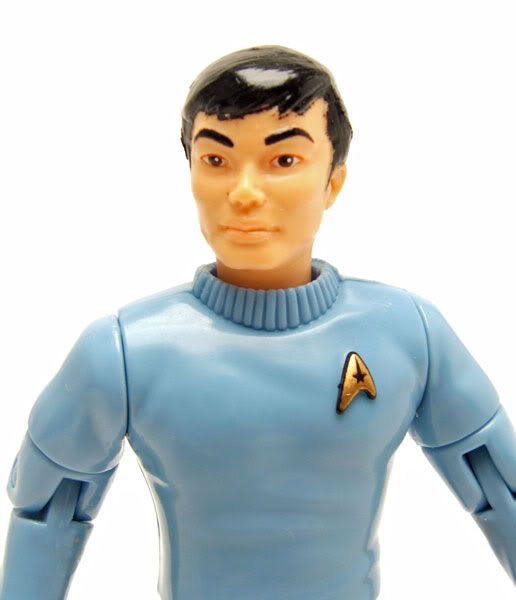 The head is the same as the classic crew set Sulu. I think they did a fine job capturing Takei, especially the hair. You'll also notice the big blunder on the figure in that picture up there. Yep, he's got a command delta shield instead of a sciences (which actually looked like what we would come to know as the engineering symbol in this episode). It's a blunder that somebody should have noticed but somehow it made it through. Funny thing is, DST did the same thing with their recently released WNMHGB Sulu. Maybe they used this one for reference. ;)
So there he is. Do you really need him? Not really unless you are a completist or unless you want to round out your pilot episode crew. He's still a solid figure and can be had for a pretty reasonable price though so I guess it all depends on how much Sulu you need in your life. I need lots.
Accessories: Sulu comes with a classic style phaser, communicator, and tricorder. All three are painted accurately, which is sometimes lacking on Playmates accessories so that's a bonus. He also comes with a display stand, which isn't pictured so don't look for it.
Want to read Sulu's bio? Well too bad, because there ain't one. Instead there's a quick summary of "Where No Man Has Gone Before"-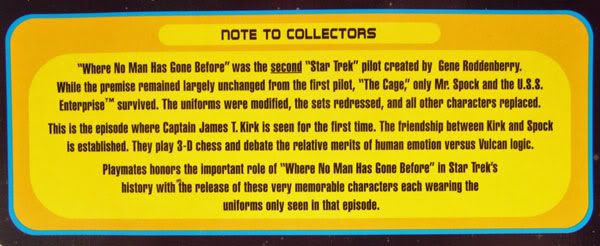 -James