Figure Name: Mirror Spock
Manufacturer: Art Asylum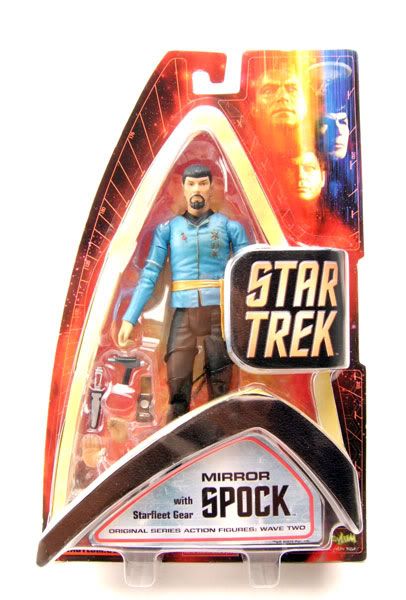 Mirror Spock was released in the second series of Art Asylum's Classic Star Trek line.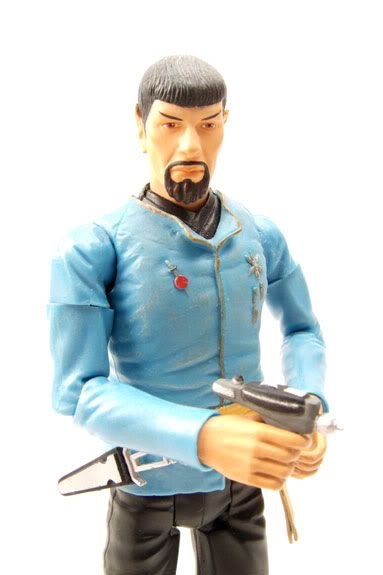 The Rundown: Okay, anyone who knows me knows I LOVE "Mirror, Mirror" (scroll WAY down on my blog to see my Terran Empire tattoo). Great concept, great episode. It was incredibly fun to watch the flip sides of all the characters. Devious Chekov! Scarred Sulu! But none were as cool to watch as this cat here. You know why Mirror Spock was awesome? Because other than the clothes and the goatee, he really wasn't all that different from our Spock. Sure, he was stationed on a ship full of pirates, and sure he had to do some pretty nasty stuff, but underneath it all he was still the cool as a cucumber, logical Vulcan we all know and love. But clothes and a goatee do go along way...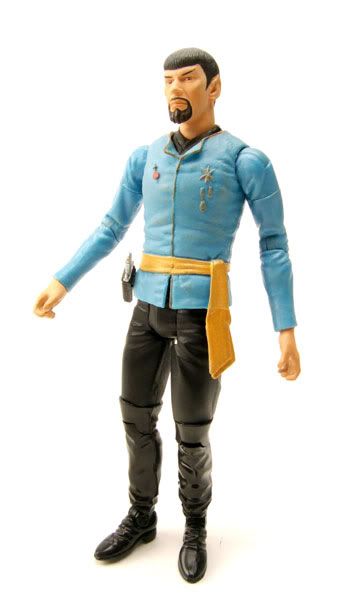 This figure captures the look of Mirror Spock PERFECTLY. The head sculpt is phenomenal and really shows that a talented sculptor can still give any head-scanning machine a run for it's money. The outfit is especially well done from his thigh-high boots to the little medals on his chest. There's a nice paint wash over the shirt to try and emulate the shimmer of the screen version too. Plus, most of the articulation points are well hidden. In fact, the rubbery shirt on this figure doesn't even look like it's made of rubber at first glance...it's looks like a hard sculpted shirt. Just an all around fantastic figure from the line, maybe my favorite in fact. Look! He can even do the salute!-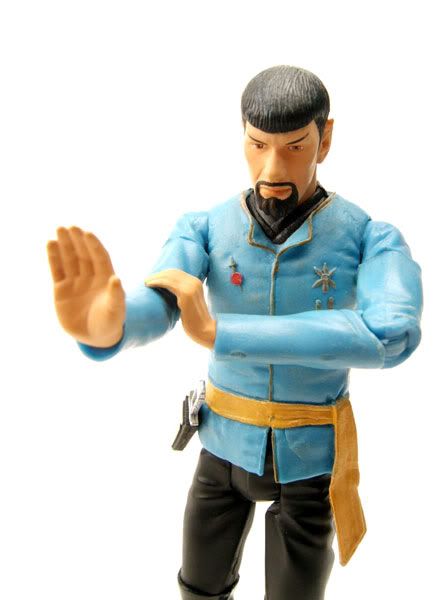 Now that's just way too cool...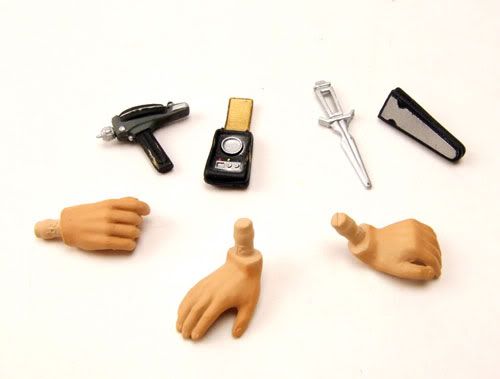 Accessories: Mirror Spock comes with 3 extra hands (at least I'm pretty sure it was just 3...), a phaser, a communicator, and the incredibly awesome dagger and sheath (which can attach to his belt).
-James