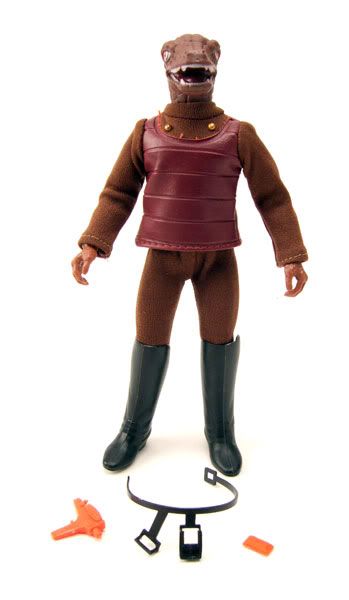 Figure Name: The Gorn
Manufacturer: Mego Toys Corp.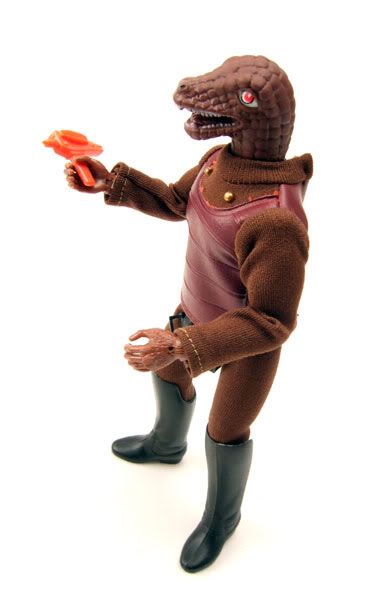 The Gorn here was released in the second series of Mego 8" figures on the 'Aliens' cardback. (Sorry, don't have a packaged pic on this one.)
The Rundown: Before we start, take another look at this guy-
And now look at this-
See the resemblance? No? Well, that may be because THEY LOOK NOTHING ALIKE. I love the Mego stuff, I really do. Even the cheesiest figures have a fun factor built into them. But the Gorn? Man, they really pushed the boundaries of cheap. The Gorn is the only 8" figure from Mego made entirely from recycled parts. The head is a repaint from the World's Greatest Superheroes Lizard, the body is from The Planet Of The Apes, and the outfit and accessories are taken right from the Klingon figure. That's a whole new level of cheap. Now I could excuse all that if it added up to a figure that even remotely resembled a Gorn...
But no. That's no Gorn. The figure is great for it's kitschy quality, but really nothing more. Diamond Select recently released a new Mego-style Gorn that is far more accurate and superior. Go with that one if you want a more screen accurate Gorn, choose this original if you just want a fun conversation piece.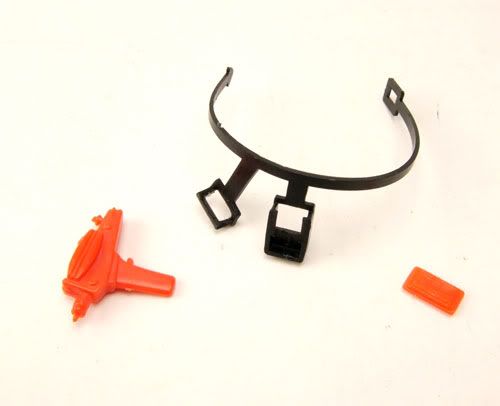 Accessories: The Lizard, I mean Gorn, comes with a belt, a red phaser, and a red communicator.
-James