Figure Name: Captain James T. Kirk (as seen in "A Piece Of The Action")
Manufacturer: Playmates Toys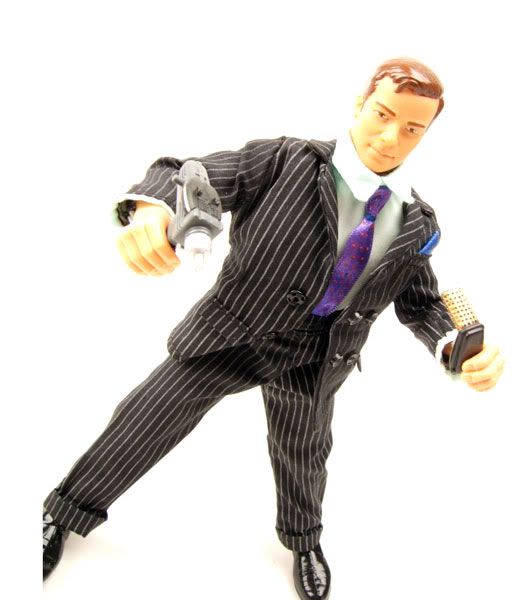 Kirk here was released as a KB Toys exclusive as a part of the Star Trek 9" Collector Series. (Sorry I don't have a packaged pic for you).
The Rundown: I gotta admit, when the Playmates 9" line was on store shelves, I didn't have much interest in the line. Now that I've gone back and opened all these up and displayed them, I really appreciate the line. No it's not perfect, but it's definitely got charm. Anyways...
I love Gangster Kirk and this figure captures his look very well. The outfit is nice and very well made for this scale. There's alot of little details in the clothes that make it look very sharp. the hanky in the pocket, the sepeart tie, the buttons, the pocket flaps...all nice stuff. Now we aren't talking about high-end 1/6th scale quality here, but it is very nice for what it is. And the Kirk head is great! I really think Playmates may have done the best job of all the companies in nailing the elusive Shatner likeness (at least until that new casual Kirk from Diamond Select hits...)
Accessories: Kirk here comes with a display stand (not pictured) a machine gun, a federation blower (ahem...communicator), and a heater (otherwise known as a phaser). He also comes with a hat, and it's probably the worst thing about the figure. The hat feels pretty cheap and it's tough to make it look good on the figure.
And in case you want to read the package back: