Figure Name: Ensign Chekov
Manufacturer: Playmates Toys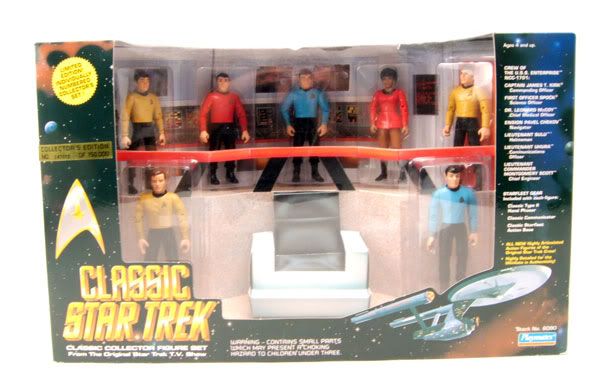 Pavel was released as part of the insanely awesome Classic Star Trek Collectors Figure Set.
The Rundown: Let me start off by saying the Playmates Classic Crew Collector Set may be my favorite Star Trek toy ever produced. It's an awesome set and I highly recommend getting it if you dont have it already. The box is awesome and you get all 7 main crew members in one swoop. They all feature very good likenesses too, like our boy Chekov here-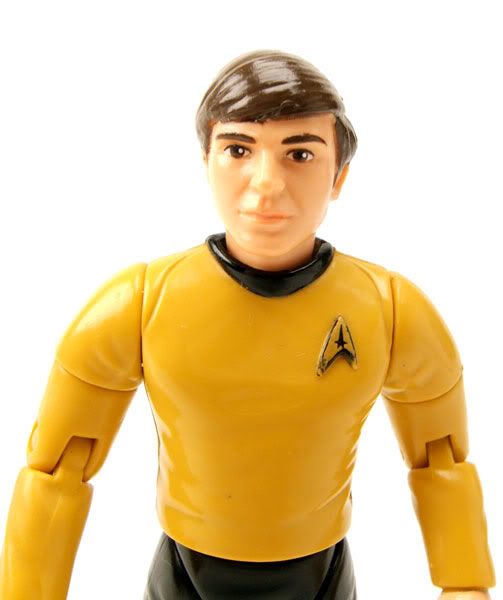 That's a pretty good likeness for Playmates. To me, it's easily recognizable as Chekov. They really got the boyish, Davy Jones look that Pavel sported at the time. The body sculpt is solid too with a good, young build. This is the only classic series Chekov Playmates ever did (not including the Transporter series one that shared this same sculpt) so thankfully it's pretty much spot-on. If you're a fan of playmates style figures, this figure (not to mention the whole set) is a must-have.
Accessories: Like very other figure in this set, Pavel comes with a phaser and a communicator. Both are very well sculpted and painted. Each figure also comes with a delta shiled display stand matching their field- command, sciences, or engineering (not pictured).
And in case you want to read the bio from the back of the box-