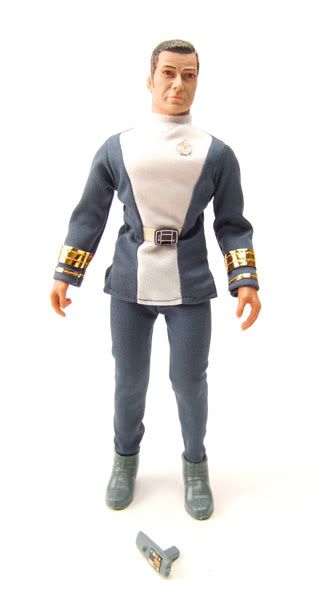 Figure Name: Captain Kirk
Manufacturer: Mego Toys Corp.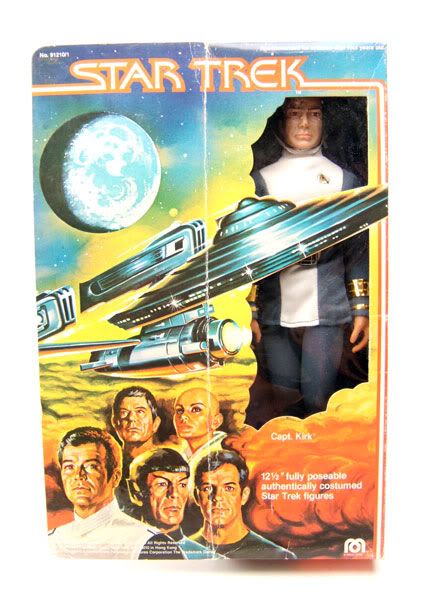 Kirk was released as part of Mego's boxed 12.5" figure line.
The Rundown: Another pretty solid entry in the Mego 12.5" line. The outfit is incredibly well made for it's time and price point. Mego knew what they were doing when it came to making clothes. The seam lines are nice and sharp, and the little details like the insignia and belt device look great. My only minor complaints are the little boots and the material used to make the gold ranking stripes (by the way, Mego erroneously labels this figure as "Captain" Kirk on the box...the figure depicts him as an Admiral), but again those are very minor nitpicks. There's not a lot else Mego could have done to make the boots and rank stripes work at the price point they sold this at. Very nice work on the uniform
The head is good. Not great, but good. Considering how tough it seems to be to nail a Shatner likeness coupled with the fact that they are working in vinyl though makes the head much more acceptable. Oh, and if your Kirk head is suffering from the "zombie graying", again heres a method to
get the gray out.
. I haven't personally tried it since my heads aren't too bad off yet, but I'll make sure to post if I do.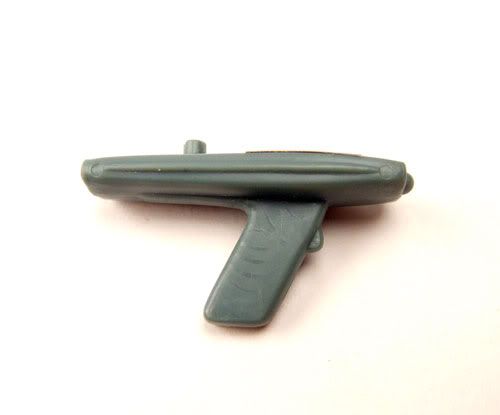 Accessories: Kirk comes with a TMP style phaser. It's a nice sculpt with a little detailed sticker on top.
And in case you want to know a little bit more about Mr. Kirk, here's his box bio-