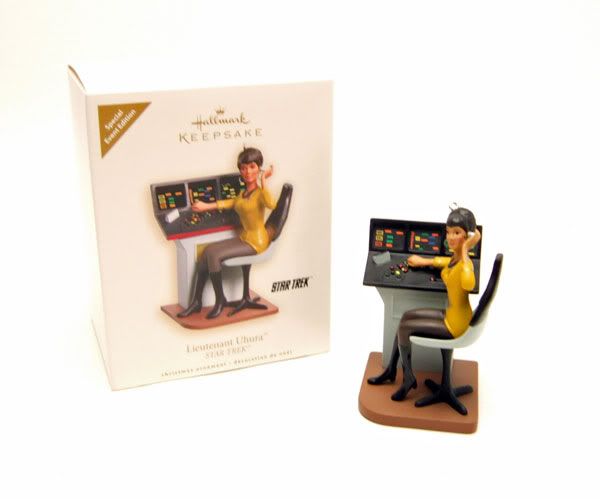 Ornament Name: Lieutenant Uhura (Special Event Edition)
Manufactured: 2009 (Hallmark)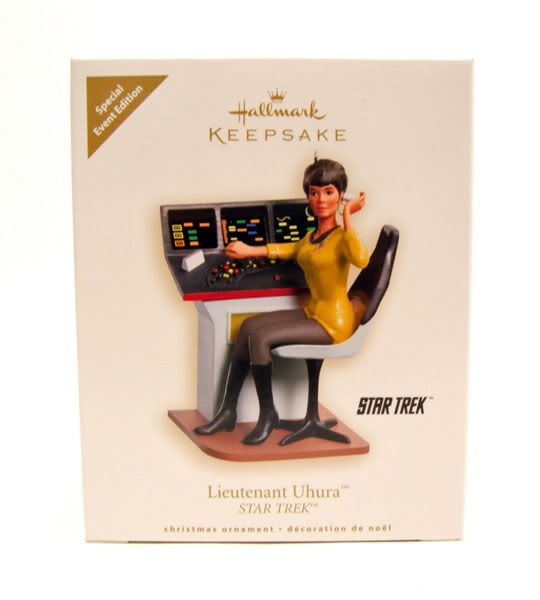 The Rundown: Hallmark did something new at the 2009 San Diego Comic-Con- They introduced their very first convention exclusive ornament! At only 450 pieces, this repaint of the 2007 Limited Edition Uhura ornament was pretty tough to obtain. Only a certain amount were allotted for sale each day of the show, and lines formed fast and early. Needless to say, the ornament sold out at the show and is now bringing pretty high prices on the secondary market.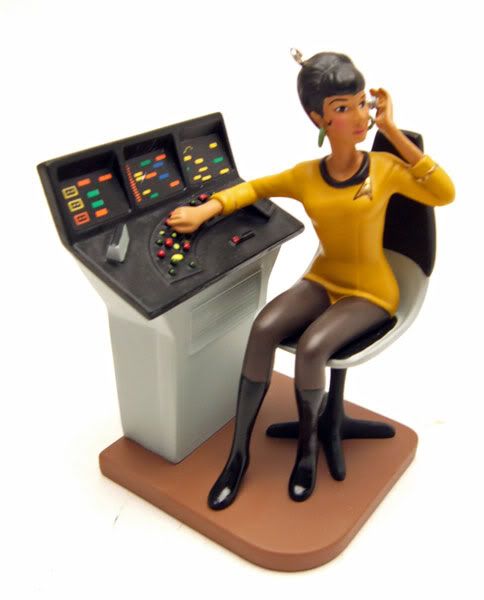 As stated, the ornament is a repaint of the 2007 Uhura ornament. This time around, Uhura is sporting the gold uniform seen in "The Corbomite Maneuver".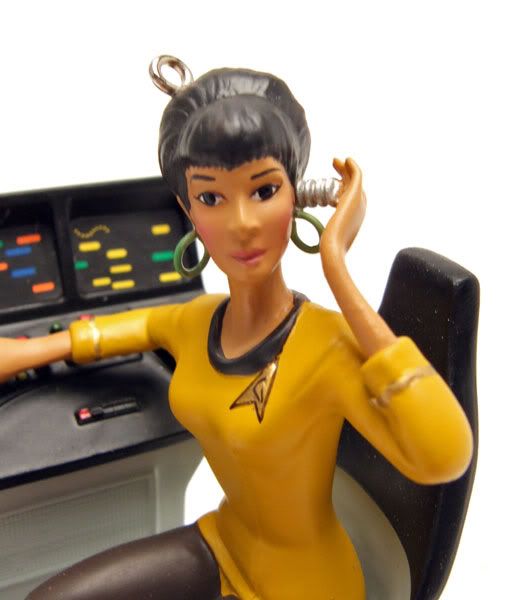 The sculpt is pretty nice, though just a bit on the thin side. Still, it's a pretty solid likeness at this scale and for this medium. I especially like the pose; you can almost hear Uhura saying "hailing frequencies open".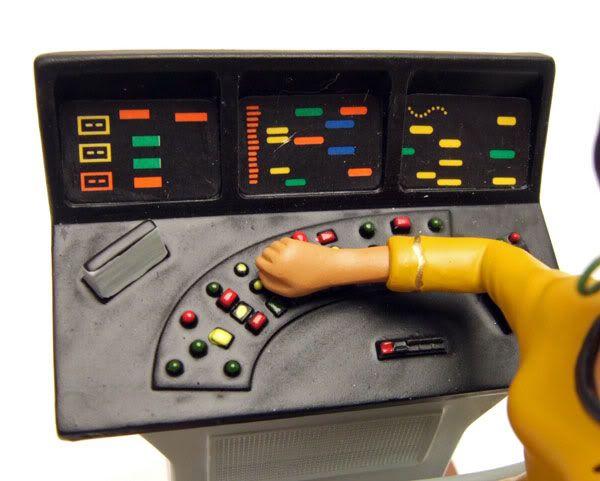 I'm a big fan of the control panel at Uhura's station on this piece. I think the colors used are very good and the look is pretty perfect. Makes me wish we had stations like this for some of the action figures...
So is Uhura worth the money? At her original $25 dollar convention price, I'd say definitely just due to her limited number and the fact that it's still a pretty solid sculpt 2 years later. The current going price though is right around $75, which may go even higher when the stock on the secondary market starts drying up. It's tough to justify spending that much on an ornament, so that's going to be a personal judgement call...
But how does the whopping price of FREE grab you? Well, I ended up scoring 2 of these and I'd like to pass the good fortune onto a fellow Trek fan, so starting tomorrow I'm going to run a little giveaway here on my blog to celebrate my 100th spotlight! Tomorrow's spotlight is going to be a pretty special one, and my birthday just happens to fall the day after, so I thought it would be the perfect time for a little treat! Read tomorrow's blog for more details!
-James